Easy Vegan Zucchini Carbonara Recipe Is The Healthy Dish You'll Crave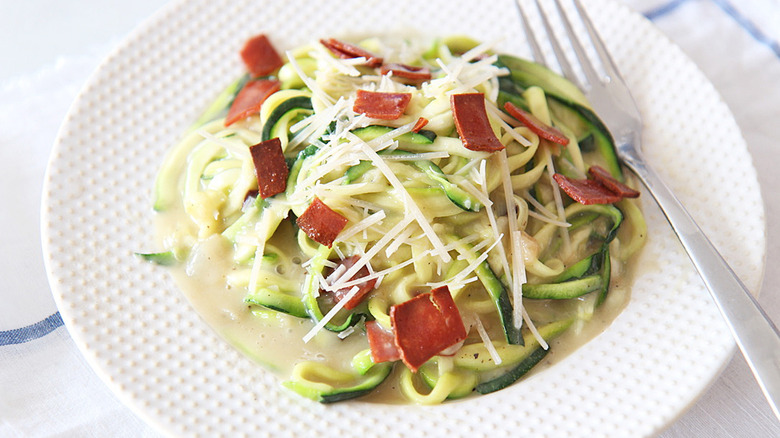 Jason Goldstein/Health Digest
Whoever said vegan dishes weren't delicious surely hasn't tried our vegan zucchini carbonara, brought to you by chef and recipe developer Jason Goldstein of Chop Happy, who puts together tasty recipes for people who are always on the go. The traditional version of carbonara would normally be a dish vegans would run from, as the Italian classic is loaded with pancetta and egg — but it doesn't have to be that way at all. Goldstein has made the genius move of subbing zucchini noodles — or zoodles — for the pasta and special vegan bacon to replace the meat. As a final touch, the dish is topped off with a nice sprinkling of vegan cheese.
While many vegan dishes can take a whole lot of prep, from time in the kitchen to searching for the right ingredients, this vegan zucchini carbonara is just the opposite. If you enjoy cooking and dabble with new recipes on the weekly, you likely already have most of the ingredients you'll need on hand. There are even some substitutions you can make if you don't feel like running out to the store for just an item or two. If you have 30 minutes and a handful of some very basic ingredients, you'll have this dish on the table in just about no time.
Get your ingredients together to prepare vegan zucchini carbonara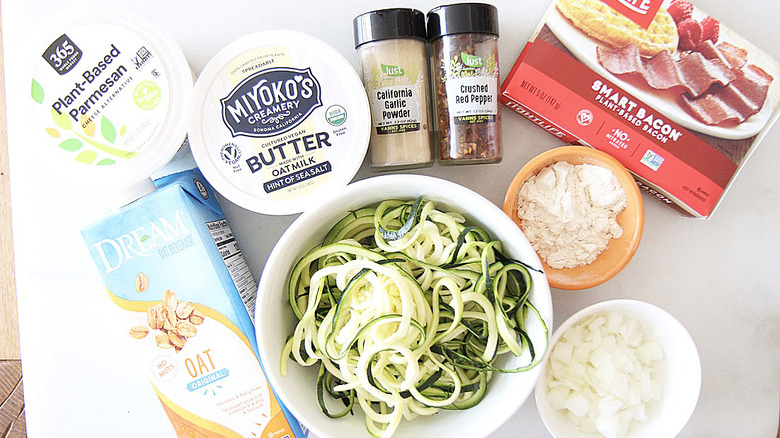 Jason Goldstein/Health Digest
For the dry ingredients, head over to your pantry and grab 2 tablespoons of flour, 2 teaspoons of pepper, 1 teaspoon of salt, 2 teaspoons of garlic powder, and ½ teaspoon of red pepper flakes. Be careful with the red pepper flakes, as the spice is known to pack a punch. If you're not a fan of spiciness, it might be best to leave it out and just stick with the black pepper. You can always add in ¼ teaspoon of the red pepper flakes, and if you want more of a punch, toss it on at the table from a shaker for people to add their own!
As for the wet ingredients, you're going to need 1 tablespoon of olive oil, 2 tablespoons of vegan butter, and 1 cup of oat milk. Goldstein notes that almond milk will also work well in this dish, so choose whichever one you prefer or whichever you have on hand.
To round out the dish, make sure you have four strips of vegan bacon, one medium-sized white or yellow onion, as well as 1 cup of vegan Parmesan. Two large zucchini should do the trick for this dish, which you will have to spiral. No spiralizer on hand? No problem! You can purchase frozen zoodles at your grocery store, which are sometimes also called zucchini spirals. These are traditionally sold in 12-ounce bags, so we suggest grabbing two for this dish.
Get the vegan bacon cooking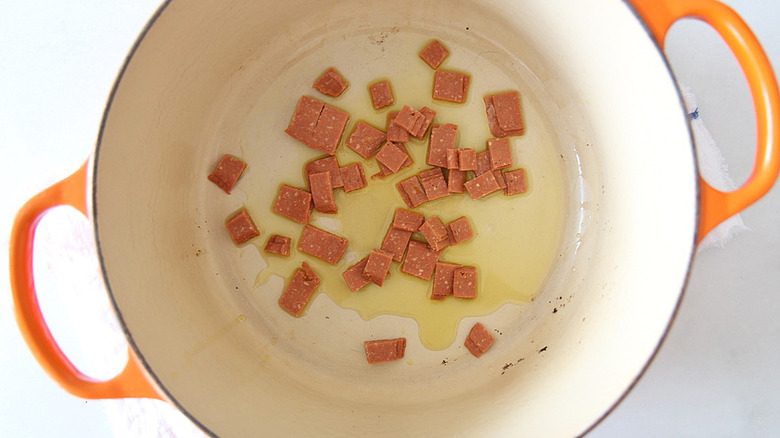 Jason Goldstein/Health Digest
To kick off this dish, you're going to need to focus on the vegan bacon first. Set your pan or Dutch oven to medium-high heat, and add the tablespoon of olive oil and the four strips of vegan bacon — no need to preheat your oil here. Cook the bacon until it's crispy, unless you prefer it slightly chewy. Remove the bacon, and set it on a paper towel to absorb the extra oil. Then, set it aside for later. You're going to need to chop the bacon into small bite-size pieces before it gets incorporated into the dish later on, so chop it up whenever works best for you during the process.
Begin preparing the vegan carbonara sauce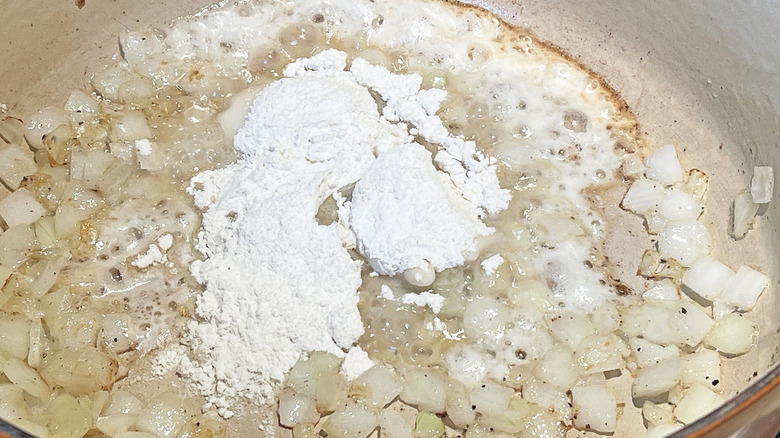 Jason Goldstein/Health Digest
After you remove the bacon, keep all the leftover goodness in the pan. Add in your chopped onion, as well as 1 teaspoon each of salt and pepper. Cook the onion for about a minute, until the pieces are tender. Now, you can add in the 2 tablespoons of flour and 2 tablespoons of vegan butter. Grab your whisk, and start mixing the ingredients together until everything is fully combined. 
Then, add your cup of oat milk or almond milk, and keep whisking until the sauce thickens. Once you've reached a good thickness, add in another teaspoon each of salt and pepper, in addition to the garlic powder, red pepper flakes, and vegan Parmesan. Whisk it all together for a good 30 seconds to combine it.
Finish off the recipe with your zucchini noodles and vegan bacon
Jason Goldstein/Health Digest
Now that the base of your carbonara is all set, it's time to add the finishing touches. Toss in the zucchini noodles and chopped bacon. These don't need to cook for long — whether fresh or frozen — as they're only getting put in the sauce to heat up. This should take just a few minutes, so be careful to not overdo it. The longer the zucchini is cooked, the more moisture will release from the vegetable, which could cause a runnier sauce than you might like.
You're all set from here! Transfer your delicious vegan zucchini carbonara to your dish, and feel free to garnish with some shredded vegan Parmesan cheese. Some crusty vegan bread would also go great with this dish to sop up the goodness left over after you've finished off all your bacon and noodles.
Easy Vegan Zucchini Carbonara Recipe Is The Healthy Dish You'll Crave
This scrumptious vegan zucchini carbonara is complete with zoodles, vegan bacon, and plant-based cheese.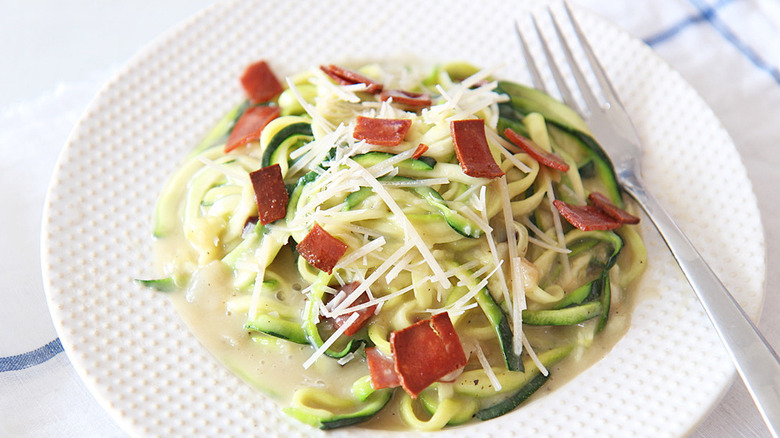 Ingredients
4 strips of vegan bacon, chopped
1 tablespoon olive oil
1 medium yellow or white onion, chopped
2 teaspoons salt, divided
2 teaspoons pepper, divided
2 tablespoons flour
2 tablespoons vegan butter
1 cup oat milk (or almond milk)
2 teaspoons garlic powder
½ teaspoon red pepper flakes
1 cup vegan Parmesan
2 large zucchini (made into noodles)
Directions
Place the vegan bacon and olive oil in a medium pan, and cook for 2 minutes, or until vegan bacon is crispy. Take the bacon out, and set it aside for later.
Add chopped onions to the pan with 1 teaspoon of salt and 1 teaspoon of pepper. Cook for 1 minute.
Add the flour and vegan butter. Whisk until fully combined (approximately 1 minute).
Add the oat milk (or almond milk), and whisk until the sauce thickens.
Add 1 teaspoon of salt, 1 teaspoon of pepper, garlic powder, red pepper flakes, and vegan Parmesan to the pot. Whisk for 30 seconds to combine.
Add the zucchini noodles and bacon. Mix for a minute to heat up noodles and combine fully with sauce.
Enjoy!
Nutrition
| | |
| --- | --- |
| Calories per Serving | 352 |
| Total Fat | 23.9 g |
| Saturated Fat | 14.5 g |
| Trans Fat | 0.0 g |
| Cholesterol | 31.4 mg |
| | |
| --- | --- |
| Total Carbohydrates | 17.5 g |
| Dietary Fiber | 2.9 g |
| Total Sugars | 8.8 g |
| Sodium | 728.1 mg |
| Protein | 18.9 g |