Easy Beet Salad Recipe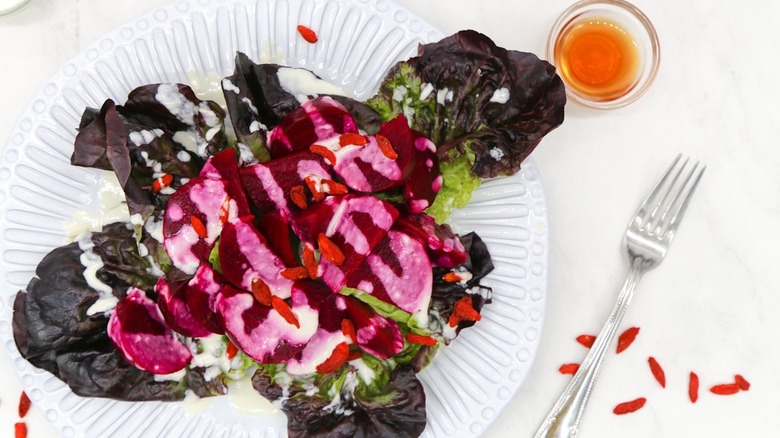 Maren Epstein/Health Digest
Who doesn't love a fresh beet salad before a meal? It's healthy to eat, delicious to enjoy, and so pleasant to serve to family or guests. Earthy and sweet with a jewel-toned hue, beets have long been a salad favorite, particularly when paired with perhaps their best culinary friend: creamy, tangy goat cheese. But recipe developer Maren Epstein of Eating Works wanted to put a new spin on this old favorite that we're sure you'll be obsessed with once you have a taste.
"Goat cheese and beets are a classic combination, but they're overdone," Epstein says. "I wanted to present this time-tested flavor combination in a fresh new way, so I thought to myself, 'Why not make the cheese into a dressing?'" And we're so glad she did. After a bit of experimentation, Epstein came up with this whipped goat cheese dressing, which boasts a flavor that's, to hear her tell it, both "unexpected and satisfying."
Like many beet recipes, the longest step in preparing this tasty beet salad is undoubtedly roasting the beets. But Epstein has an awesome hack to help you save some time in doing this. Simply roast the beets in advance, and refrigerate them until you're ready to put the recipe together. With the roasting step out of the way, the salad will only take just 10 minutes of your time to come together, and then you can serve it up and enjoy! Your guests will think it took longer than it did to pull together.
Gather the ingredients to prepare this delicious beet salad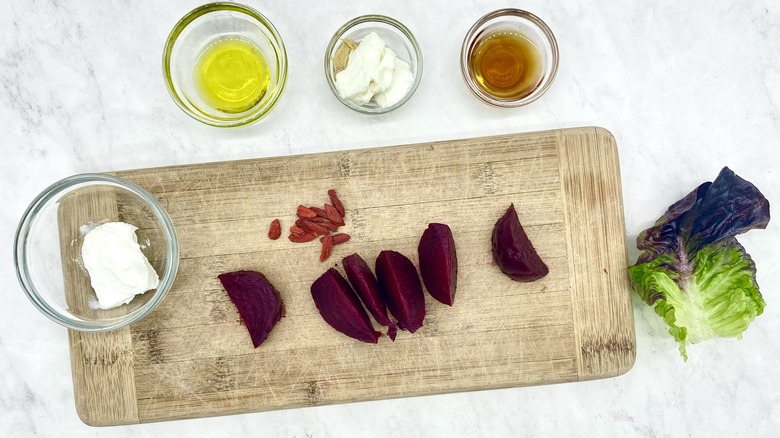 Maren Epstein/Health Digest
To make this beet salad, you will, of course, need beets. No need to peel them, as you'll be roasting them whole, so be sure to choose roots that are approximately the same size so that they cook through evenly.
For making the dressing, you'll be pairing goat cheese with Greek yogurt for even more lovely tang and acidity. A touch of water helps thin out the dressing, while sherry vinegar adds a lovely richness. Dijon mustard, pepper, and olive oil perfectly round out this dressing. (And no, the lack of salt is no typo! The cheese is already salty enough to give this salad the seasoning it needs.)
A bed of little gem lettuce and a sprinkling of sweet superfruit goji berries with their beautiful pink color and wealth of antioxidants, and you're ready to begin making this beet salad.
Roast the beets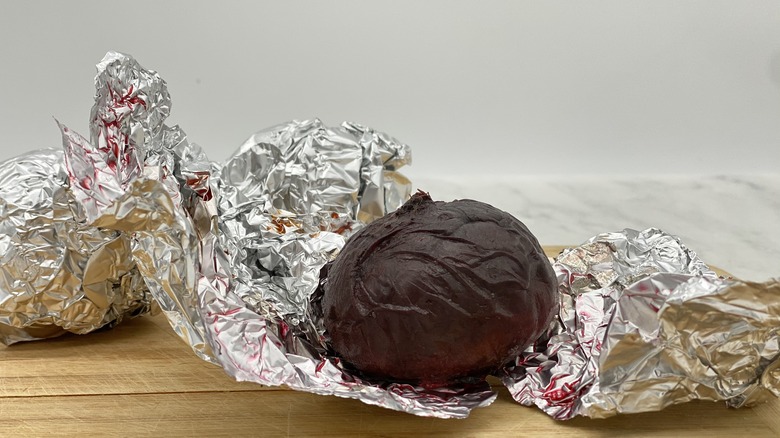 Maren Epstein/Health Digest
The first step of putting together this beet salad will take a bit of time, but very little of it is active. To prepare the beets for this salad, simply preheat the oven to 400 F, and then wrap the washed, unpeeled beets in foil. Place them on a baking tray, and bake them for one hour, or until they are easily pierced with a fork.
If you are planning on cooking the beets in advance of when you want to serve this dish, consider tossing them into the already-hot oven while you're already cooking something else, like a roast chicken. This will keep you from having to turn the oven on twice, saving both time and electricity or gas. You'll feel very productive if you can tie all of this in together, and next time around, it will be second nature.
Make the goat cheese dressing for the beet salad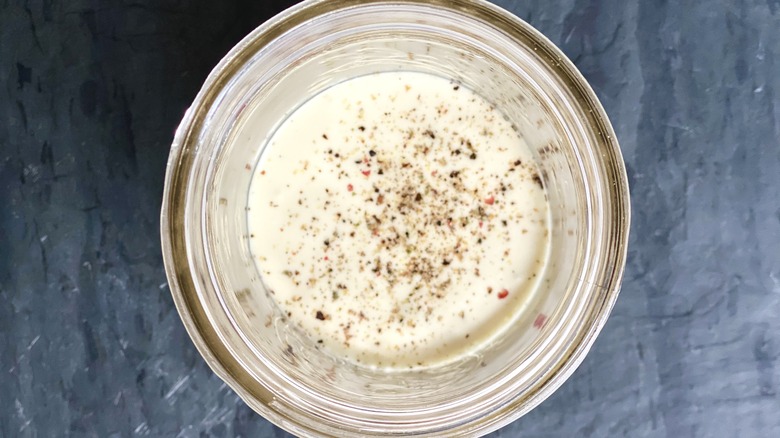 Maren Epstein/Health Digest
Now it's time to prepare the goat cheese dressing for your beet salad. In a high-speed blender, combine the goat cheese, yogurt, water, sherry vinegar, Dijon mustard, pepper, and olive oil. The resulting whipped dressing will have a thick, creamy consistency and a lovely light texture that will marry perfectly with the beets.
If you don't have a high-speed blender, don't fret! You can also use a whisk along with a bit of elbow grease to make this dressing. The final result will be a dressing with a slightly less creamy texture, but one that still boasts the same phenomenal flavor. So, it will still be absolutely delicious.
Slice the beets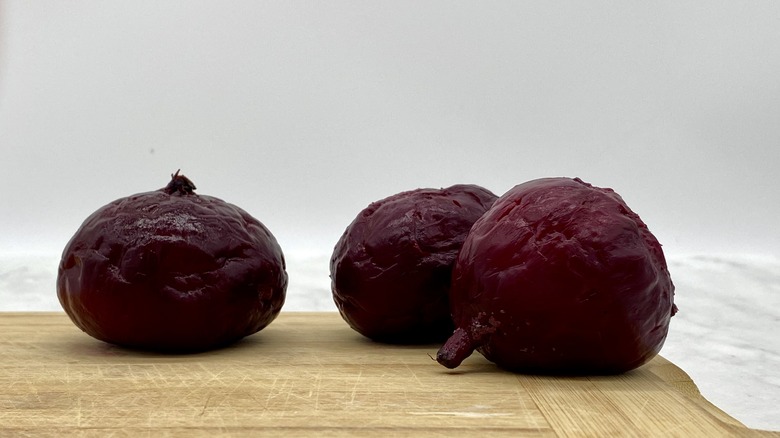 Maren Epstein/Health Digest
Now it's time for the next step. Once the beets are cool enough to handle, it's time to finish preparing them for the beet salad. First, you'll want to skin the beets. Do this by rubbing a paper towel on the outside of each beet, which should help the skin come off easily. Do this over a baking tray, and be sure to wash your hands right after the process. (Beet juice can stain fingers, surfaces, and clothes, so proceed with caution!) After the beets have been peeled, simply slice them into even wedges, and they're ready to use for your salad.
Serve and enjoy this tasty beet salad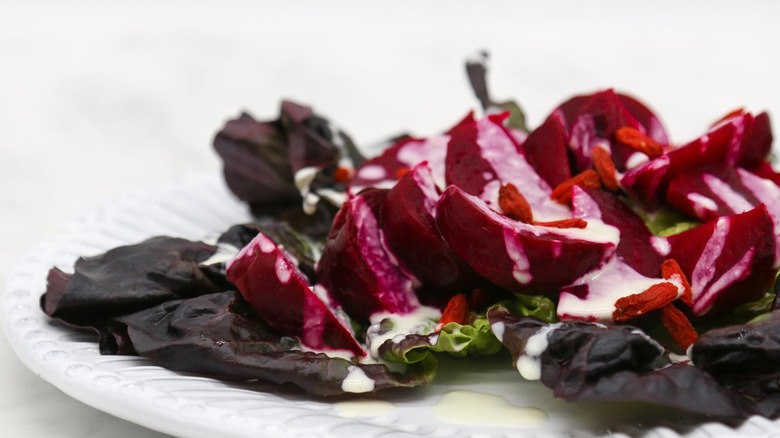 Maren Epstein/Health Digest
To serve the beet salad, arrange the lettuce and beets on a nice serving platter. Drizzle with the goat cheese dressing, and garnish the salad with a few goji berries for a pop of color and bright acidity. This is going to look really colorful on the plate, and you are in store for a lovely Pinterest-worthy presentation on your table.
If you are roasting the beets and making the salad on the same day, a word of warning: While the beets can indeed be added to the salad warm, if left too long, they could cause the lettuce to wilt. "Just make sure to serve them right away so that the lettuce stays crisp while the salad is being eaten," notes Epstein.
This is such a great salad to make and serve for an appetizer before a delicious summertime meal or even all by itself for a light, refreshing lunch. There are so many possibilities when it comes to this dish, and once you learn how to put this together, it is sure to be an all-time favorite recipe for many occasions.
Easy Beet Salad Recipe
This easy beet salad recipe boasts a whipped goat cheese dressing your taste buds will absolutely fall in love with.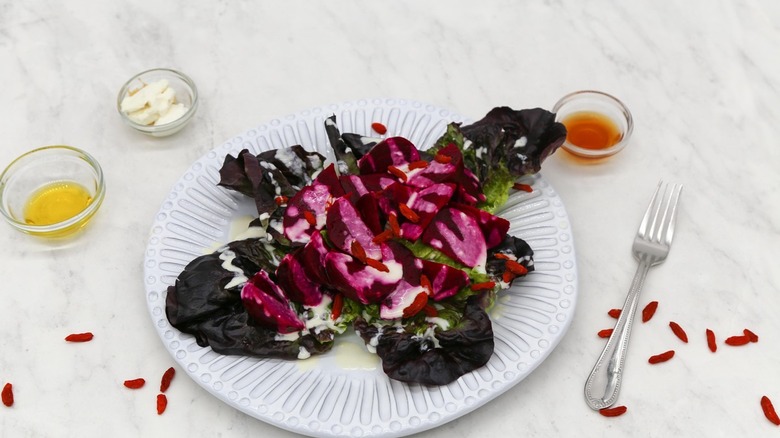 Ingredients
5 beets
4 ounces goat cheese
1 tablespoon Greek yogurt
3 tablespoons water
1 tablespoon sherry vinegar
¼ teaspoon Dijon mustard
1 pinch cracked pepper
1 teaspoon olive oil
1 cup little gem lettuce
2 tablespoons goji berries
Directions
Preheat the oven to 400 F.
Wrap the beets in foil, and roast them for 1 hour, or until they're easily pierced with a fork.
Meanwhile, make the dressing by combining the goat cheese, Greek yogurt, water, sherry vinegar, Dijon mustard, pepper, and olive oil in a high-speed blender. Blend until smooth. The dressing should have a creamy, thick consistency.
Once the beets are cool enough to touch, use a paper towel to rub the skins off.
Slice the beets into wedges.
On a small platter, arrange the lettuce and beets. Drizzle with dressing, and garnish with goji berries.
Serve immediately, and enjoy.
Nutrition
| | |
| --- | --- |
| Calories per Serving | 302 |
| Total Fat | 15.1 g |
| Saturated Fat | 8.9 g |
| Trans Fat | 0.0 g |
| Cholesterol | 27.3 mg |
| | |
| --- | --- |
| Total Carbohydrates | 27.6 g |
| Dietary Fiber | 7.2 g |
| Total Sugars | 18.6 g |
| Sodium | 460.9 mg |
| Protein | 16.1 g |