Surprising Side Effects Of Teeth-Whitening Treatments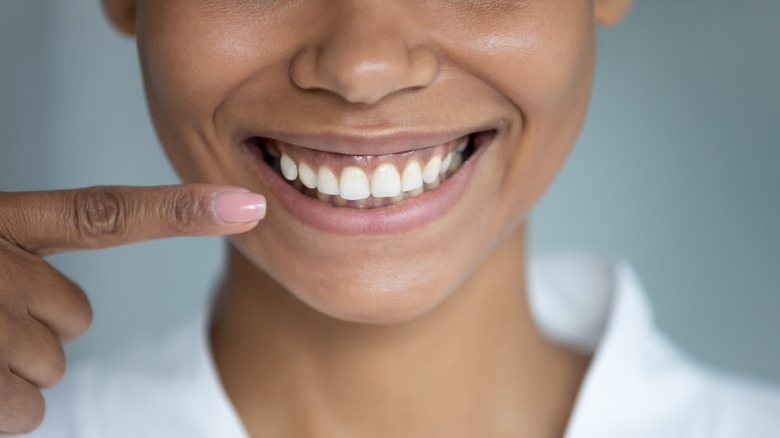 Shutterstock
When we think of an award-winning smile, the adjectives genuine, big, and healthy come to mind. But what else do we need for a sparkling grin? White teeth, of course. Even for those who have brag-worthy oral hygiene routines, sometimes it can be hard to achieve the movie star shade of white we're hoping for. Colgate names factors such as aging, coffee, smoking, medications, and some of the foods we eat as common causes of yellowing or teeth staining. Luckily, there is a fix. Teeth-whitening treatments are available to either buy off the shelves, or receive professionally from a dentist. However, before you commit to upping the luminosity of your pearly whites, there are a few side effects you should be aware of.
According to a review published in the scientific journal Clinical Oral Investigations, teeth-whitening products that contain bleach and hydrogen peroxide shouldn't be purchased or used without the supervision of a professional. Multiple treatments can increase the intensity of side effects such as tooth sensitivity or damage to tooth enamel. There have also been recorded adverse side effects on the digestive tract if accidentally swallowed.
Your gums can become irritated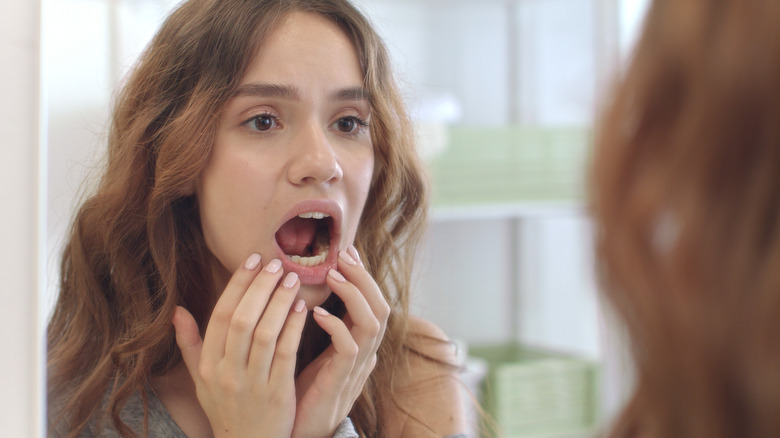 Shutterstock
If you choose to whiten your teeth with an over-the-counter product, make sure you read the directions carefully. Experts at Healthline also recommend looking for products that have the American Dental Association's Seal of Acceptance. This seal is meant to insure that the product you are buying is safe.
Increased tooth sensitivity is one of the most common side effects of the teeth-whitening process, but there is also a chance for increased gum sensitivity as well. This can occur if the product you're using accidentally makes contact with your gums. It is also worth noting that many teeth-whitening treatments are designed for organic teeth as opposed to manufactured teeth. Therefore, discuss with your dentist before use if you have implants, crowns, bridges, or dentures.
Both tooth sensitivity and gum sensitivity can occur while receiving teeth-whitening treatments. WebMD shares that if you experience either of these side effects, you should take a few days off before resuming treatment and switch to a toothpaste made for sensitive teeth. You can still have a big, healthy, genuine smile, but without the irritation that can sometimes come with teeth-whitening. If you do decide to whiten your teeth, look for a safe product and discuss your options with your dentist if you have any concerns.