What It Really Means When Your Palms Sweat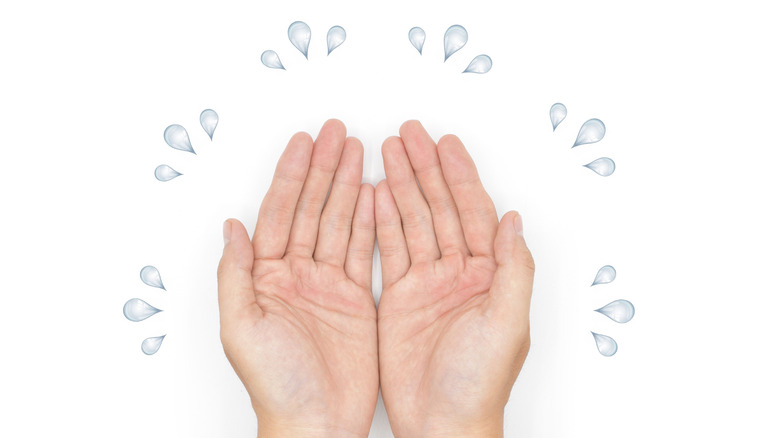 Shutterstock
You're on your way to that big interview or a blind date and doing your best to look — and feel — cool and calm. So, why are your palms sweaty? Despite your attempts to feel relaxed, chances are your nervous system has other ideas. According to the Mayo Clinic, your nervous system activates your sweat glands whenever your body temperature goes up, and the result will often show up on your palms.
But if your palms sweat more frequently than just when you're in a heightened situation, it could be a sign of a condition known as hyperhidrosis. If you have this condition, the nerves associated with triggering your sweat glands become overactive, even when there is no signal from the environment such as increased temperature or if you haven't engaged in any rigorous physical activity. When this happens in your palms or the soles of your feet, this is specifically known as primary focal hyperhidrosis, the most common form of hyperhidrosis. The Mayo Clinic explains that there is no medical reason for primary focal hyperhidrosis and that it is believed to be hereditary, as it has been known to run in families.
More serious reasons why your palms sweat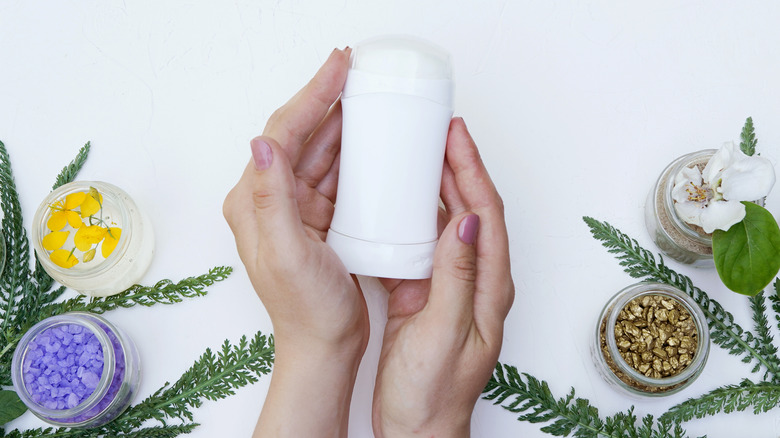 Shutterstock
While having sweaty palms may be just an annoyance to some, it could be a symptom of more serious underlying conditions, such as diabetes, overactive thyroid, heart issues, and nervous system problems. If you find that you're consistently sweating and the sweating is accompanied by other symptoms, such as chills, chest pain, nausea, or fever, it may be time to consult with a medical professional (via Healthline).
However, if your sweaty palms are not serious enough to involve a doctor, Healthline suggests various home remedies to mitigate perspiration. While antiperspirants are typically associated with underarms, these can be used on your palms as well. Try a regular-strength variety first; switch to a stronger version if you need something more effective. Baking soda is another great option and is an item you likely already have in your kitchen. Baking soda is alkaline, so it can moderate perspiration and help it to evaporate. Create a paste using a couple of teaspoons of baking soda and water, rub the paste in your hands for five minutes, and then rinse. Another remedy for sweaty palms is apple cider vinegar, which can balance your body's pH levels. Wipe the apple cider vinegar on your hands and leave it on while you're sleeping to produce the best results.
If your sweaty palms have become a handful, don't hesitate to see a medical professional to determine what else may be going on with your health. But if you determine the situation is simply an embarrassing annoyance, try one or more of these suggested remedies — and maybe also try to stop sweating the small stuff.