What It Means When You Have Trouble Walking Up Stairs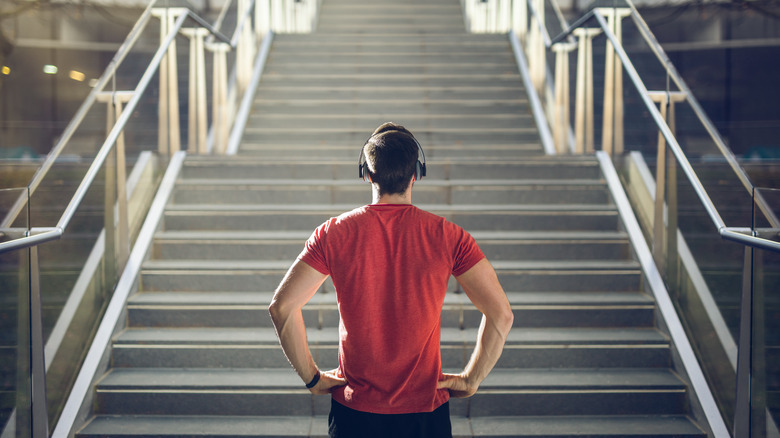 Shutterstock
Walking up and down the stairs is a standard part of people's daily routine. It's known to improve cardiovascular health, build endurance, strengthen muscles, and more. However, no matter how much you exert yourself on stairs, it's not so easy to get used to it — climbing stairs, after all, can be a tiring exercise. After a point, even the sight of stairs can be exhausting.
But don't panic already if you find yourself short of breath while ascending stairs. It's common to breathe heavily after walking up a short flight of stairs. Even people in good shape find their breath drawn out of their lungs after ascending a few stories.
A typical medical term for being winded up after taking the stairs is exertional intolerance. So what's the reason for this exertional intolerance? The body undergoes exertion because it's at rest before you climb a flight of stairs, which means that the heart rate is low. Besides, your muscles are cold, and they are not ready for sudden activity. So as soon as you start walking up the stairs, your body gets into the shape of single-leg squats, which is a great cardiovascular exercise. But again, your body's not quite ready for it, and this is why the heart rate increases significantly, and you start struggling for breath.
What does having trouble walking up the stairs say about your health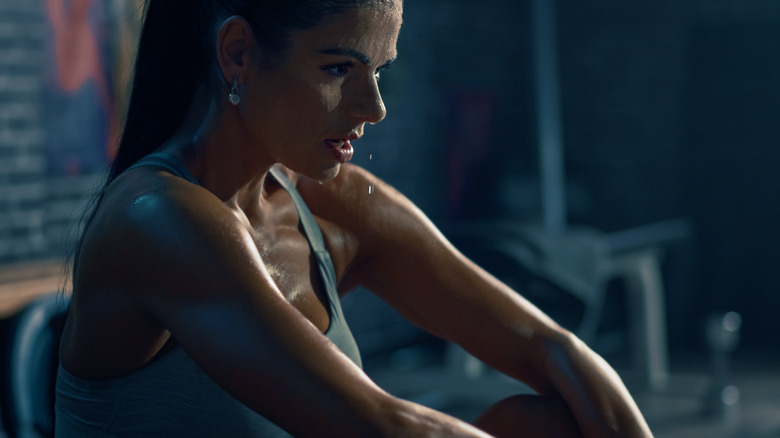 Shutterstock
There are different types of shortness of breath — some are temporary while others are chronic. Dyspnea is another medical term for shortness of breath. So if you find yourself short of breath after taking a single flight of stairs, there might be a chance of some underlying health issues.
Medical NewsToday reported that disturbance or damage to the pulmonary or respiratory system can cause dyspnea. This is because, in conditions like asthma and pneumonia, the respiratory airway is constricted, causing impairment in the oxygen exchange, leading to shortness of breath after minimal exertion like climbing a flight of stairs. 
It is common to suffer from shortness of breath after climbing stairs if your cardiovascular health is poor. The cardiovascular system is responsible for circulating blood throughout the body. If the heart muscles become weak, it fails to pump blood to the rest of the body, resulting in fluid and pressure-buildup that causes dyspnea.
But what about feeling weak after climbing stairs?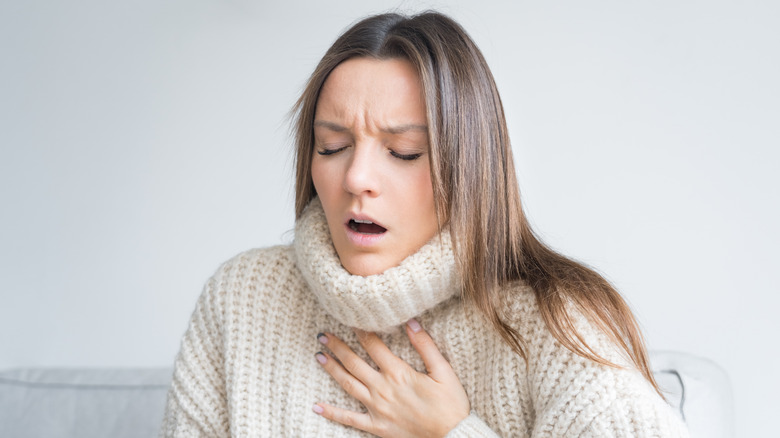 Shutterstock
Shortness of breath is not the only horror surrounding stairs. There's also fatigue and weakness in the legs. While leg weakness can be expected for people who work out regularly, it may have a more significant meaning for those who feel weak after climbing stairs.
According to Livestrong, leg weaknesses after climbing stairs should not be disregarded as a side-effect of aging, as it may indicate other underlying health conditions. For example, people who suffer from neurological conditions like Addison's disease and amyotrophic lateral sclerosis may also suffer from heaviness in their legs after climbing stairs. In addition, knee osteoarthritis is also known to cause difficulties in climbing stairs and other daily activities that put pressure on the joints.
If you have pinched nerves in your legs, spinal cord, or lower back, you may suffer from leg weakness after walking up the stairs. According to NCBI, nerve entrapment in the hip region causes leg weakness in climbing stairs by hindering a person's ability to move the quadriceps muscles. If you find yourself short of breath often, you should see a doctor for their professional opinion.