Spicy Papaya And Carrot Salad Recipe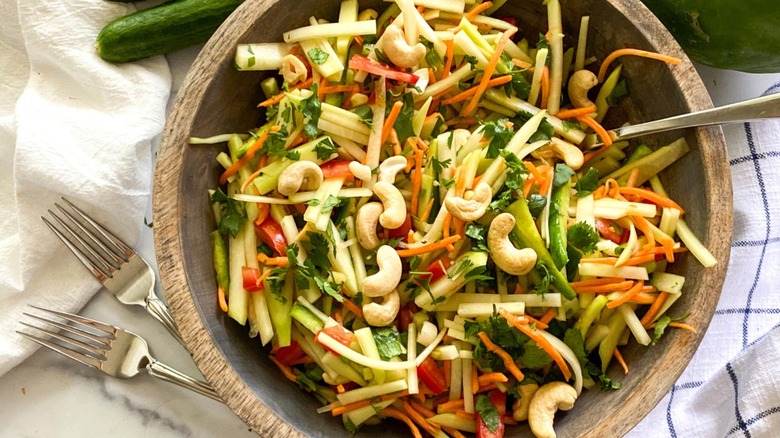 Miriam Hahn/Health Digest
Papaya salad is a favorite dish in both Thailand and Laos, and, like so many other amazing recipes, was introduced to the U.S. by immigrants from those countries. If you've never had this beautiful, tropical fruit before, which boasts plenty of nutritional benefits, you are certainly in for a treat when it comes to the salad — but the catch here is that we're going to be using green papayas, which will add a lovely crunch and texture to the salad.
Recipe developer Miriam Hahn explains the inspiration behind her delicious papaya salad. As she puts it, "As a wellness coach, I am always looking to eat the rainbow and expand my variety of produce, because each individual type of fruit or vegetable offers different vitamins and minerals." She says she'd seen papaya in Asian markets, but it's not something she ate very often, so she decide to experiment with it and created her Asian-inspired salad since she'd heard it provided fantastic benefits for your skin. Hahn's American version of papaya salad is something that doesn't require too many complicated ingredients, and, unlike more traditional Thai/Laotian salads, it contains no fish sauce or crab paste, so it's entirely vegan.
This is an amazing salad to serve for a light lunch by itself. It's also a wonderful recipe to prepare for a summer buffet, along with anything else you happen to be serving. Not only is it a colorful touch to any table, but it is sure to be a crowd-pleaser.
You'll need a green papaya for this salad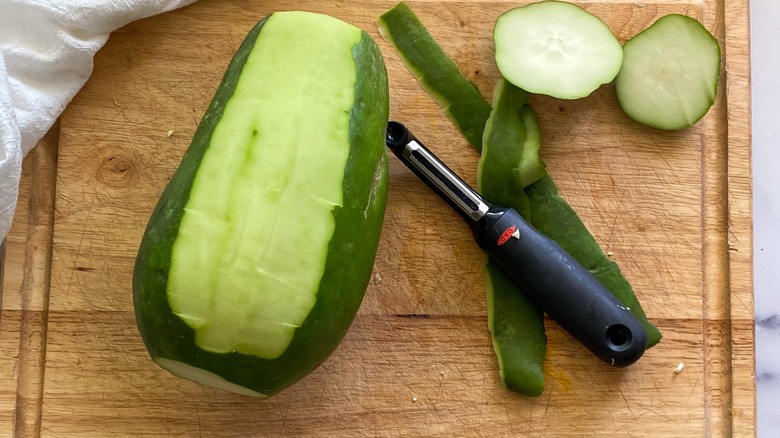 Miriam Hahn/Health Digest
The main ingredient in this salad is green papaya, which is not exactly the same thing as the red or orange papaya which are both more readily available in most grocery stores. Well, it is and it isn't the same. Cook's Illustrated says both types of papaya are the identical fruit, but they are picked at different stages of ripeness. The unripe green papaya you want to use in this salad won't supply much in the way of flavor, but will give crunch and body to a salad that will really complement the seasonings you use in it. While green papayas may not be available in the produce aisle at your local grocery store, they are sold at many Asian groceries. It will certainly be worth the extra effort to find green papaya — you will absolutely be happy that you did!
The rest of the ingredients shouldn't be too hard to come by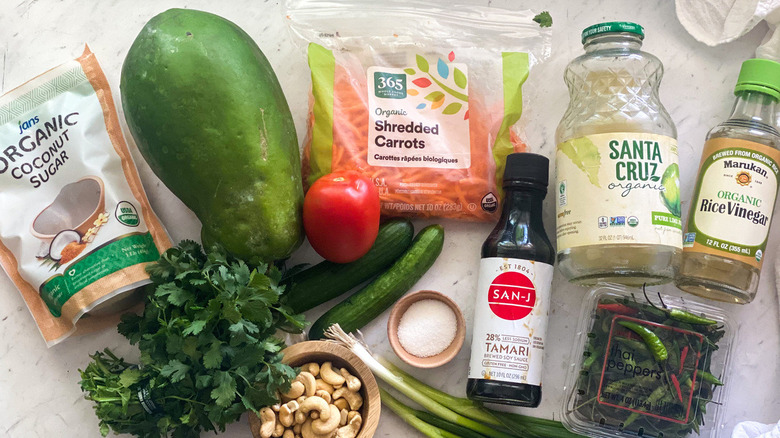 Miriam Hahn/Health Digest
Before you begin preparing this refreshing salad, you'll want to round up all of the ingredients. Besides the green papaya that you hopefully already tracked down, you're also going to need fresh garlic, Thai chiles (Serranos or even jalapeños can be subbed in, if necessary), carrots, Persian cucumbers (the little ones — just use one of the bigger English cucumbers if you can't find the Persian version), a plum tomato, fresh cilantro, some scallions or green onions, and cashews or peanuts for a garnish. For the salad dressing, you'll need to gather limes, rice vinegar, soy sauce, salt, and coconut sugar.
You can, of course, feel free to substitute table sugar for the coconut sugar on a one-to-one basis. As Good Housekeeping points out, coconut sugar has the same calorie count as does table sugar, and although its nutritional profile is somewhat better, you'd have to be eating a whole lot of sugar in order for that to make much difference. 
The great news is, a lot of these ingredients are items you will already have in your kitchen or garden, so you won't have to shop for a lot of things.
Start by making the salad dressing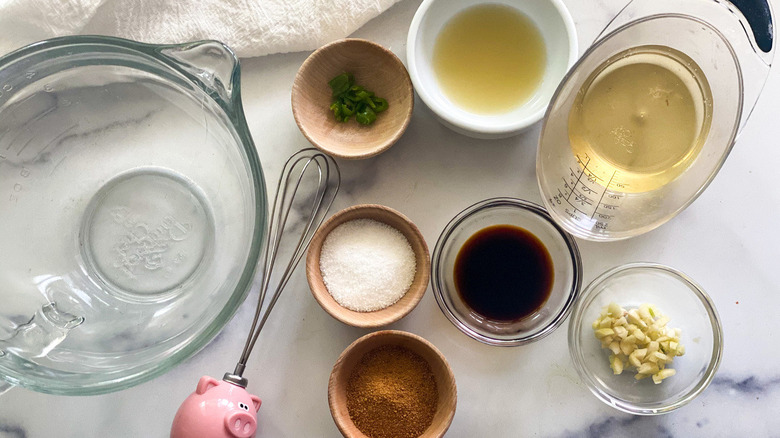 Miriam Hahn/Health Digest
The first step you're going to want to do when creating your papaya/carrot salad, is to prepare the pièce de résistance, aka the dressing. That way, while you prep the rest of the ingredients for your recipe, the complex flavors can mix and mingle to blend harmoniously.
Now you're going to chop the garlic and the chiles, then put them in a small bowl, and add the rice vinegar, the sugar, the juice from the lime(s), the soy sauce, and the salt. With both the sugar and the salt, you may not want to add the entire amounts, so just start out by adding a little of both at a time and tasting to see if you think the dressing needs more of either or both seasonings. After all, one of the first rules of cooking math is that you can always add, but you can never, ever subtract an ingredient once it's in the mix. So take it slow, and use your best judgement on that particular step. It always tells the truth!
Peel and prepare the papaya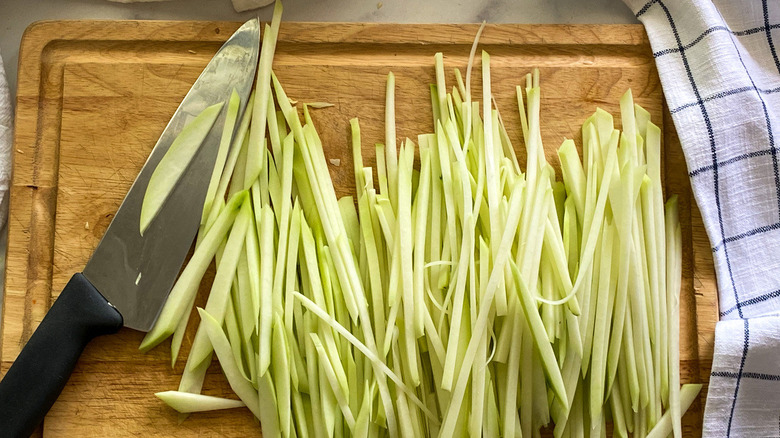 Miriam Hahn/Health Digest
Use a potato peeler or a sharp knife to peel the papaya. Use whichever one you're most comfortable working with. Be sure to get it all off, because the peel itself isn't too tasty. Once the papaya is completely peeled, hold it lengthwise, and cut it into ¼-inch-thick flat pieces. If your papaya has any seeds, scoop those out, and discard them. Stack a couple of the papaya slices up at a time, and then slice them into thin julienne strips. As a final touch, cut the julienne strips to measure just 1 to 2 inches in length.
If all of this cutting sounds like a lot of work, you could always use a mandoline to do the slicing, or you could even use a box grater to shred the papaya, as is called for in many Thai/Laotian recipes. Slicing versus shredding won't affect the flavor, only the texture, so it's a matter of preference as to how you like your papaya. It's going to taste the same, regardless of what method you use. The key here is to get them sliced to the right shape and size. The salad is going to be a really nice presentation overall, so get excited.
Chop the rest of the vegetables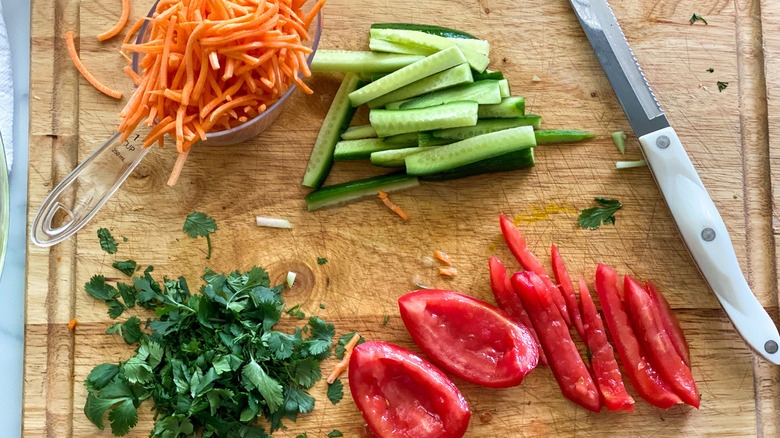 Miriam Hahn/Health Digest
The carrots can be shredded, although the choice of whether or not to peel them is up to you. The peel tends to be slightly bitter, but if you don't mind (or even enjoy) this, you can leave it on. If not, peel the carrots first, then shred them. 
When it comes to the cucumbers, it's perfectly okay to leave the peel on here, but you can peel those as well if that's your preference. These cucumbers should be julienned, though, since they will completely lose what little crunch they have if you shred them. If you use Persian cucumbers or substitute a seedless variety, you won't have seeds to worry about, but if you need to use a seeded cucumber, you should remove the seeds as best you can before you slice it. 
Cut the tomato in half, scoop those seeds out, too, then dice it. Chop the scallions and the cilantro, and then you're all done with all of your veggie cutting for this recipe. You have one healthy countertop filled with healthy ingredients right there.
The salad needs to sit before serving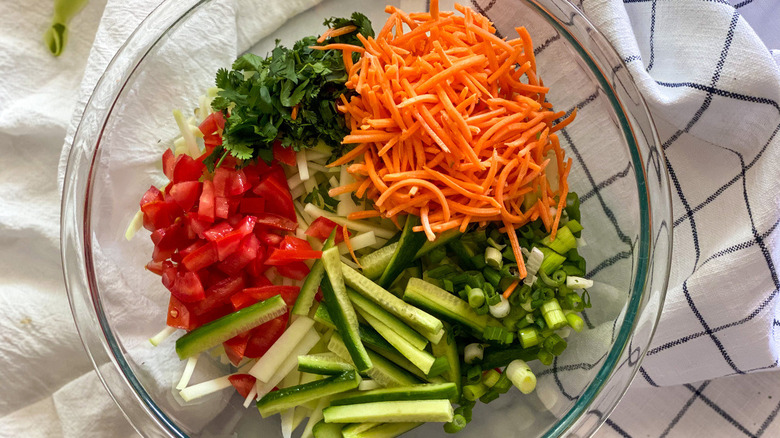 Miriam Hahn/Health Digest
Once all of your veggies are sliced and diced, it's time to mix them all together in a large serving bowl. Grab your dressing that you prepared earlier, and pour it over the top of your ingredients. Then, mix everything together very gently to make sure all of the salad is coated really well with your dressing. Don't skimp in this process, because you definitely want a delicious taste of dressing in every single bite.
Cover the salad with plastic wrap, and pop it in the fridge to sit for an hour or so before you serve it to your family or guests. That way, the veggies will crisp up nicely, and the dressing can soak in and add its magic flavor to your dish. Right before you serve the salad, sprinkle it with your garnishes, including chopped peanuts or cashews and some extra chopped cilantro. This will give it a very professional presentation.
You can, if you'd like, put together a pitcher of Thai iced tea or coffee to serve with your papaya/carrot salad. You can even consider picking up some Singha beer if your local liquor store has a decent import section. (Beer Lao will likely be harder to come by, but that's a nice option as well.) If you want to keep things as healthy as possible, though, you could always serve unsweetened herbal tea instead. Either way, you're going to have a really nice meal on the table.
The health benefits of papaya salad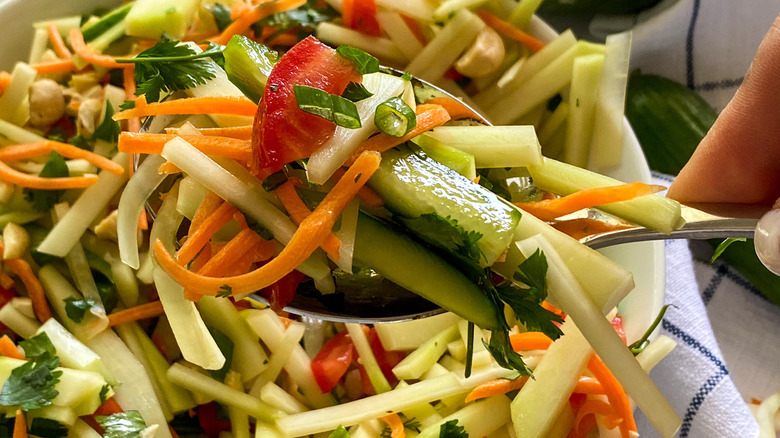 Miriam Hahn/Health Digest
Hahn says that what she loves about this salad is how it's such a nutritional powerhouse. The green papaya is loaded with raw enzymes, which "make it super great for digestion, which in turn, helps boost metabolism." She also says green papaya can also help maintain healthy blood pressure, plus all the vitamins it contains "can really help your skin glow."
Papaya's not the only thing this salad's got going for it, though. Hahn says the cucumbers are "super hydrating," and says the electrolytes they contain can help regulate sodium in the body and thus reduce the bloating and fatigue that can come from an excess of this element. Carrots, of course, are known for containing vitamin A, something that boots collagen production. They're also chock-full of antioxidants, and Hahn shares the welcome news that these not only protect our cells but can even, she says "slow down the aging process." 
All that goodness in one salad and it tastes as great as it does? You might start making this recipe every single day this summer, and that's definitely not a bad thing!
Spicy Papaya And Carrot Salad Recipe
This spicy papaya and carrot salad is an amazing dish to serve for a light lunch by itself. It's also a wonderful recipe to prepare for a summer buffet.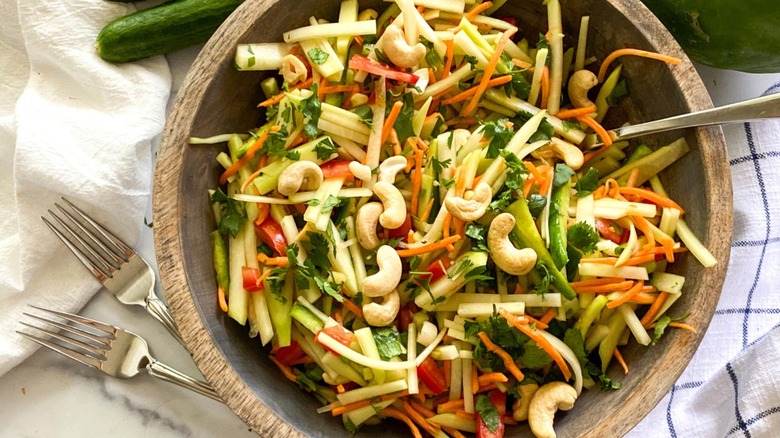 Ingredients
2 cloves garlic, minced
1 to 2 Thai chili peppers, seeded and chopped
⅓ cup rice vinegar
2 tablespoons coconut sugar
2 tablespoons lime juice
1 tablespoon soy sauce
1 teaspoon salt
1 large green papaya, peeled and julienned
1 cup shredded carrots
1 to 2 small Persian cucumbers, julienned
1 plum tomato, seeded and chopped
½ cup fresh cilantro, chopped (plus extra for garnish)
3 scallions, chopped
¼ cup chopped or broken cashews or peanuts
Directions
Chop the garlic and the Thai chili. Add those to a bowl, and add in the rice vinegar, sugar, lime juice, soy sauce, and salt. Mix well, and then set aside
Peel the green papaya with a potato peeler. Holding the papaya lengthwise, cut it into ¼-inch-flat pieces. Stack a few pieces at a time, and then cut these into julienne strips. Trim the strips down to 1 to 2 inches.
Peel (or don't peel), and shred the carrots.
Cut the cucumber(s) into julienne strips.
Cut the tomato in half, remove the seeds, then dice.
Chop the cilantro and scallions.
Toss all of the vegetables in a large bowl, and mix with the dressing.
Chill the salad for at least an hour.
Top the salad with chopped cashews or peanuts, and sprinkle with additional cilantro before serving.
Nutrition
| | |
| --- | --- |
| Calories per Serving | 130 |
| Total Fat | 3.1 g |
| Saturated Fat | 0.6 g |
| Trans Fat | 0.0 g |
| Cholesterol | 0.0 mg |
| | |
| --- | --- |
| Total Carbohydrates | 25.3 g |
| Dietary Fiber | 3.6 g |
| Total Sugars | 16.9 g |
| Sodium | 534.0 mg |
| Protein | 2.7 g |