Christian Eriksen's Scary On-Field Collapse Explained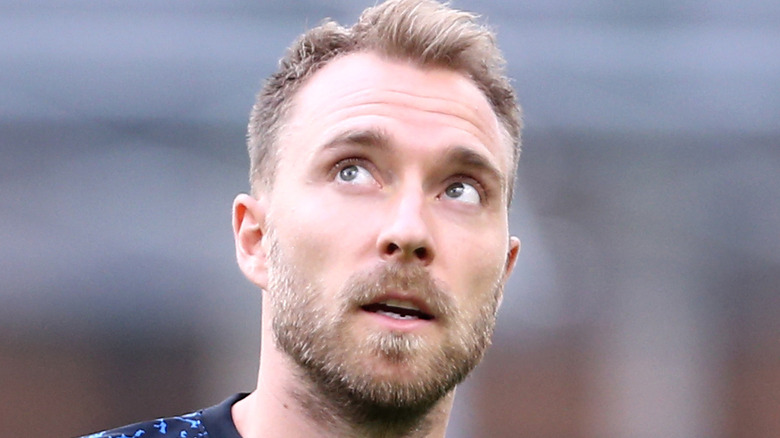 Shutterstock
Professional athletes seem like the pinnacle of health. They know how to eat, how to train, and how to take care of themselves so that they stay in peak condition. And that's what makes it even more terrifying when one of them is struck by a sudden injury or, in the case of Denmark midfielder Christian Eriksen, cardiac arrest.
As ESPN described it, the moment stunned everyone. Not quite halfway through Saturday's Euro 2020 match between Denmark and Finland, the 29-year-old pro soccer player collapsed without warning. Fans both in the stadium and at home watched as Eriksen's teammates, as well as the opposition, rushed to his side. For 20 minutes Eriksen lay on the pitch while receiving medical care as his teammates formed a protective circle to shield him from the cameras and as many onlookers as possible.
Eriksen was eventually moved to a stretcher and taken to a hospital in Copenhagen where, according to a UEFA statement, he was stabilized. Since then, details have been slow in coming. It's hard to understand how a seemingly healthy athlete in his late 20s — one whose health is regularly monitored by his team — could be hit so suddenly by such a dangerous condition. Here's what we know.
Christian Eriksen received immediate care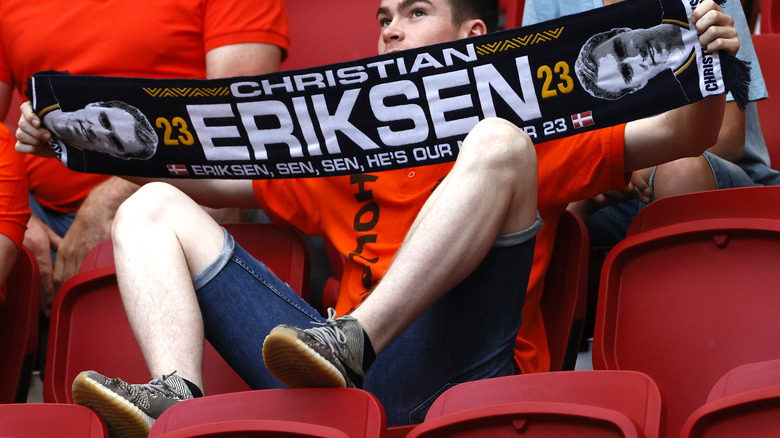 Koen Van Weel - Pool/Getty Images
While many stations televised the entire episode from start to finish, some chose to cut away as to prevent further distress to viewers at home. What these viewers may have missed was Denmark's team captain rushing to Christian Eriksen's side, where he then administered CPR, according to The Sun. Yes, Simon Kjaer was among the first to reach Eriksen while the referee signaled for the medics.
This swift intervention likely helped save Eriksen's life. The Sun also reported that Morten Boesen, the team doctor for Denmark, later revealed in a press conference that Eriksen "was gone" prior to receiving resuscitation on the field. Medics had to use a defibrillator, though Boesen was also quick to point out that Eriksen needed only one shock before his heart began beating again.
His report is supported by fans both in person and at home who reported seeing one trainer performing chest compressions, according to The New York Times, despite Eriksen's teammates trying to shield him from view. Despite these extremely dire events, however, fans can rest easy now. Eriksen was quickly stabilized and by that evening he was reportedly laughing and smiling in his hospital bed as he reassured friends and family he was doing "okay."
What we know now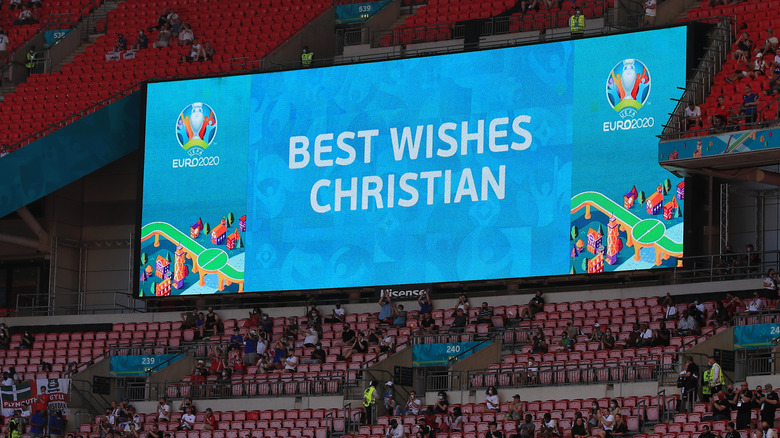 Marc Atkins/Getty Images
As of this writing, there is no official word on why Christian Eriksen's heart gave out. All that is known for certain is that Eriksen suffered cardiac arrest and that his heart stopped entirely for a time. A few causes have been ruled out, however.
Some fans theorized that Eriksen has COVID-19 or that his collapse was due to an adverse COVID-19 vaccine reaction. Neither, as it turns out, is true. Eriksen plays primarily for Inter Milan and, as such, some key updates have come from Milan's director, Giuseppe Marotta. After rumors abounded, Marotta addressed the issue in no uncertain terms, as reported by The Sun: "He didn't have Covid and wasn't vaccinated either." Marotta went on to say that most information on Eriksen would come through the Danish team's medical staff. The Inter Milan team, however, has been in regular and consistent contact with Denmark to make sure all possibly relevant information is being shared as the teams, the fans, and Eriksen himself search for a reason his heart stopped that day.
ESPN reported that Eriksen is in good spirits as his wife and parents keep him company in the hospital. Doctors are running tests to try and pinpoint a cause, though no specifics have been provided. For the moment, it is enough that fans and fellow athletes around the world are sending love and support during Eriksen's recovery.