Is Dave's Killer Bread Good For You?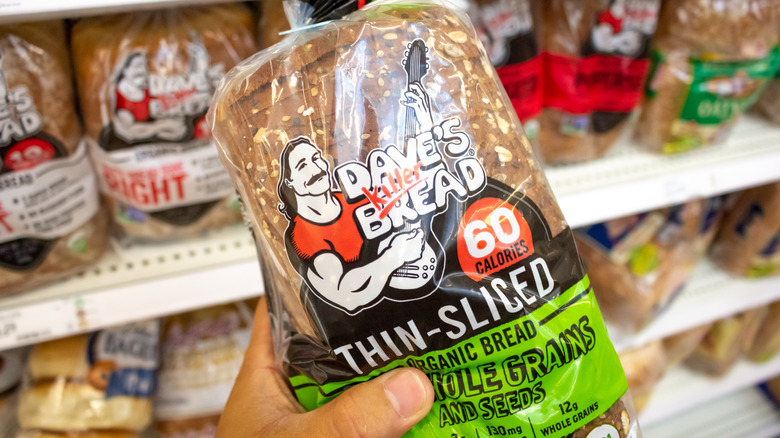 Shutterstock
If you've ever found yourself overwhelmed by the sheer number of bread brands in the grocery store aisle, you're not alone. But Dave's Killer Bread stands out from the crowd, grabbing your attention with a mustache-rocking, guitar-playing guy — who we assume to be Dave — on the label. However, you should consider more than just cool packaging when it comes to buying your groceries. Is Dave's Killer Bread a good choice for your health?
Happily, the answer appears to be "yes." Dave's Killer Bread packs a lot of nutrition into each slice: protein, omega-3s, and fiber from the organic, non-GMO whole grains. And unlike many brands that add in high-fructose corn syrup, Dave's Killer Bread uses the natural sugars from organic fruit juice. While the nutritional mileage varies depending on the item — the line includes a range of products like cinnamon raisin slices and bagels – nutritionists agree that, overall, Dave's Killer Bread is a healthier option than many the processed bread brands that are on the shelf next to it (via Women's Health).
What's in Dave's Killer Bread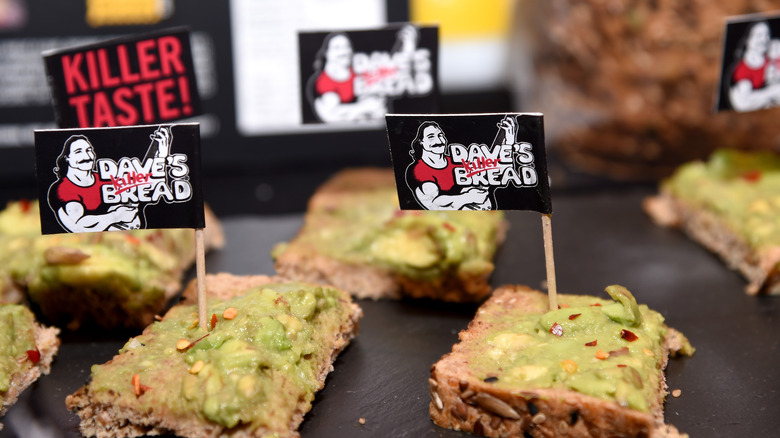 Dave Kotinsky/Getty Images
Aside from the health perks, there are other reasons why Dave's Killer Bread has garnered such an enthusiastic following (via Women's Health). For one, not only does their website list all the nutritional facts per package and slice, but it also has a convenient search feature that allows consumers to sort by ingredient (via Dave's Killer Bread). If you're looking for the lowest-calorie slice, or the loaf with the most protein or fiber, you don't have to scour the labels to find it.
Even better is the chance to support a company with a mission. Co-founded by Dave Dahl after he served 15 years in prison, Dave's Killer Bread gives other people with criminal backgrounds the chance to have a steady job again after they re-enter the workforce (via Eat This, Not That), and the Dave's Killer Bread Foundation works with other employers to enable them to offer Second Chance Employment as well.