Easy Sweet Potato Patties Recipe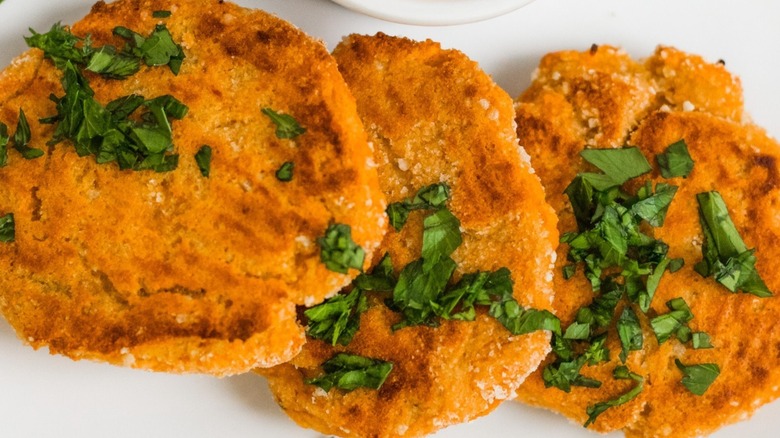 Jaime Bachtell-Shelbert/Health Digest
Summer dining often means meals in the sun, shared with friends, with lots of cool accompaniments. It's always a serious compliment to bring the one standout dish to a cookout, and with Jaime Bachtell-Shelbert's sweet potato patty recipe, you're sure to impress.
These sweet potato treats combine fragrant cumin and paprika with warming sweet potato to create the perfect small bites. They can be eaten as a starter, side, or as a snack all on their own. They may look impressive, but the beauty of this recipe is the fact that they are made with ingredients you probably already have in your cupboards, and you can adapt them to your own taste.
The recipe calls for cumin and paprika. However, recipe developer Jaime Bachtell-Shelbert says that "the herbs and spices can be easily changed up to suit whichever type of cuisine they are being served with."
So, if you want to try a healthier twist on a classic potato cake recipe, here's how to get seriously crispy sweet potato patties.
Gather your ingredients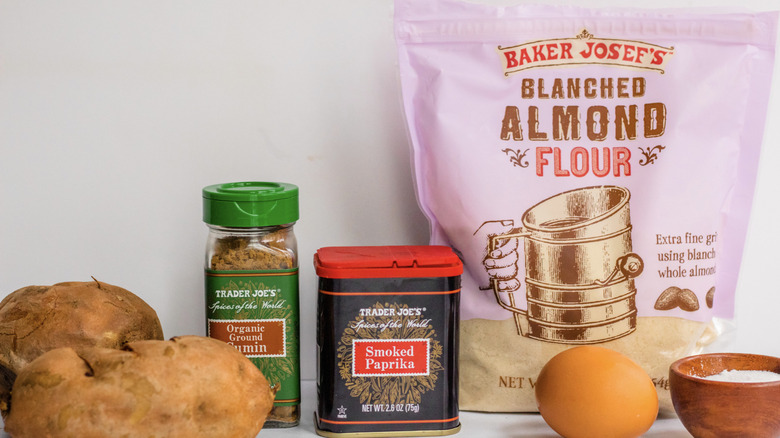 Jaime Bachtell-Shelbert/Health Digest
Before you get started, gather your ingredients in front of you. There are a few components to this recipe, and you wouldn't want to miss out on a spice simply because it wasn't in front of you. You'll need salt, cumin, smoked paprika, almond flour, bread crumbs or panko, and an egg. Of course, you'll also need your sweet potatoes and some nonstick spray or oil. The prep for this recipe won't take long. However, your mixture will dictate how well your ingredients stick together to form the patties and how your patties taste when they come out of the oven.
Prep your potatoes, and place them in the oven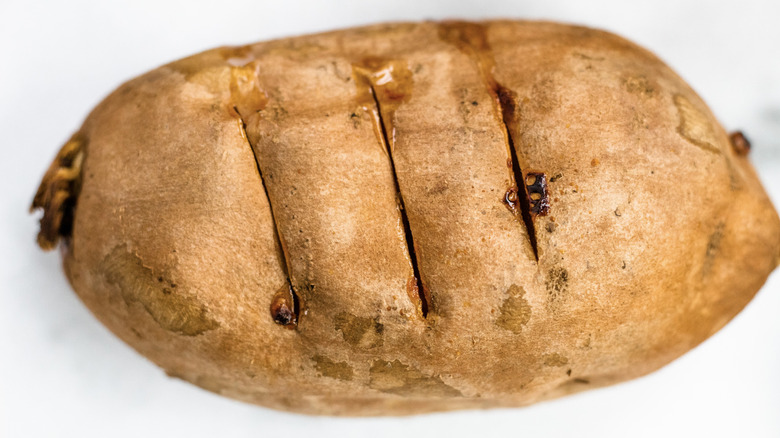 Jaime Bachtell-Shelbert/Health Digest
Preheat your oven to 450 degrees Fahrenheit. Wash and dry your two sweet potatoes. Ensure you get any dirt off, and pat dry with a paper towel. Make three cuts across the top of your potatoes. You don't need to cut all the way into them. Scoring them will help them cook evenly and quickly.
Once your oven has come to temperature, place your potatoes on a roasting tray with parchment paper and roast for an hour or until you can pierce them with a fork. Do not place the potatoes in the oven before it's reached 450 degrees, as it may throw off your cooking time. Similarly, if you can see that your potatoes look fairly done and a fork sinks into them, then it's okay to take them out. At this stage, you're looking for them to be soft and fluffy on the inside.

Remove the skins and mash in a bowl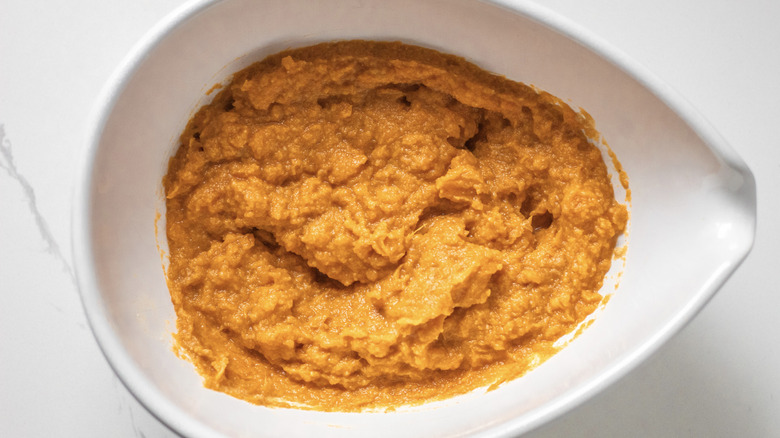 Jaime Bachtell-Shelbert/Health Digest
Once you've taken the potatoes out of the oven, let them sit for a little while. They'll be easier to handle once they're cool. Once you can pick them up comfortably, make a small incision and peel the potatoes. You can do this with your fingers. You need to remove all of the skins, but try to keep as much of the soft part of the potato intact as possible. Place them in a bowl and mash them up until you've got a smooth consistency similar to that of mashed potatoes that you'd serve as a side dish.
After you've mashed your potatoes, turn down the heat of your oven from 450 degrees to 400 degrees. If you place your patties in while the temperature is dropping, you risk drying them out or burning them.
While your oven is cooling, cover an oven tray in baking parchment and spray it with oil. You've got a few choices when it comes to the oil you use. Bachtell-Shelbert recommends coconut oil or avocado oil for their non-stick properties.
Make your patty mixture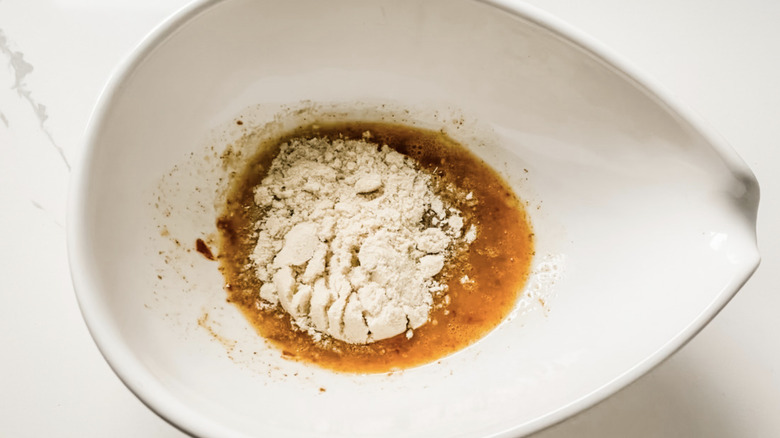 Jaime Bachtell-Shelbert/Health Digest
These sweet potato patties are so tasty because they're so much more than the humble potato. Crack your egg into a bowl and whisk it. Then add your salt, cumin, and smoked paprika. Make sure the bowl you're using is large enough to hold all the mixture. Once all the ingredients are incorporated, you can pour in the almond flour. Stir vigorously until the mixture is smooth.
Bachtell-Shelbert notes that if you're having a different type of cuisine or you're not a fan of cumin and smoked paprika, then you can swap out the spices for others that suit your taste better. Just ensure that you stir them in at this stage.
Stir in the sweet potato mash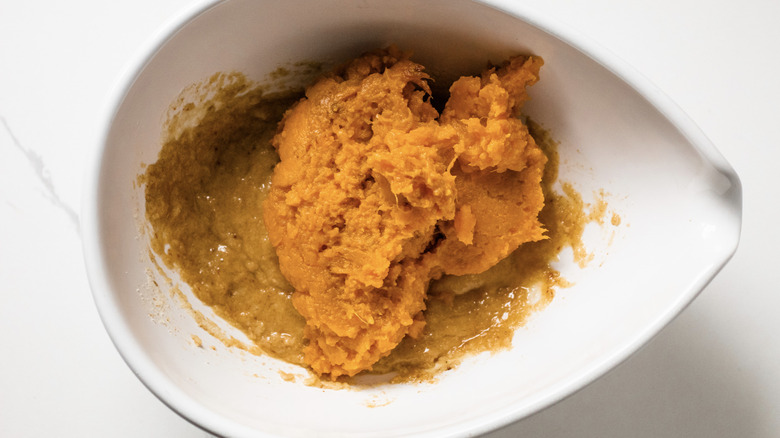 Jaime Bachtell-Shelbert/Health Digest
After your mixture is fully incorporated, you can add the sweet potato mash. You don't want to spill any of your ingredients at this point, so make sure the bowl you choose is large enough. Be careful when adding the mash, but add it all at once.
Then, using a large spoon or spatula, start to fold the potato in with the eggs, spices, and flour. Taking some time to ensure that your spices are evenly spread out throughout the mixture will ensure that your patties are tasty throughout. After you've done that, pour your breadcrumbs into a separate bowl.
Form the patties and cook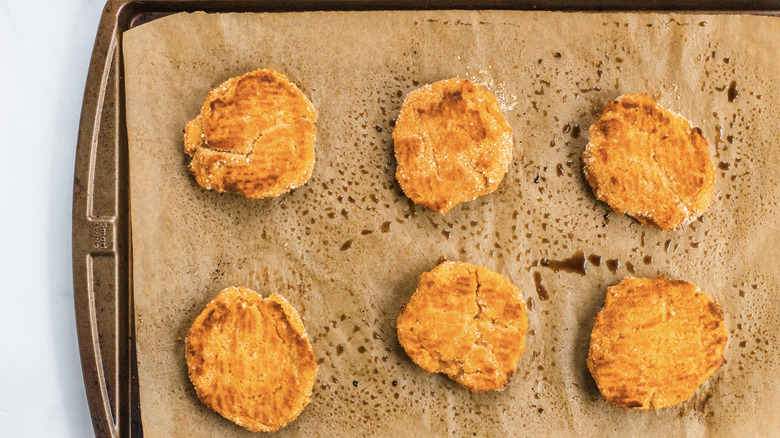 Jaime Bachtell-Shelbert/Health Digest
Once all of your ingredients are mixed together, scoop about one-quarter of a cup of the sweet potato mixture and form a patty with your hands. The mixture will be moist and can be a little bit tricky to handle. However, a wet and sticky batter really works and can make some great-tasting patties. You want to try and create equal-sized spheres, but you don't need to worry too much about the shape.
Once you have your six patties, you can coat them on each side with the panko or breadcrumbs. Place them on the baking parchment at an equal distance. You can bake them for around 15 minutes, and after 10 minutes, you can flip them. Watch for them to get golden and crispy.
Easy Sweet Potato Patties Recipe
If you want to try a healthier twist on a classic potato cake recipe, here's how to get seriously crispy sweet potato patties.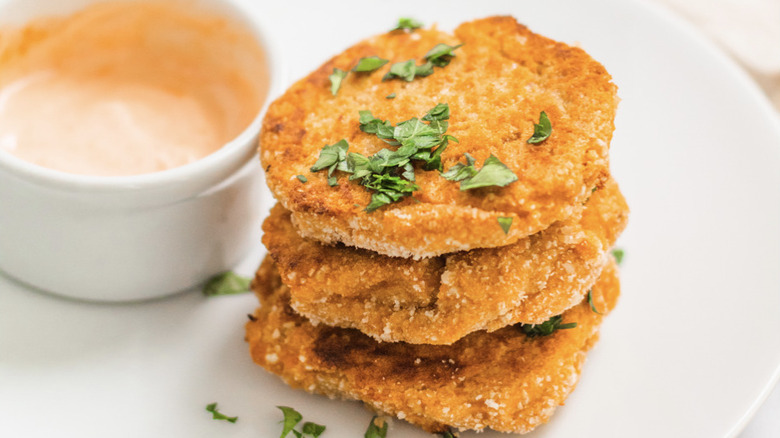 Ingredients
2 sweet potatoes
1 large egg
½ teaspoon salt
1 teaspoon cumin
½ teaspoon smoked paprika
½ cup almond flour
⅓ cup rice crumbs or panko
Optional Ingredients
Nonstick spray like coconut or avocado oil
Directions
Preheat the oven to 450 degrees Fahrenheit and wash and dry the sweet potatoes. Cut three slits across the tops.
Place in the oven and roast for one hour or until easily pierced with a fork.
Remove the potatoes and allow to cool. Remove the skins.
Place the sweet potatoes in a bowl. Mash with a fork. Set aside.
Reduce the oven to 400 degrees. Line a baking sheet with parchment and spray with oil.
Whisk the egg, salt, cumin, and paprika in a medium mixing bowl.
Mix in the almond flour until smooth.
Stir in the sweet potato mash until incorporated.
Place the breadcrumbs in a shallow bowl.
Scoop about ¼ cup of the sweet potato mixture and form a patty with your hands. The mixture will be moist. Coat both sides of the patty with the breadcrumbs and place on the prepared baking sheet. Continue this process with the remaining mix. You will get 6 cakes.
Bake in the oven for 15 minutes. Flip the cakes and bake for 10 minutes more until lightly browned and crisp.
Nutrition
| | |
| --- | --- |
| Calories per Serving | 117 |
| Total Fat | 5.7 g |
| Saturated Fat | 0.6 g |
| Trans Fat | 0.0 g |
| Cholesterol | 31.0 mg |
| | |
| --- | --- |
| Total Carbohydrates | 13.1 g |
| Dietary Fiber | 2.5 g |
| Total Sugars | 2.3 g |
| Sodium | 150.9 mg |
| Protein | 4.2 g |