The Surprising Thing Taking Vitamin C Does To Your Face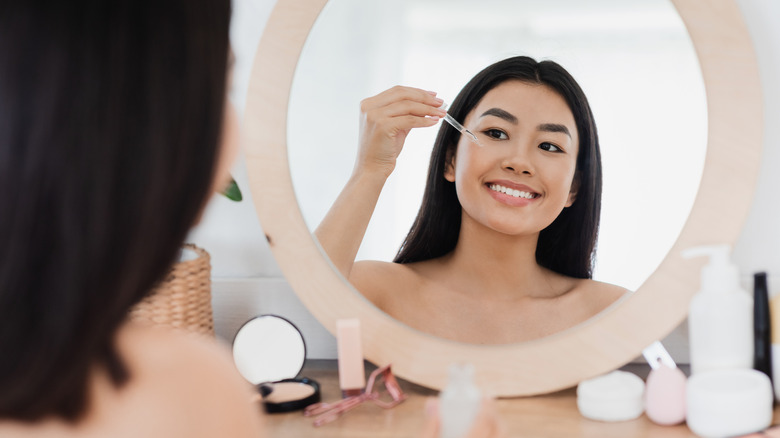 Shutterstock
We all know vitamin C can boost your immune system when consumed through food or supplements. But this vitamin offers many benefits when applied to your skin as well. The safest way to apply vitamin C to the skin is through a serum or cream.
"Vitamin C products are packed with antioxidants that are known for providing a brightening and "glowy" effect on our skin," dermatologist Dr. Kathy Taghipour told Greatist. "It naturally improves the appearance of skin by fighting signs of aging and UV exposure, along with hyperpigmentation and dark patches."
Also called L-ascorbic acid, vitamin C's main benefit for your skin is that it neutralizes free radicals and helps skin cells regenerate themselves. Not only does this reduce fine lines and wrinkles, but it can actually protect your skin from damage as well. Neutralizing free radicals in the skin may protect it from damage caused by UV exposure (via Allure). Combined with regular sunscreen use, vitamin C can help keep your skin healthy and smooth.
Vitamin C serums offer many other benefits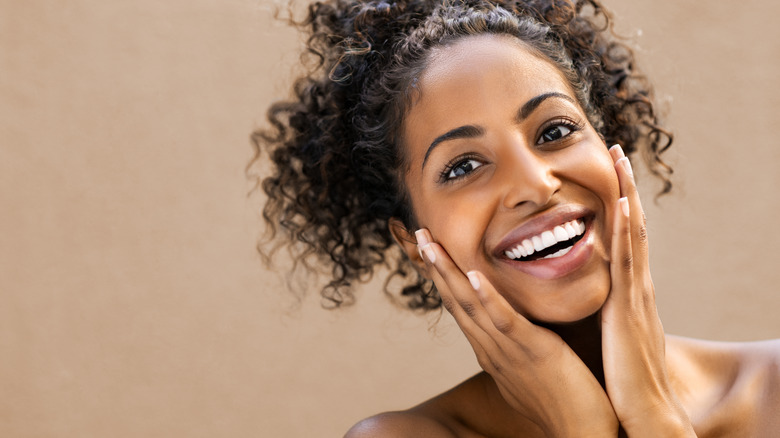 Shutterstock
This vitamin can improve your skin by lightening dark spots and discoloration caused by age or sun damage. It also aids in collagen production, which keeps your skin supple and smooth.
"Collagen gives our skin support and structure, and as it degrades with age, we begin to notice wrinkles and lines," dermatologist Jennifer Herrmann, MD, told Byrdie. "Vitamin C is a necessary cofactor for building collagen bundles, without which this process halts."
While vitamin C is generally safe for all skin types, there are some potential risks and side effects when using this product. Some people may notice skin irritation after using, which can happen to sensitive skin or when it is used in combination with other products (via Verywell Health). It can also occasionally cause a discoloration of the skin. If you're interested in adding vitamin C to your skincare regime, make an appointment with your dermatologist. They can help you figure out the best product based on your skin type, medications, and skincare needs.