Butternut Squash Scrambled Eggs Recipe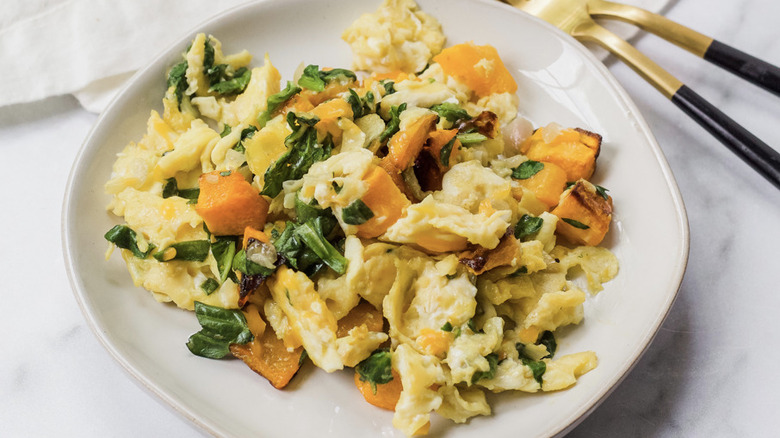 Jaime Bachtell-Shelbert/Health Digest
Scrambled eggs are a staple breakfast treat. Whether you're looking for a post-workout filler to get you through to lunch or a crowd-pleasing brunch option, eggs will usually go down a treat with most people. On their own, eggs are a great source of protein, iron, and vitamin D. However, if you've got a special breakfast coming up or want to impress a loved one, here's how to make butternut squash scrambled eggs. It's a slightly sweet veggie twist on a breakfast favorite.
Recipe developer Jaime Bachtell-Shelbert explains that one of the best things about butternut squash scrambled eggs is that it's a break from the norm, but it's not too hard to make. It's made with ingredients you probably have in your cupboards and can be paired with toast, a bagel, or fruit. Bachtell-Shelbert says the key to getting the perfect scrambled egg is to not overcook the eggs, or they'll end up dry, and it'll be difficult to incorporate your other ingredients.
As scrambled eggs is a pretty classic recipe, this twist with butternut squash, spinach, and cheddar will be sure to be a big hit at the breakfast table.
Gather your ingredients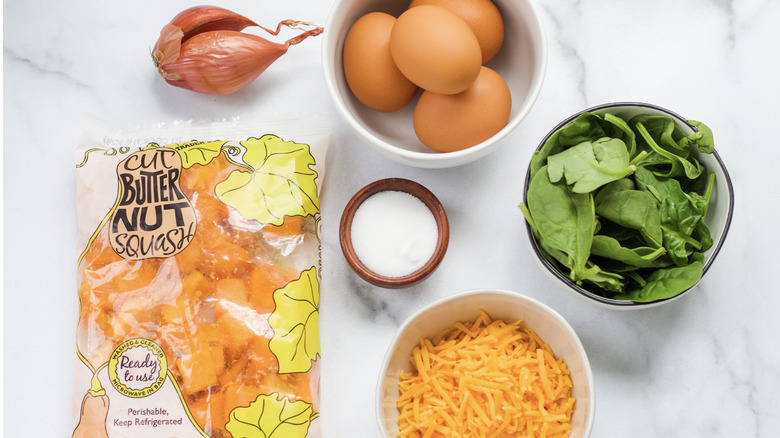 Jaime Bachtell-Shelbert/Health Digest
Before you start cooking, you'll need to ensure that you have all of the ingredients you need. Eggs are the star of the show in this recipe, and to serve two people, you'll need four eggs.
You'll also need butternut squash, a shallot, spinach, and sharp cheddar cheese. These are all super easy ingredients to get your hands on at the supermarket, and if you want to make the dish for more than two people, you can easily double or triple it and add in more ingredients.
Put your squash on a baking sheet and season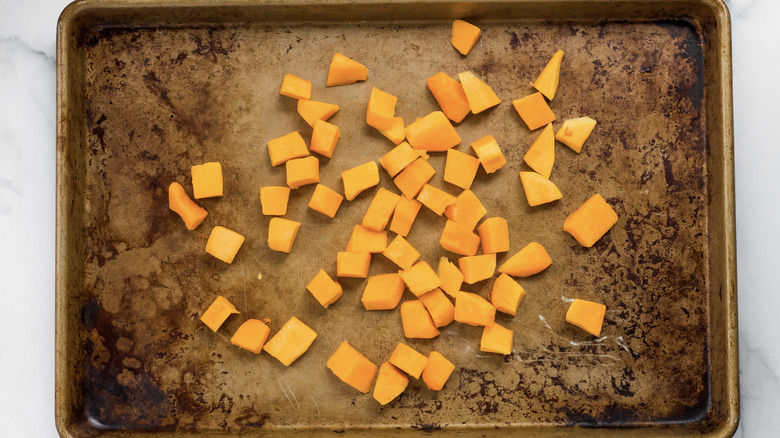 Jaime Bachtell-Shelbert/Health Digest
Preheat your oven to 400 degrees. You know your oven best, and if it runs slightly hot, just ensure that you keep an eye on your ingredients so they don't burn.
If you've bought a whole butternut squash, you'll want to cut the skin off and dice it into medium-sized pieces. Make sure that you cut your squash into even-sized pieces so they'll cook evenly. If you've brought pre-cut butternut squash, then you should put it out on some baking parchment. Drizzle it in olive oil and season with salt and pepper.
Roast your butternut squash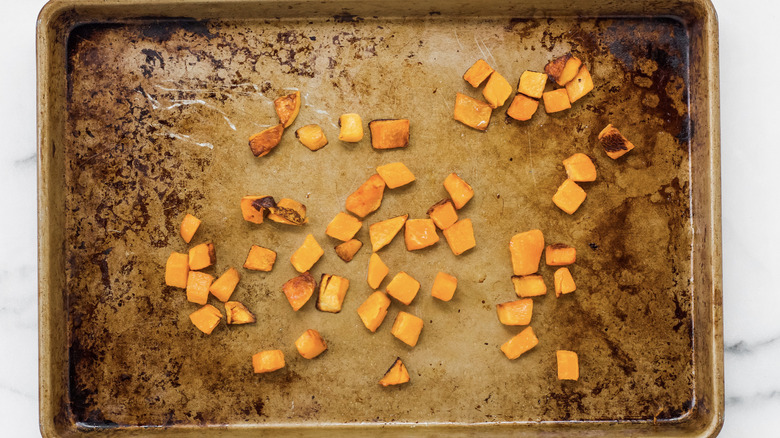 Jaime Bachtell-Shelbert/Health Digest
Once your oven has heated up, you can put your butternut squash in. Don't put the squash in before your oven has reached 400 degrees, as it may throw your cooking time off. Roast the squash for 16 to 18 minutes. Toward the end of the cooking time, keep an eye on it. You can take it out when the squash is soft and golden.
Once it's ready, take the squash out of the oven and set it to the side to cool. Then, melt the butter in a frying pan on the stove over medium-low heat. Throw in your shallots.
Scramble your eggs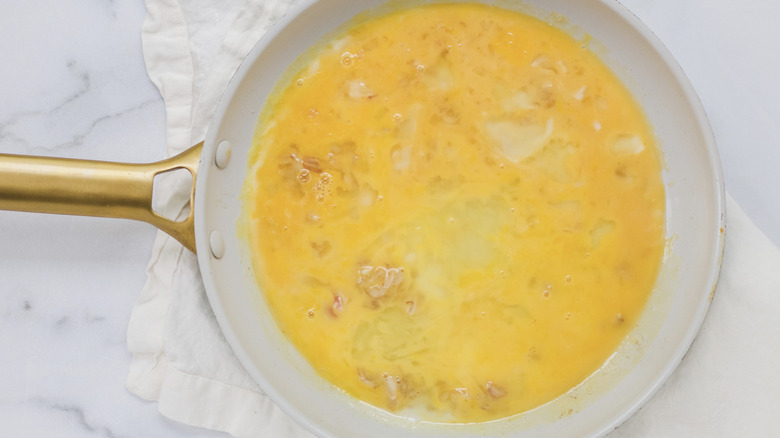 Jaime Bachtell-Shelbert/Health Digest
In a fresh bowl, break your eggs and beat them together with a fork. It's best to ensure that the liquid egg white and yolk are fully mixed together at this point. Once the mixture is fully incorporated, you can pour your egg mix in.
It should take you about one to two minutes until your eggs are fully scrambled. How much you stir your eggs is completely up to your preference. The more you stir them while they scramble, the more broken they'll be. However, you don't want them to be fully set at this stage.
Add in the spinach and squash
Jaime Bachtell-Shelbert/Health Digest
When the eggs look close to finished but are still wet, you can add in the spinach and the butternut squash. You want to stir a little more at this point to ensure that everything mixes well and you don't have random pieces of ingredients that aren't fully incorporated.
Gently stir the mixture for another two minutes until the egg mix is completely set and resembles a scrambled egg.
Sprinkle your cheese on top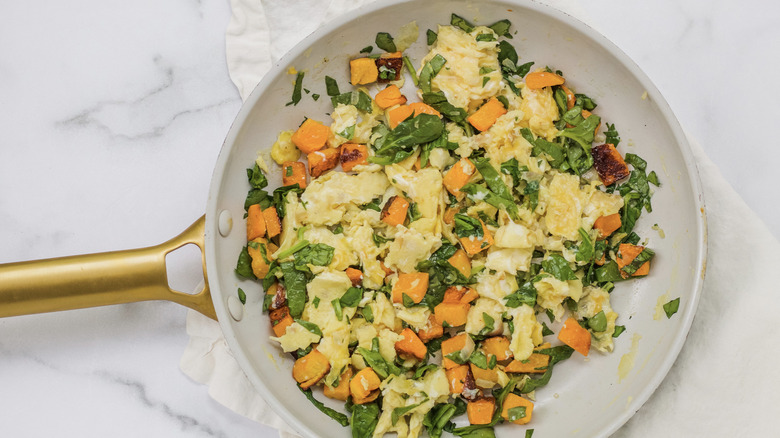 Jaime Bachtell-Shelbert/Health Digest
Once your mix is totally set, you can take it off the heat. Grate your sharp cheddar cheese, and while the butternut squash scrambled egg is still hot in the pan, sprinkle the cheese on top of it.
You can sprinkle half the cheese on top and then stir. Once it's melted, you can sprinkle the rest to ensure it fully coats the meal. Then, you're ready to dish up your delicious breakfast.
Butternut Squash Scrambled Eggs Recipe
If you've got a special breakfast coming up or want to impress a loved one, here's how to make butternut squash scrambled eggs.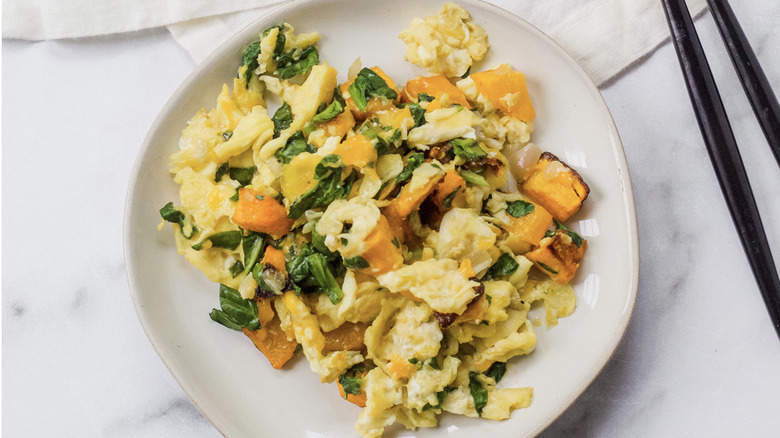 Ingredients
1 cup butternut squash chunks, ½-inch dice
1 teaspoon olive oil
Salt and pepper
½ tablespoon butter
1 shallot, diced
4 large eggs
1 cup spinach, chopped
3 tablespoons sharp cheddar cheese, shredded
Directions
Preheat oven to 400 degrees Fahrenheit.
Spread butternut squash on a baking sheet and drizzle with olive oil. Season with salt and pepper. Roast for 16 to 18 minutes. Remove and set aside.
Melt butter in a frying pan over medium-low heat. Add the shallot.
Crack eggs into a bowl and beat with a whisk. Add eggs to the pan and softly scramble for 1 to 2 minutes.
Add the spinach and squash to the eggs and cook another 2 minutes until set.
Top eggs with the cheese and fold until melted. Serve.
Nutrition
| | |
| --- | --- |
| Calories per Serving | 340 |
| Total Fat | 22.6 g |
| Saturated Fat | 9.8 g |
| Trans Fat | 0.4 g |
| Cholesterol | 403.1 mg |
| | |
| --- | --- |
| Total Carbohydrates | 15.2 g |
| Dietary Fiber | 2.9 g |
| Total Sugars | 4.4 g |
| Sodium | 567.6 mg |
| Protein | 20.1 g |