The One Thing Ed Sheeran Quit Doing During His Weight Loss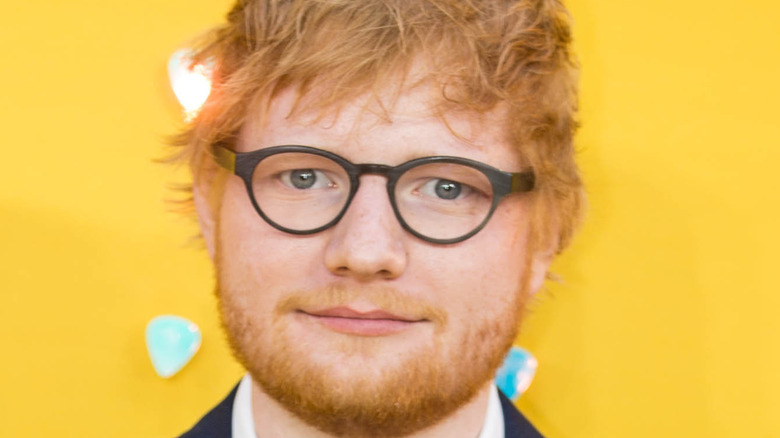 Shutterstock
A good celebrity weight loss story tends to garner the attention of the paparazzi, get social media buzzing, and might even come up over tea with the gals. Let's face it, a success story, celeb or not, provokes questions, and with Ed Sheeran's trim new look, we can't help but want to know all the deets. How did he do it? Did he get surgery? Was there a fast involved?
In a recent interview with the BBC Radio 1, the new dad claims he feels healthier than ever post-pandemic, which is no surprise considering how great Sheeran looks in his latest Instagram posts. The 30-year-old Grammy winner did admit to a few changes he made during the lockdown, which he attributes to his new look. 
While Distractify reports that in 2017 the "I Don't Care" singer claimed he lost 50 pounds by cutting beer from his diet, the healthier, slimmer version we see today has done more than just giving up the IPAs.
Sheeran gave up eating this food
According to People, in 2019 Sheeran shared some more of his lifestyle changes with "Behind the Medal" podcast, revealing that he quit smoking and took up running to help with weight loss. The "Perfect" singer shared that his exercise routine typically consists of 45 minutes of running and occasionally swimming and situps.
Although he has made some improvements in his lifestyle through the years, during his May 2021 interview with BBC Radio 1, Sheeran states, "It's the first time I've been really healthy." This feeling of wellbeing, he says, stems from giving up takeout foods, stating "I was eating like a takeaway every single day, and now I don't eat takeaway every single day and it's been good."
Giving up the "bad stuff" for Ed started after his last tour, pre-pandemic, and he claims that "It just happened ... because I wasn't having chicken wings and two bottles of wine a night." It seems that, while takeout can be convenient, enjoying more home cooked meals is good for the soul and the scale.