FDA's New Warning About Johnson & Johnson's COVID-19 Vaccine Explained
Shutterstock
The U.S. Food and Drug Administration (FDA) issued a new warning on Monday July 12 about a link between the Johnson & Johnson COVID-19 vaccine and an increased risk for a rare neurological condition. This condition, Guillain-Barré syndrome, has been reported in some who have received the Johnson & Johnson vaccine (via FDA).
The FDA stated that people had begun showing symptoms within 42 days after receiving the vaccine, but that the chance of developing any adverse side effects is "very low." The New York Times reports that the risk appears to be higher for Johnson & Johnson vaccine recipients than the general population. Preliminary results identified that out of the 12.8 million people who received the one-dose vaccination shot, there were 100 suspected cases of Guillain-Barré syndrome, with 95% of cases requiring medical treatment.
FDA officials added in a statement to The New York Times that the available evidence suggests an association, but "it is insufficient to establish a causal relationship." Officials also stated the benefits still outweigh the risks of the vaccine.
What is Guillain-Barré syndrome?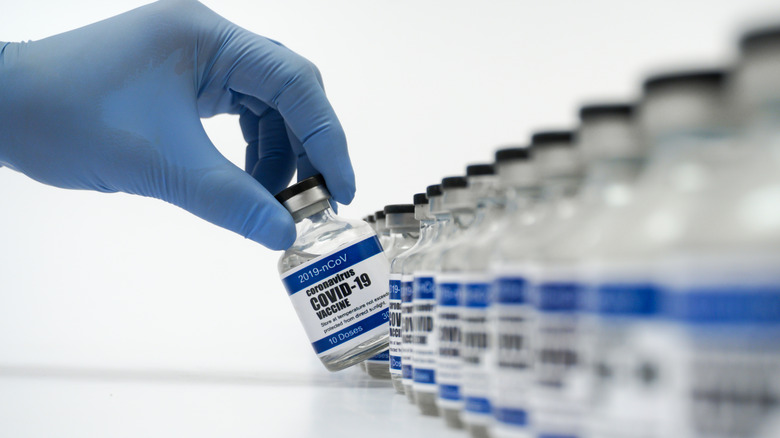 Shutterstock
Guillain-Barré syndrome is a neurological disorder characterized by the damaging of nerve cells resulting in muscle weakness or, in more severe cases, paralysis. Symptoms include weakness or tingling sensations in the arms and legs that expand to other areas of the body, as well as difficulties with facial movements, walking, or bladder control (via FDA).
The FDA reports that an estimated 3,000 to 6,000 people in the United States develop Guillain-Barré syndrome each year. The cases that were linked to the Johnson & Johnson vaccine were mostly reported about two weeks after vaccination and mostly by men, many of whom were at least 50 years of age, according to The Associated Press.
"Any adverse event report about individuals receiving Johnson & Johnson's single-shot COVID-19 vaccine, as well as our own assessment of the report, is shared with the U.S. Food and Drug Administration, the European Medicines Agency, the World Health Organization and other health authorities around the world where our vaccine is authorized," representatives from Johnson & Johnson reported in a statement. "We strongly support raising awareness of the signs and symptoms of rare events to ensure they can be quickly identified and effectively treated."
The reported cases will be reviewed by the Centers for Disease Control and Prevention's panel of vaccine experts at an upcoming meeting (via The Associated Press). The Pfizer and Moderna vaccines have not reported an increased risk of Guillain-Barré syndrome.