Why Johnson & Johnson Just Issued A Recall For Some Of Their Sunscreens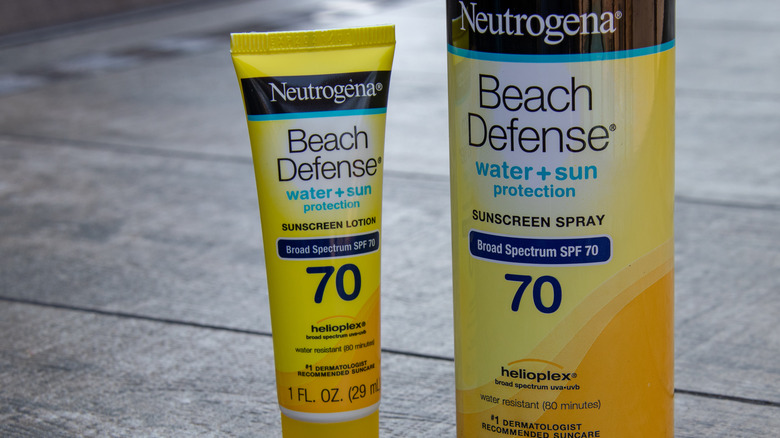 Shutterstock
Johnson & Johnson said in a statement on Wednesday that it is voluntarily recalling five of its sunscreen products after low levels of benzene, a known carcinogen, were found in testing samples. The recalled aerosol sunscreen products are Neutrogena Beach Defense, Neutrogena Cool Dry Sport, Neutrogena Invisible Daily Defense, Neutrogena Ultra Sheer, and Aveeno Protect + Refresh.
Benzene is a colorless, sweet-smelling, flammable compound (via American Cancer Society). It is used extensively in the U.S. for making plastics, rubbers, dyes, detergents, lubricants, pesticides, and drugs. It also occurs naturally as the result of forest fires and cigarette smoke.
Benzene is not an ingredient in the Johnson & Johnson products, and the company is reportedly investigating how it ended up in some of its sunscreens, Reuters reported. The company also said that exposure to the levels of benzene found in the products is not expected to cause adverse reactions.
What to do if you're exposed to benzene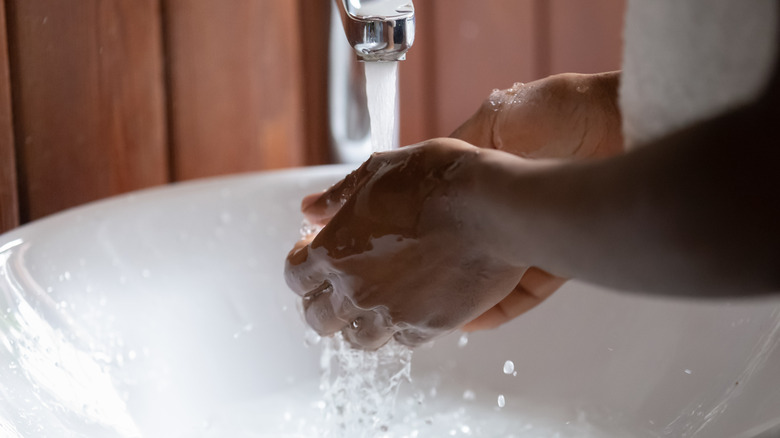 Shutterstock
Exposure to the chemical for extended periods of time (usually longer than a year) can result in leukemia or certain cancers, according to the Department of Health and Human Services. It can also harm bone marrow and lead to a reduction of red blood cells, which can cause anemia. Short-term exposure through inhalation can lead to confusion, dizziness, headaches, tremors, and unconsciousness. Exposure to the skin can cause a rash or blister. It can also irritate the eyes and throat (via American Cancer Society).
The Department of Health and Human Services advises you to seek medical attention if you have been exposed to high levels of benzene. Meanwhile, go to an area with fresh air, remove exposed clothing, and wash your skin as soon as possible. If your eyes were exposed, rinse them with water for 10 to 15 minutes. If you wear contacts, remove them. Put exposed clothing or other items in a plastic bag, and let authorities dispose of it.
Johnson & Johnson advised consumers to stop using the products immediately and throw them away. The company also suggested that customers contact their healthcare provider if they have any problems related to using the products. Customers can also call Johnson & Johnson at 1-800-458-1673 for a refund, or if they have any questions.