Easy Goji Berry Energy Bites Recipe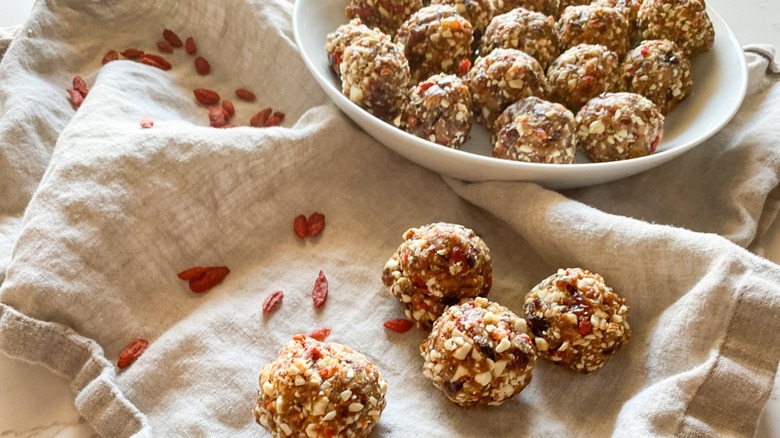 Kristen Carli/Health Digest
Eating healthy is tough, especially when you're left facing the afternoons with those not-so-friendly reminders that lunch wasn't quite filling enough. We're talking about those 3 p.m. cravings, and if you've ever given in to them by eating half a bag of chips, a chocolate bar, and some cookies, well, we're not here to judge. We're here to stand right there with you.
That's why we love healthy options for filling that mid-afternoon — or mid-morning or late evening — void. We asked Kristen Carli, recipe developer and registered dietician, to give us some of her favorite ways to satisfy snack cravings, and she whipped up these goji berry energy bites that are sure to please.
Not only are these super easy to make, but they're a great source of healthy fats that'll help keep you going until dinner time. We also love them because they're easy to pack in a small Tupperware container and add to your lunch box — because if there's anything that makes snacking better, it's easy snacking. Let's talk energy bites!
Gather your ingredients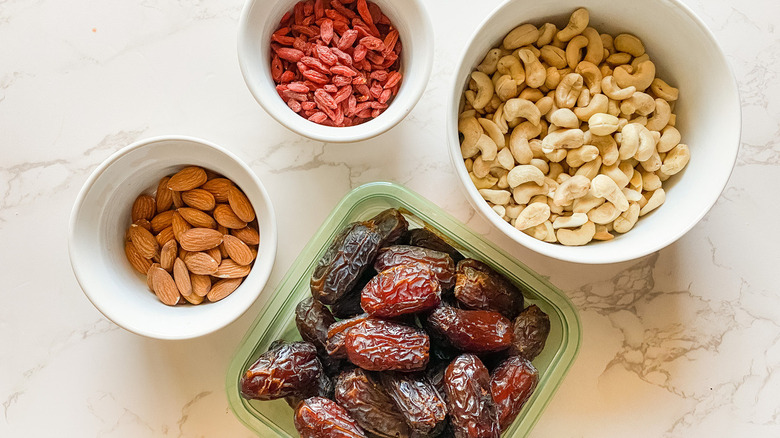 Kristen Carli/Health Digest
This recipe calls for a number of ingredients that you might not have on hand, but don't worry — even if you have to head to the grocery store, they're some easy additions! You're going to need goji berries, pitted dates, raw cashews, and raw almonds. That's it!
Now, if you're wondering about that "raw" part, Carli says that's important. "Raw cashews and almonds are ideal here since roasted nuts tend to be salted," she says. "Be sure to use unsalted, raw nuts, and you won't alter the flavor."
Keeping an eye on your sodium levels? Swap these for that small order of McD's fries we know you love, and your heart will thank you later.
Break out the food processor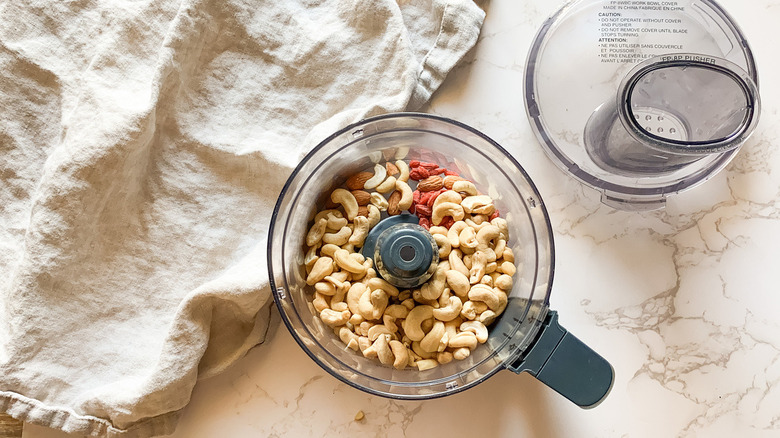 Kristen Carli/Health Digest
You're going to place all your ingredients into the food processor — and that's one reason why pitted dates are going to be so much easier to work with here! (If you couldn't find them already pitted, don't forget to remove the pits now.)
Add your ingredients, and if you've never had goji berries before, now is a great time to sample. It's the bonus of being the chef, after all!
"Goji berries are very tart-tasting," says Carli. "They're packed with antioxidants, and they're great for building immunity."
Process until the texture is right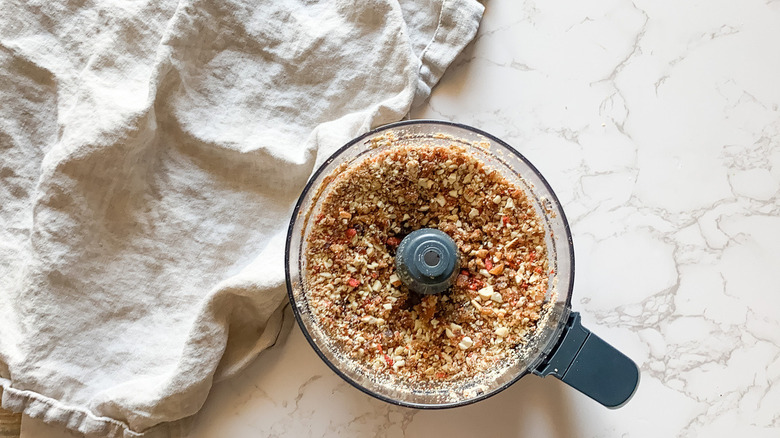 Kristen Carli/Health Digest
Run the food processor until all your ingredients are chopped and blended, but don't run it too long. What you're looking for is a mixture that still has a chunky texture where you can still see some of the individual ingredients. It should be combined well enough that it's sticky, though — that's key to getting bites that hold together firmly.
Make your energy bites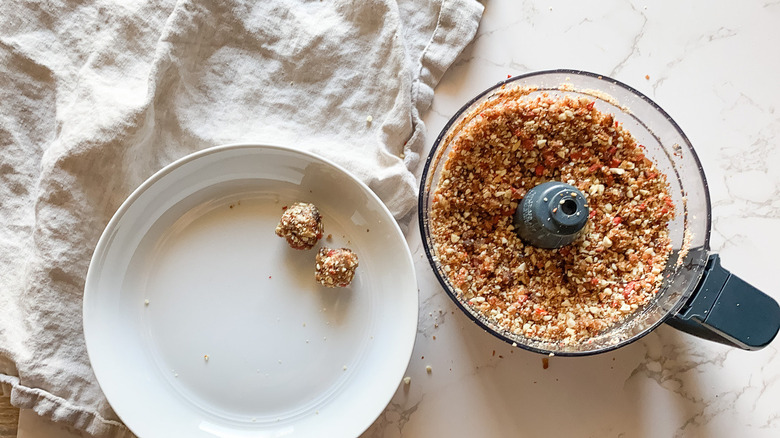 Kristen Carli/Health Digest
There's no need to be super-precise with this step, but making bites that are uniform in size won't just make them look nicer — it'll prevent the disappointment that comes on those days when you get one that's smaller than all the others.
Carli recommends using a tablespoon to scoop out a measure of the mixture. Then, just place it in your palm and roll it into a ball between your hands. Repeat until you're finished.
Storing your goji berry energy bites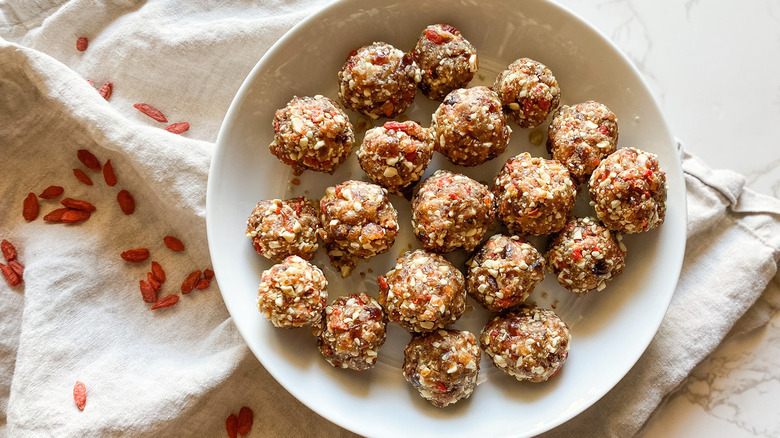 Kristen Carli/Health Digest
These goji berry energy bites should be kept cold, so they're best sealed in an airtight container and left in the fridge. They're also great when they're kept in your lunch box (or bag) alongside a cold pack.
Because we're all short on time and there's never enough hours in the day, here's some food for thought: These will keep in the fridge for up to 15 days, so if it's something you'd like to keep on hand, you can definitely double the recipe and be confident that you'll get to the bottom of the bowl before they turn.
Extra additives for your goji berry energy bites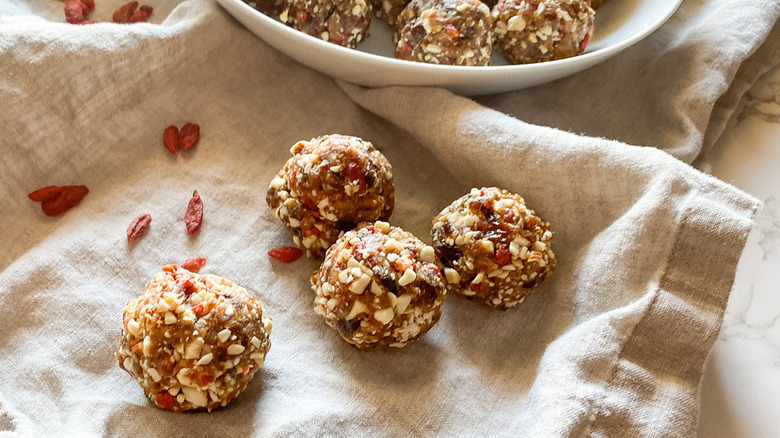 Kristen Carli/Health Digest
Carli says that the sky's the limit with the delicious snack bites, and she mentions that there are plenty of other ingredients you can consider adding.
She suggests adding a variety of seeds — particularly hemp seeds — and there's particularly good news for chocolate-lovers. She says chocolate chips or cacao nibs are a wonderful compliment to the tartness of the goji berries, and afternoon snacking? It's never been better. Wave goodbye to that vending machine for good!
Easy Goji Berry Energy Bites Recipe
Not only are these goji berry energy bites super easy to make, but they're also a great source of healthy fats that'll help keep you going until dinner time.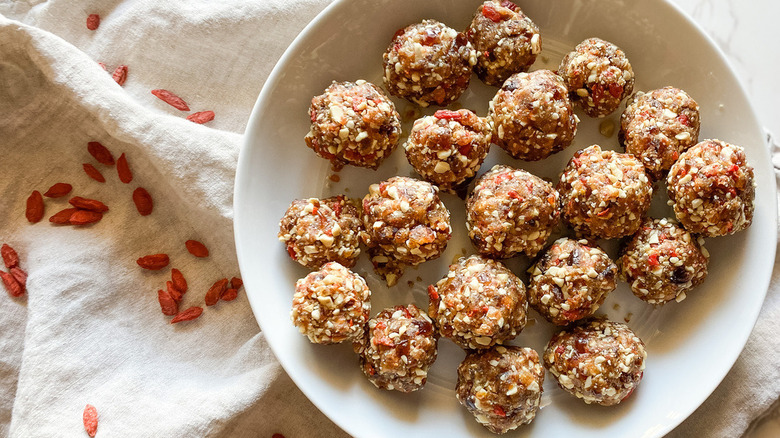 Ingredients
1 cup raw cashews
½ cup goji berries
1 ½ cups pitted dates
⅓ cup raw almonds
Directions
Place all ingredients in a food processor.
Process until chunky and mixture sticks together when you press together.
Using your hands, scoop 1 tablespoon of mixture into your palms. Press together into the shape of a ball. Repeat with remaining mixture.
Serve and enjoy.
Nutrition
| | |
| --- | --- |
| Calories per Serving | 150 |
| Total Fat | 5.7 g |
| Saturated Fat | 0.8 g |
| Trans Fat | 0.0 g |
| Cholesterol | 0.0 mg |
| | |
| --- | --- |
| Total Carbohydrates | 24.2 g |
| Dietary Fiber | 2.9 g |
| Total Sugars | 17.9 g |
| Sodium | 16.1 mg |
| Protein | 3.5 g |