Homemade Hemp Seed Milk Recipe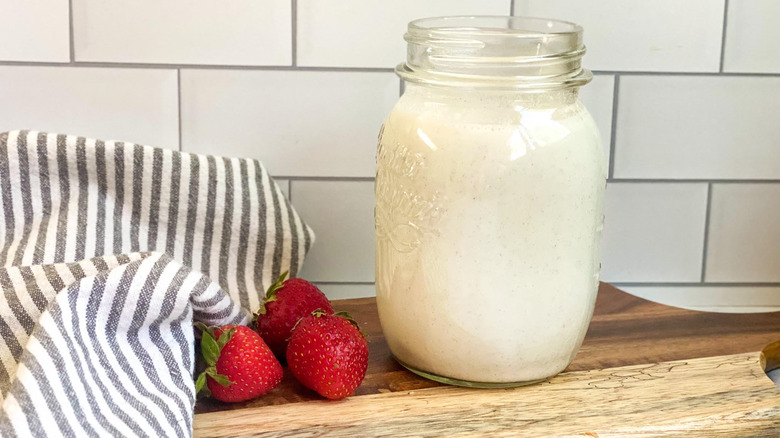 Miriam Hahn/Health Digest
If you are a milk connoisseur, you have probably tried various kinds of milk. Whether you love cow's milk, soy milk, almond milk, or oat milk, it's always fun to try new things. This recipe for hemp seed milk is one of our favorites since it's a little outside of the box. A lot of people may not have known that you can make milk from hemp seeds, but we're here to tell you that you can, and it's incredible! 
Recipe developer Miriam Hahn came up with this delightful milk recipe, and she can't help but gush over how great it is. "My favorite thing about this hemp milk is that you don't have to use a nut bag to strain it like you do with almond or oat milk," Hahn says. "The hemp seeds fully break down and don't leave behind skin that you have to strain out. I also love that it is full of omega-3 fatty acids, which are good for brain health, heart health, and skin!" It sounds like it's a must-try!
Keep scrolling to find out how to make this yummy milk.
Gather the ingredients for your hemp milk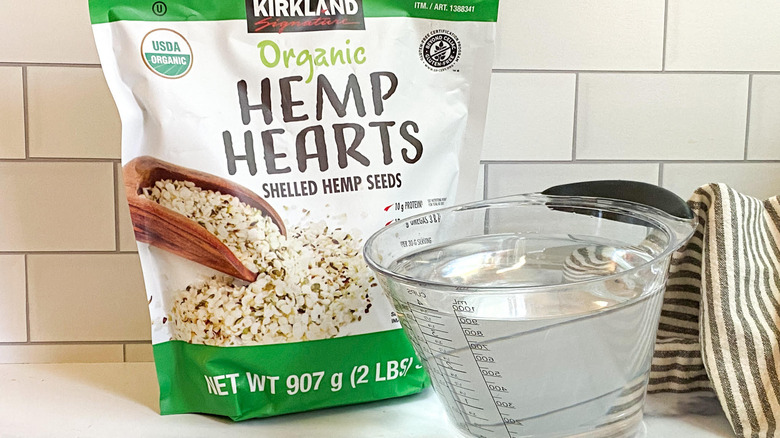 Miriam Hahn/Health Digest
Like most recipes, the first thing you need to do is make a grocery list. Luckily, you need only two items, and you only need to purchase one of them from the store. For starters, add a cup of organic hemp seeds, which are also commonly referred to as hemp hearts. In addition, you will need a few cups of water, which you already have at home. That makes shopping super easy and super affordable!
When you have the hemp seeds and water out in front of you, it's time to get started on the recipe! 
Optional ingredients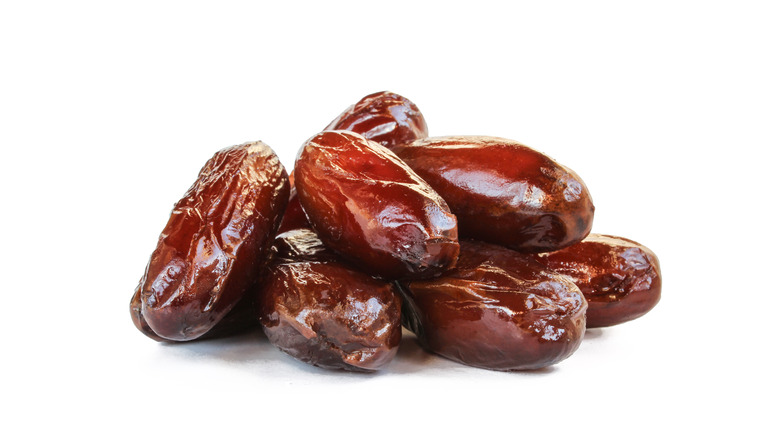 Shutterstock
We said that there are only two items required to make up this recipe, which is true. However, if you want to add a little bit of sweetness, you need a few more items. One of those is a teaspoon of vanilla and the other is two soft dates. These will add a light yet delicious flavor that would be similar to vanilla almond milk or something of that variety. Healthline shares that dates are not only incredibly nutritious, but they are also high in fiber. This makes it a great addition to your milk. "The dates add sweetness, so if you like your milk a little sweet, this is a great natural way to do it," Hahn says. 
Again, both of these suggestions are totally optional and based on your preferences.
Blend the hemp seeds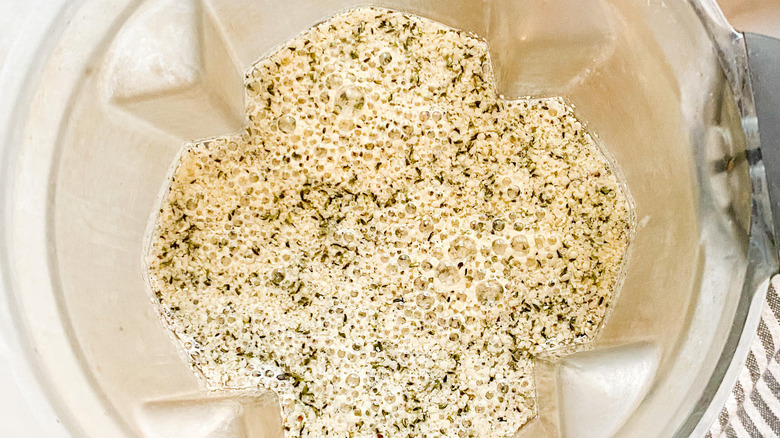 Miriam Hahn/Health Digest
Take out a blender, water, and hemp seeds for this step. If you opted to add the vanilla and dates, you can also add these in now. "Sometimes, dates, even though they are fresh, are kind of dry," Hahn shares. "So I usually let them sit in boiling water for 10 minutes before adding them. Otherwise, you will have some pieces that don't get fully dissolved." 
Then, make sure that the blender is a high-speed one because it will do better at getting the job done. Blend the mix at medium for about two minutes. You can either use a timer or just look at a clock.
Watch for the color change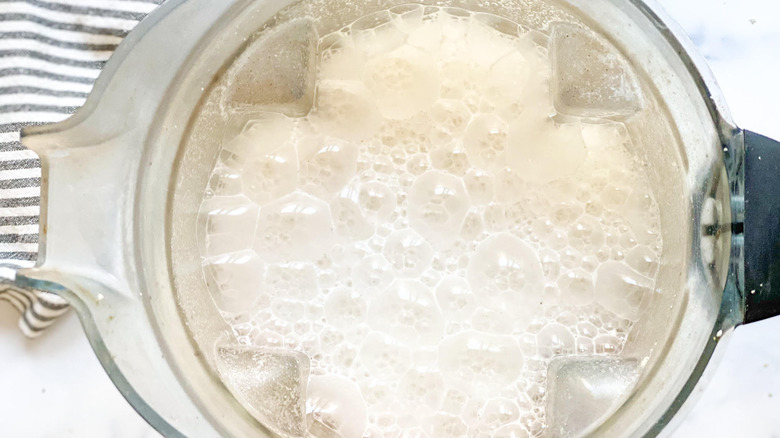 Miriam Hahn/Health Digest
As your mix is blending, you should see a few color changes, which is pretty fun to watch. When the items first start mixing together, they should turn tan in color. Now, we're getting somewhere. After the tan color, the mix will turn white when the hemp seeds are fully broken down — this means that your milk is done and you can remove the milk from the blender. Who knew milk-making would be this easy? Two minutes of time is all it takes ... pretty cool if you ask us!  
Your masterpiece should look just like natural milk. 
Enjoy your hemp milk with whatever you fancy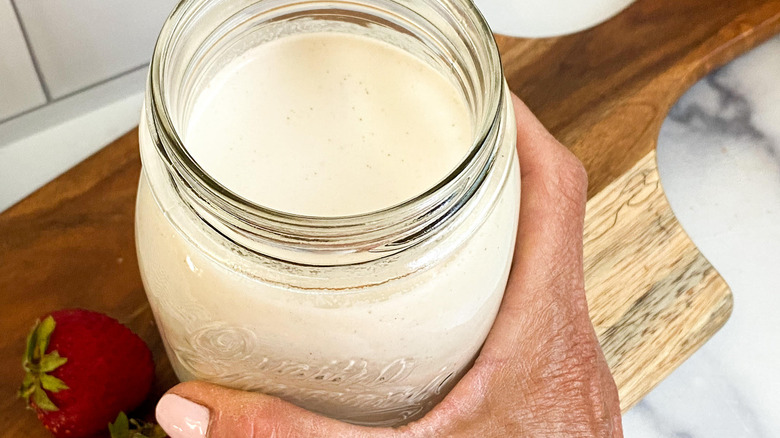 Miriam Hahn/Health Digest
Now it's time to enjoy. "I store it in glass bottles with a lid. A mason jar works great as well," Hahn shares. Feel free to add this beverage to anything you usually put milk in. Hahn suggests using it for cereal or in coffee, but the possibilities are endless. "If you want to use it for coffee creamer and don't need as much at once, you can easily split the recipe in half," Hahn says. "When I do that I use my NutriBullet instead of my large Vitamix."
The milk should last for a week in the fridge. 
Homemade Hemp Seed Milk Recipe
Whether you love cow's milk, soy milk, almond milk, or oat milk, it's always fun to try new things. This recipe for hemp seed milk is one of our favorites.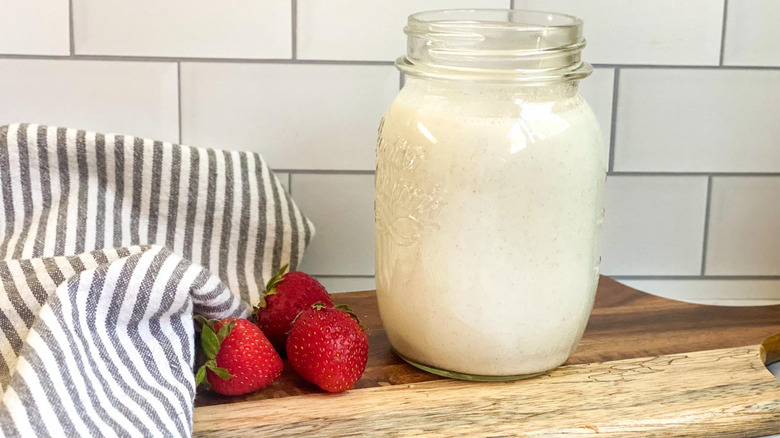 Ingredients
1 cup organic hemp seeds (hemp hearts)
4 cups water
Optional Ingredients
1 teaspoon vanilla
2 soft dates
Directions
Add the hemp seeds and water to a high-speed blender.
Blend at medium speed for 2 minutes. It will start out tan in color and then turn white when the hemp seeds are all broken down.
Serve with cereal, in coffee, or any way you use milk.
Nutrition
| | |
| --- | --- |
| Calories per Serving | 227 |
| Total Fat | 14.2 g |
| Saturated Fat | 1.3 g |
| Trans Fat | 0.0 |
| Cholesterol | 0.0 mg |
| | |
| --- | --- |
| Total Carbohydrates | 11.0 g |
| Dietary Fiber | 11.0 g |
| Total Sugars | 0.4 g |
| Sodium | 11.1 mg |
| Protein | 9.9 g |