Cheesy Cauliflower Breadsticks Recipe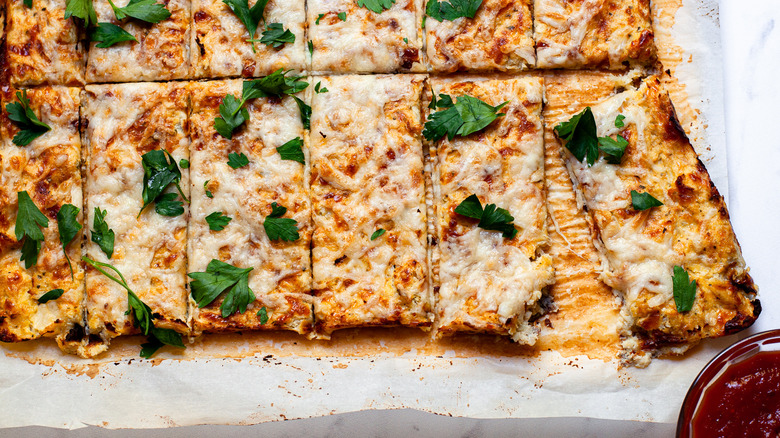 Christina Musgrave/Health Digest
Nutritionists might tell you that colorful fruits and vegetables are the way to go in order to go high on vitamins and antioxidants, and low on calories, but they're also fans of white fruits and veggies, which work to lower both bad cholesterol levels and high blood pressure (via Mayo Clinic). And of these white fruits and vegetables, such as cauliflower can be seen as a real chart-topper as a source of vitamins C and K, as well as fiber, phytochemicals and antioxidants.
While it might be easy to get intimidated by a cauliflower (how do you cut it? how can you cook it?), we can take cues and ideas from professional chefs who are giving the cauliflower its moment in the sun. These cauliflower breadsticks come courtesy of recipe developer Christina Musgrave of Tasting with Tina, and are fun, flavorful, keto-friendly, and make for a great way to spice up any meal as an appetizer or as a side.
Bring your cauliflower breadsticks ingredients together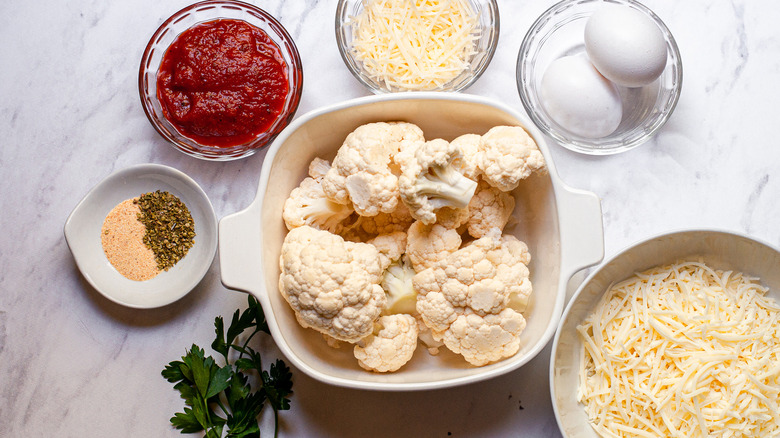 Christina Musgrave/Health Digest
Making cauliflower breadsticks might sound more difficult than it actually is. To do this, you'll need a large head of fresh cauliflower, which should weigh about two pounds, taking care of ensure that the caulflower is firm, and with little to no discoloration. You'll also need eggs, mozzarella cheese, grated Parmesan cheese, and to spice up the mix, oregano, and garlic powder. It's also important to remember that powdered or grated Parmesan cannot be used as a substitute for real Parmesan, because they're not the same ingredient (via Today).
While you're at it, pick up some Italian parsley and marinara sauce — the parsley is for garnish, while the marinara will come in handy when the breadsticks are ready.
The cauliflower needs to be minced finely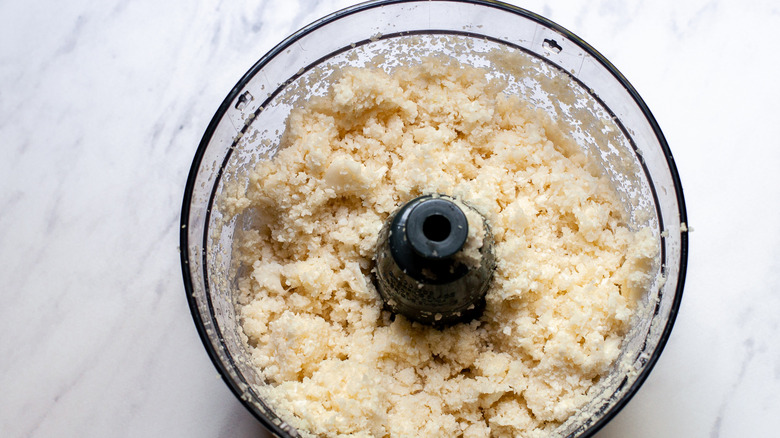 Christina Musgrave/Health Digest
Prep the cauliflower by cutting the head into quarters, and then removing the stem in the center, which will make it easier for the cauliflower florets to separate. Wash the vegetable, then break the florets apart either by separating them with your hands or by using a knife. Pulse the florets in a food processor until they are very finely chopped (you can do this in batches if your food processor isn't big enough). From there, you can microwave the chopped up cauliflower for eight minutes or until soft. Cool, then squeeze out all the liquid from the vegetable with the help of a cheesecloth or a towel. 
While you're waiting for the cauliflower to cook, line a 13x9 baking sheet or baking pan with parchment paper, and preheat your oven to 425 F.
Save a cup of cheese before you mix everything together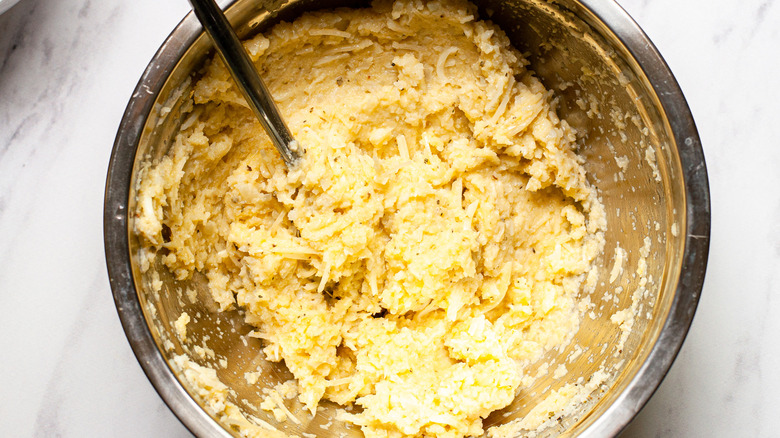 Christina Musgrave/Health Digest
When the cauliflower is ready to go, add the eggs, a cup of the mozzarella cheese, the Parmesan cheese, as well as the seasoning, and mix everything. up in a large bowl.
If you find, at this point, that you're tempted to taste the mixture in order to correct the flavors in it, we'd like to remind you not to because, as with cake batter, this mix contains raw eggs, which, if consumed as is, carries a small risk of contracting salmonella.  We think that with the amount of cheese this keto-free recipe packs, flavor is not something you should be worried about. Plus, these breadsticks are going to taste phenomenal once they're baked!
Bake the cauliflower cheese breadsticks until the cheese is bubbly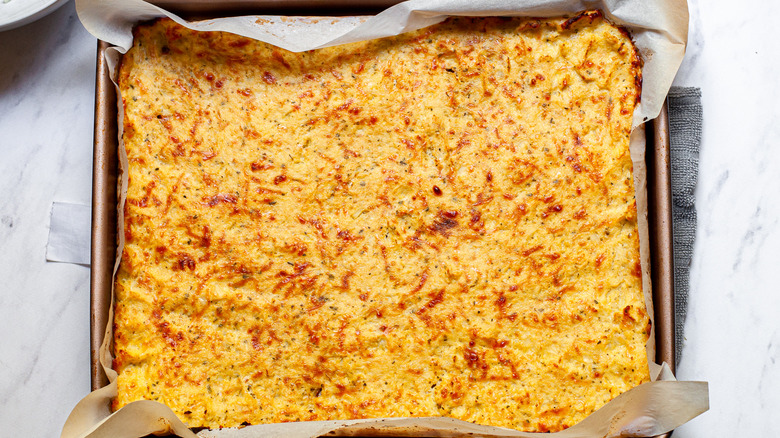 Christina Musgrave/Health Digest
When the ingredients have been thoroughly mixed, press the cauliflower-cheese mixture into the prepared baking sheet, taking care to ensure that the mix is distributed as evenly as possible. Bake for 25 minutes, remove from the heat, add the spare cup of mozzarella cheese and bake for an extra five minutes, or until the top layer of cheese is melty and bubbly.
Once they are done, you can remove breadsticks from the oven and cool, before slicing the cauliflower into breadsticks. Garnish with Italian parsley and serve with marinara sauce on the side. 
Serve cauliflower breadsticks with a side of marinara sauce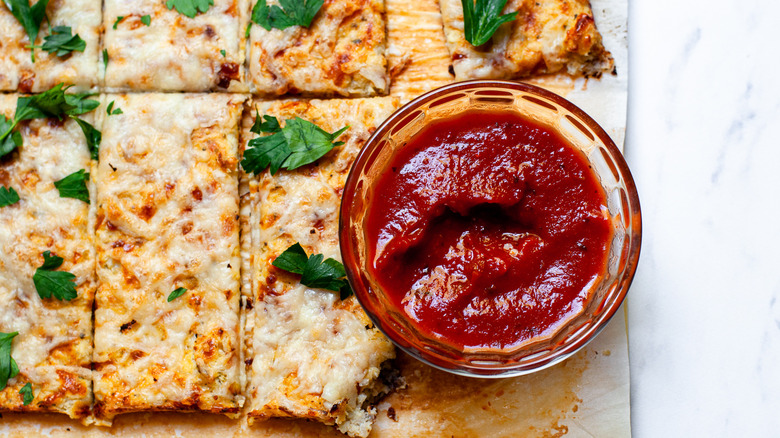 Christina Musgrave/Health Digest
This dish makes an excellent appetizer or a side dish for a hearty Italian meal. But the secret to its greatness lies in the ease with which you can adapt the recipe to meet the occasion, so what looks like an Italian dish can be altered to suit your meal by changing up the spice mix you use. You can adapt the breadsticks to make them more Tex-Mex by using a taco spice blend of chili powder, paprika, ground cumin, garlic and onion powders, and dried oregano. The cheese can be swapped out too; Musgrave says you can use cheeses like Monterey jack or colby jack, as long as your ingredient has the same melting point. 
Cheesy Cauliflower Breadsticks Recipe
No need to feel guilty about loading up on carbs with these breadsticks. Cauliflower provides the perfect vehicle for these cheesy, keto-friendly appetizers.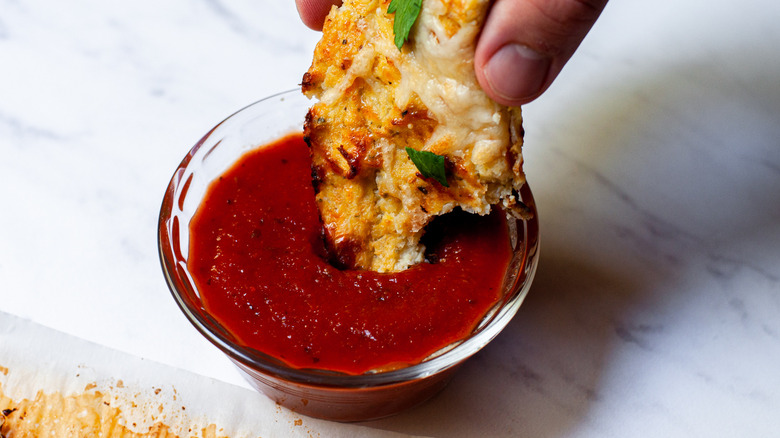 Ingredients
1 large head cauliflower (about 2 lbs), cut into florets
2 eggs
2 cups shredded mozzarella cheese, divided
½ cup grated Parmesan cheese
½ teaspoon oregano
½ teaspoon garlic powder
Italian parsley, for topping
marinara sauce, for dipping
Directions
Preheat oven to 425 degrees F.
In batches, pulse cauliflower florets in to a food processor.
Place cauliflower in a microwave-safe container and cover. Cook for 8 minutes, then let cool. Drain and squeeze out excess water with cheesecloth or a towel.
In a large bowl, mix cauliflower, eggs, 1 cup mozzarella, Parmesan cheese, oregano, and garlic powder.
Place cauliflower mixture on a parchment lined baking sheet. Press into the pan.
Cook for 25 minutes, then add remaining cup of mozzarella cheese. Cook for 5 more minutes, or until cheese melts and is bubbly.
Let breadsticks cool, then cut into pieces. Top with Italian parsley and dip into marinara sauce.
Nutrition
| | |
| --- | --- |
| Calories per Serving | 384 |
| Total Fat | 26.4 g |
| Saturated Fat | 16.2 g |
| Trans Fat | 0.0 g |
| Cholesterol | 138.8 mg |
| | |
| --- | --- |
| Total Carbohydrates | 10.6 g |
| Dietary Fiber | 3.2 g |
| Total Sugars | 3.9 g |
| Sodium | 852.9 mg |
| Protein | 28.0 g |