The Best Black Bean Burger Recipe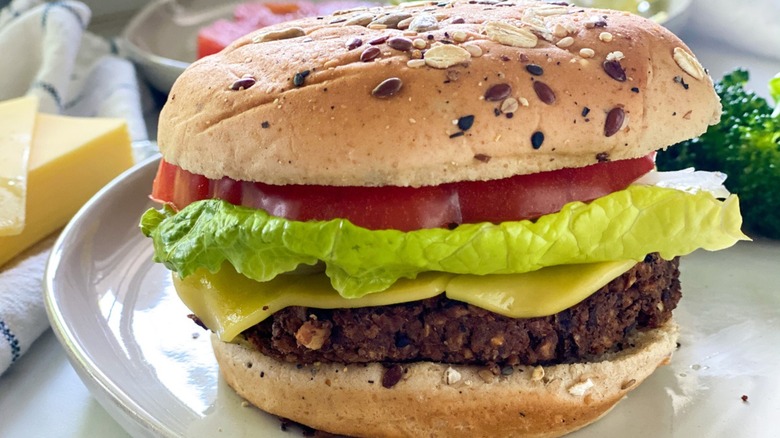 Miriam Hahn/Health Digest
There is a wide range of reasons to adopt a plant-based diet, or at least to try boosting the number of lower-on-the-food-chain items on your menu. You may go vegetarian (or flexitarian) for ethical reasons or out of concern over the environment, in which case, a diet of Beyond and/or Impossible food items may suit your needs. If, however, you're wanting to boost your veggie intake to get health benefits or to save money, then these lab-created meat substitutes might not be your best bet as they have their nutritional drawbacks and are plenty pricey, to boot.
Recipe developer Miriam Hahn offers a vegetarian recipe that is both healthy and budget-friendly: the black bean burger. As she told Health Digest, "As a wellness coach, I am always helping clients move away from processed foods with lots of ingredients and additives." Oh, and there's no need to worry if your kitchen skills aren't exactly Cordon Bleu-level. Hahn characterizes this recipe as beginner-level, saying it's "easy to make, for sure."
Make sure you've got the right ingredients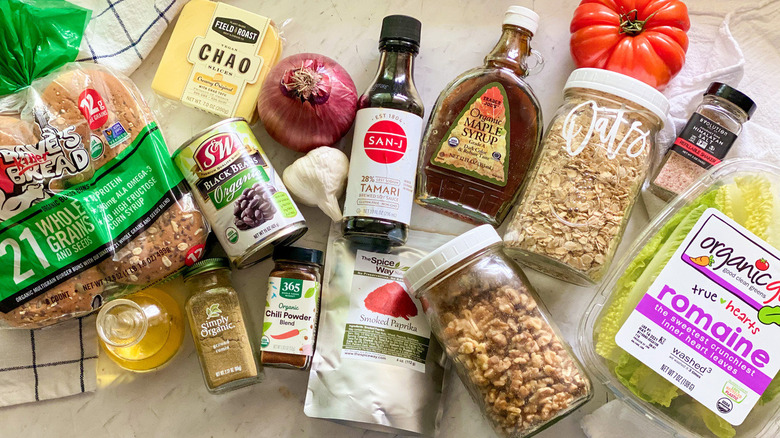 Miriam Hahn/Health Digest
Hahn says this simple black bean burger is something "you can whip up in no time and feel good about using real, whole ingredients." She goes on to point out that the "oats and beans are very nutrient-dense," describing them as "the star ingredients" in the dish. In addition to rolled oats and a can of black beans, you're also going to need a red onion, a few cloves of garlic, and some walnuts to make the patties. The seasonings that really make this dish stand out include salt, cumin, chili powder, smoked paprika, soy sauce, and maple syrup. You'll also be using a dab of oil to grease the frying pan so the burgers don't stick, since unlike meat-based patties, these won't be creating their own melted fat.
If you don't have maple syrup on hand and don't want to buy an expensive bottle, Hahn does say it's okay to sub honey or agave. She also says you can skip the chili powder if you want, but adds "it is only half a teaspoon, so it doesn't make it very spicy." For serving her burger, Hahn used whole wheat buns, and she also topped them with non-dairy cheese, lettuce, and tomatoes.
Prepare the veggie patties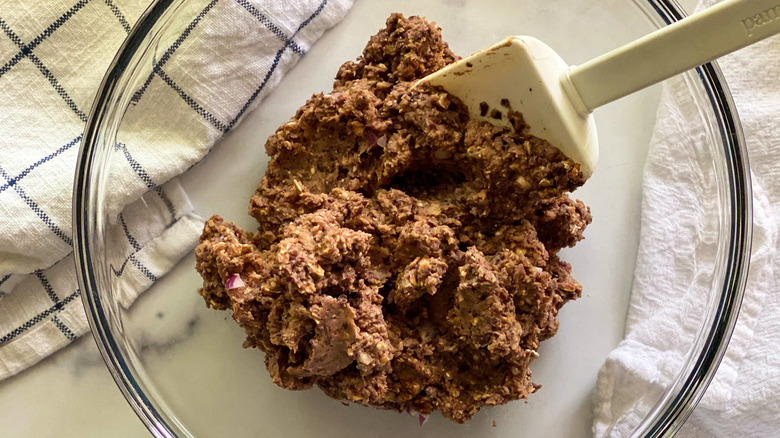 Miriam Hahn/Health Digest
Start by chopping the onion — might as well get the hard part out of the way. Next, mince the garlic, then chop the walnuts. You're looking to chop them pretty fine since you don't want the burgers too chunky, but you still want a bit of crunch, so use a knife for this step instead of a food processor. Once you've done all this slicing and dicing, now comes the time to get out that food processor. Add the beans and the chopped veggies, then pulse a few times so everything's blended but not too mushy. Add the seasonings, then give it just another pulse or two until they're thoroughly blended in.
Cook your black bean burgers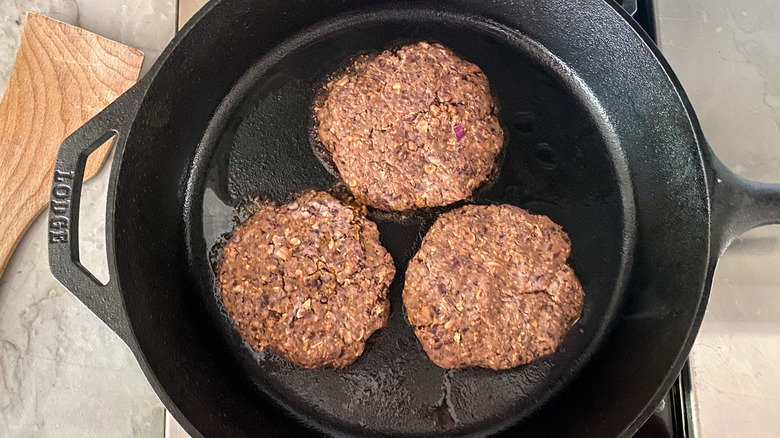 Miriam Hahn/Health Digest
Form the black bean mix into three patties. Yes, that's kind of an odd number, but that's how many patties a can of beans makes. Don't worry if you're not able to eat all three at one sitting, since Hahn says, "You can make the patties ahead of time and keep in the fridge."
Put the oil into a skillet — Hahn says that "cast iron works well" — and heat it up over medium-high. Add the burgers and cook them for six to eight minutes per side. If you are using cheese of any sort (either non-dairy or the regular kind), place the slices on top of the burgers just before they're done cooking, then turn the heat down to medium and cover the pan until the cheese melts.
How to serve your black bean burgers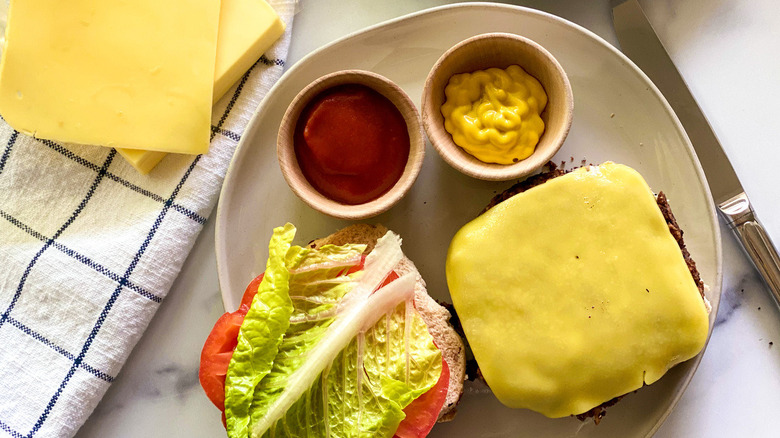 Miriam Hahn/Health Digest
These black bean burgers aren't going to taste exactly like beef or even turkey, but that's not a problem since they get their deliciousness from the beans, walnuts, and seasonings. While you can always use typical burger condiments such as ketchup, you might want to lean into these burgers' more exotic flavor profile by using condiments that play up the difference. How about mixing a dab of mayo with a small splash of mango-habanero hot sauce for a sweet-spicy sauce, or else using salsa or chimichurri for a little Latin spice? Pineapple salsa also pairs wonderfully with black beans. You might also want to think outside the bun when it comes to serving the burgers, since as Hahn says, "They are great on a bun but also on a bed of greens!"
The Best Black Bean Burger Recipe
Recipe developer Miriam Hahn offers a vegetarian recipe that is both healthy and budget-friendly: the black bean burger.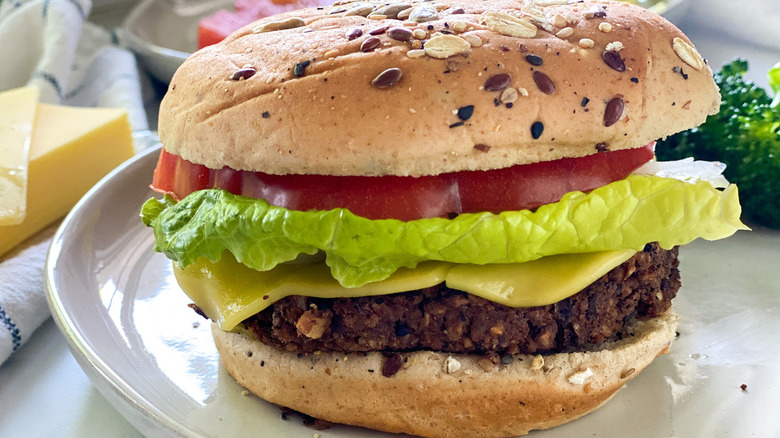 Ingredients
¼ cup diced red onion
2 cloves garlic, minced
¼ cup walnuts, chopped
1 (15-ounce) can black beans, rinsed and drained
½ cup rolled oats
1 teaspoon salt
1 teaspoon cumin
½ teaspoon chili powder
½ teaspoon smoked paprika
1 tablespoon soy sauce
1 teaspoon maple syrup
1 tablespoon oil
3 whole grain buns
Optional Ingredients
Cheese slices (dairy or non-dairy)
Tomato
Lettuce
Ketchup, mustard, or burger toppings as desired
Directions
Chop the onion, garlic, and walnuts.
Add drained beans to a food processor with the onion, oats, garlic, and walnuts. Pulse several times to blend, but not fully process.
Add spices, soy sauce, and maple syrup. Pulse a few more times.
Remove black bean mixture from food processor and form into 3 patties.
Add the oil to a skillet and heat on medium-high. Add the burgers and cook for 6 to 8 minutes on each side.
If you are using cheese, top each burger with a slice, then reduce the heat to medium and cover the pan until the cheese melts.
Serve black bean burgers on buns with tomato, lettuce, and condiments of your choice.
Nutrition
| | |
| --- | --- |
| Calories per Serving | 422 |
| Total Fat | 14.3 g |
| Saturated Fat | 1.6 g |
| Trans Fat | 0.0 g |
| Cholesterol | 0.0 mg |
| | |
| --- | --- |
| Total Carbohydrates | 59.3 g |
| Dietary Fiber | 13.2 g |
| Total Sugars | 5.5 g |
| Sodium | 714.6 mg |
| Protein | 17.0 g |