Easy Chocolate Avocado Pudding Recipe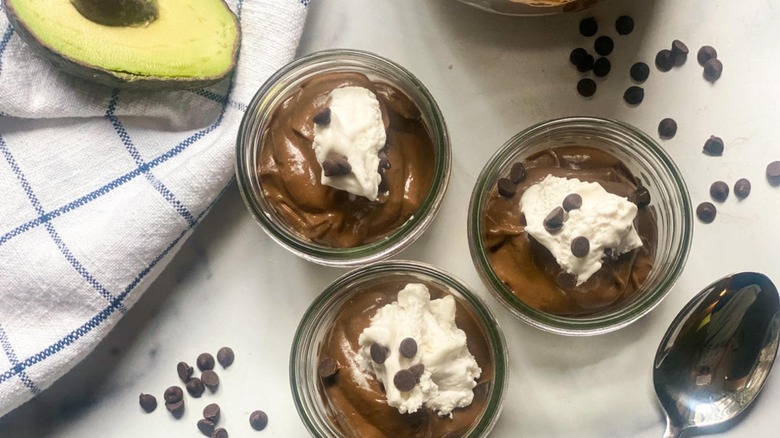 Miriam Hahn/Health Digest
Just because you're trying to eat healthier and make better choices, that doesn't mean the craving for a decadent dessert goes away. Rather than trying to fight it, how about indulging it with something that isn't going to make you struggle with regrets?
Wellness coach and recipe developer Miriam Hahn knows just how tough it can be, especially when you're craving something chocolatey. Fortunately, she's come up with what just might be the perfect dessert to satisfy your sweet tooth and — surprisingly — help you on the way to healthy eating.
How? Hahn uses all organic ingredients in her super-easy, super-delicious chocolate avocado pudding, and she says it's one of those small choices you can make that'll add up to big benefits in the long run. "There are so many ways to pick up daily toxins in our body," she says. "Pollution, cleaning products, beauty products, packaging, and definitely food. I think buying organic produce and packaged food products is one of the easiest ways to start eliminating the toxins that enter our body."
So, let's start with a chocolatey, creamy dessert that everyone in the family will love.
Gather your ingredients for chocolate avocado pudding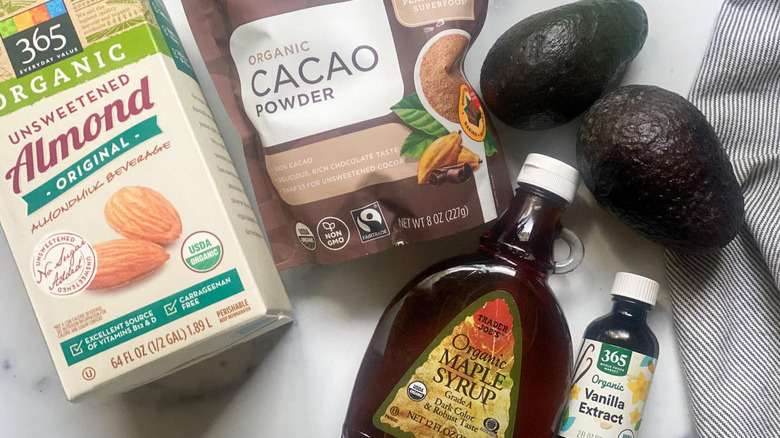 Miriam Hahn/Health Digest
Hahn's easy chocolate avocado pudding only takes a few simple ingredients, and that's what makes it such a great dessert to go all-organic on. She says, "I find that a lot of people don't want to spend the extra money for organic items, so I recommend just starting small. That way, at least you are making progress!"
For the pudding, that's two organic avocados, organic cacao powder, organic maple syrup, organic almond milk, and organic vanilla. Vanilla might seem like an odd thing to opt for when it comes to buying organic, but Hahn says, "There is a toxic pesticide used on vanilla so, even though you typically don't use very much, I do buy the organic version to be on the safe side."
It is, after all, a bottle that's going to stay in your cupboard for a while, so why not?
Combine your ingredients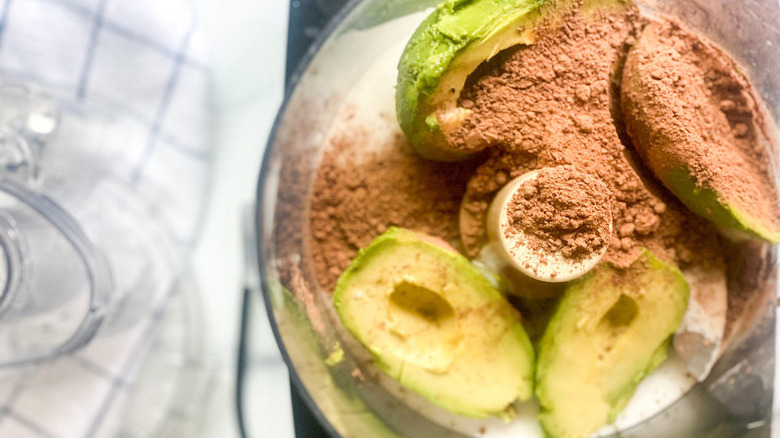 Miriam Hahn/Health Digest
This chocolate avocado pudding recipe really is as easy as just combining all ingredients into a food processor, and blending until everything is combined. That's right, you're only a few minutes away from enjoying a chocolate pudding dessert! Hahn says that's going to take just about two minutes, and that means it'll take you longer to find perfectly ripe avocados, than it will to make the rest of the recipe! Not too shabby, eh?
Dish them up and serve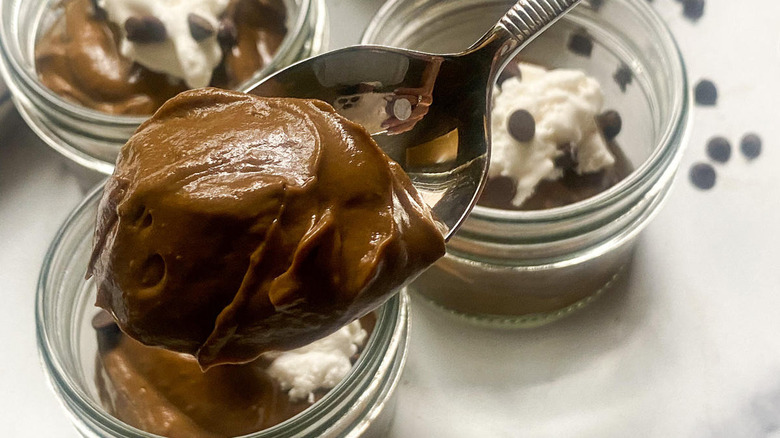 Miriam Hahn/Health Digest
Hahn's organic chocolate avocado pudding isn't just easy, it's easy to make it look fancy — and much harder than it was to make. But don't worry, we won't tell!
She suggests serving in your favorite jars or glasses with a dollop of coconut whipped cream. For an extra chocolatey kick, sprinkle on some cacao nibs, chocolate chips, or chocolate shavings, and Hahn says this also goes brilliantly with a side of fresh strawberries.
That isn't entirely the end of the recipe, though ... not quite.
A word about substitutions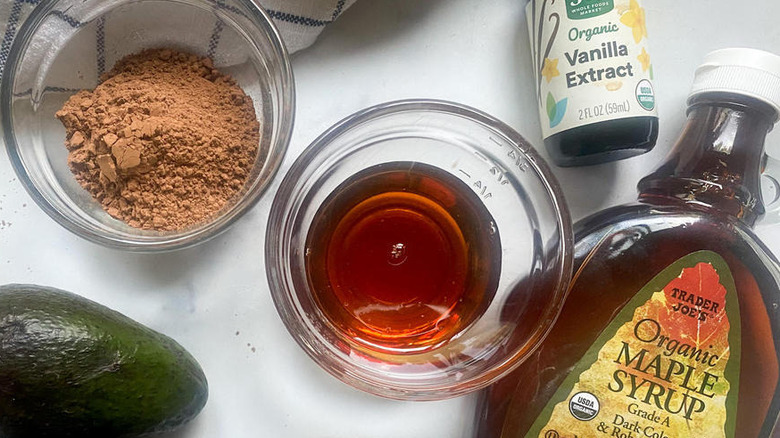 Miriam Hahn/Health Digest
This recipe is incredibly versatile, and for starters, Hahn says you can substitute cocoa powder for cacao. What's the difference, anyway?
"So, cacao powder is the raw form of chocolate. It is one of the highest antioxidant-containing foods, and it also has calcium, zinc, copper, and magnesium. In comparison, cocoa powder is processed at high heat, so you lose some of the benefits. Then, sugar is added."
If you opt for cacao powder, you're not going to miss the sugar because of the syrup you'll be adding, and that's where another substitution comes in. Hahn says you can definitely opt for organic agave instead of maple syrup, and that either will give you enough sweetness to make your dessert nothing short of delicious.
Easy Chocolate Avocado Pudding Recipe
Chocolate pudding gets a healthy twist courtesy of avocado. This pudding recipe makes use of organic ingredients to deliver a guilt-free chocolate treat.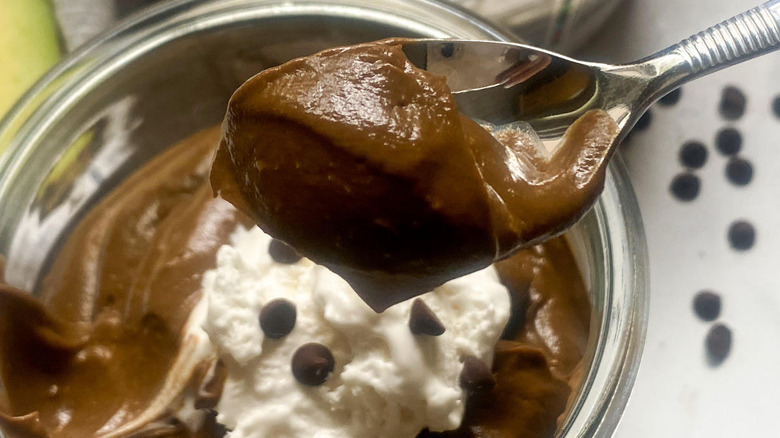 Ingredients
2 medium organic avocados
4 tablespoons organic cacao powder (or cocoa powder)
4 tablespoons organic maple syrup (can substitute agave nectar)
½ cup organic almond milk
1 teaspoon organic vanilla
Optional Ingredients
cacao nibs
coconut whipped cream
Directions
Add everything to a food processor and blend until smooth. This will take about 2 minutes.
Top with whipped cream and cacao nibs if desired, and serve.
Nutrition
| | |
| --- | --- |
| Calories per Serving | 233 |
| Total Fat | 15.8 g |
| Saturated Fat | 2.7 g |
| Trans Fat | 0.0 g |
| Cholesterol | 0.0 mg |
| | |
| --- | --- |
| Total Carbohydrates | 25.6 g |
| Dietary Fiber | 8.9 g |
| Total Sugars | 13.0 g |
| Sodium | 32.0 mg |
| Protein | 3.3 g |