Chocolate Coconut Energy Bites Recipe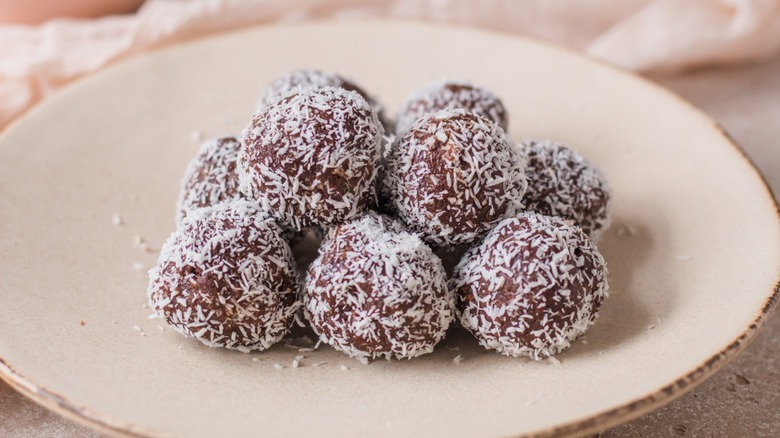 Jaime Bachtell-Shelbert/Health Digest
One thing most of us have in common is a sweet tooth to some degree. We know that candy is no good for us and has zero nutritional value — negative value, if that's a thing. And yet ... it's just so hard to say no when you want a sweet treat in a hurry, not to mention the temporary energy boost that sugar can deliver. Well, you know what's going to happen when you give in. That sugar rush will inevitably be followed by a sugar crash, and you'll also likely have serious regrets about those empty calories and carbs and whatever four out of five dentists might have to say about what all that sugar is doing to your teeth. If only there was such a thing as healthy candy ...
Well, as it turns out, there is such a thing! Jaime Bachtell-Shelbert, a dietitian who blogs at Wholly Nourished, created these energy bites out of nothing but fruits, nuts, and other healthy ingredients. She tells us, "I love that these energy bites use whole-food, plant-based ingredients," and describes the taste as "like biting into a piece of coconut fudge, but way healthier!"
Let's take a look at how you can make them at home.
Shop for the ingredients for these energy bites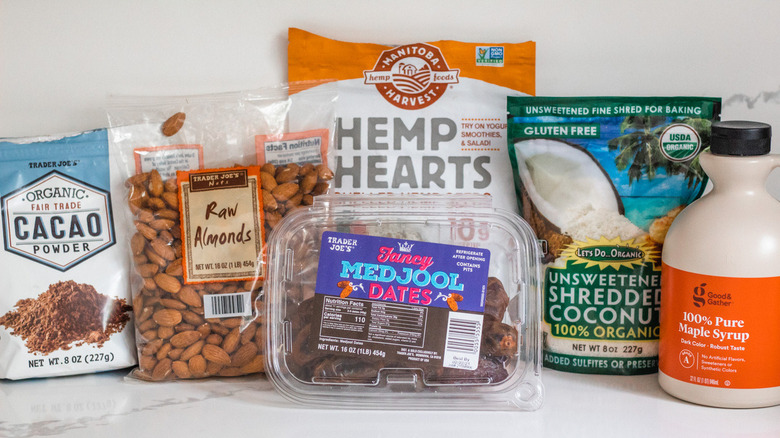 Jaime Bachtell-Shelbert/Health Digest
To make these chocolate coconut energy bites, you're going to need a variety of ingredients, some of them easier to source than others. The pitted dates should be easy enough to find, and raw almonds are generally readily available, too, if not as common as roasted ones. Bachtell-Shelbert also suggests using walnuts or raw cashews in place of the almonds. Raw cacao powder may not be so easy to find if you don't have a Whole Foods or similar store available, but you can use unsweetened cocoa powder instead without seriously impacting either the flavor or nutritional value.
Hemp seeds are another specialty product, one that Bachtell-Shelbert says she bought at Whole Foods, though some of the more well-stocked mainstream grocery chains may have them as well. Another option would be to use the more readily sourced sesame or pumpkin seeds in their place. You'll also need some maple syrup for sweetening as well as some coconut flakes — unsweetened if you can find them since those are healthier.
The dates will need to be softened up before you use them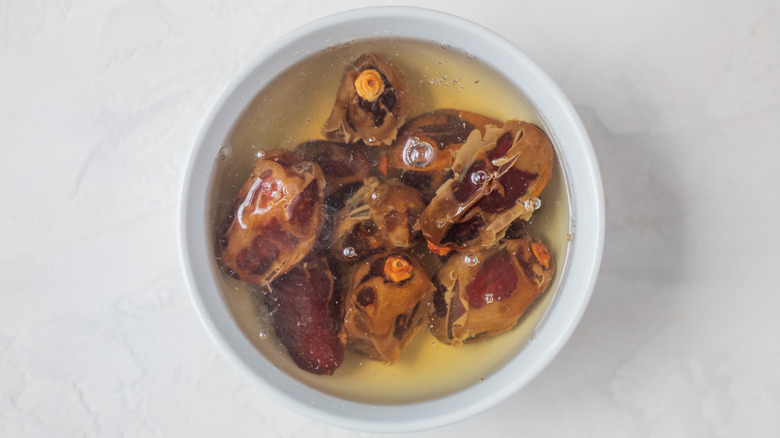 Jaime Bachtell-Shelbert/Health Digest
The dates will be making up a large part of the bulk of these energy bites, but the dates you're using will, of course, be dried ones. In order to make them easier to work with, you'll need to start out by soaking them. Put the dates in a small bowl, then cover them with hot water. Let the dates soak for 20 minutes, then drain the water into another small bowl. You'll be using a bit of the date water later in the recipe, so hold onto it for a while longer.
Grind all those healthy ingredients into a dough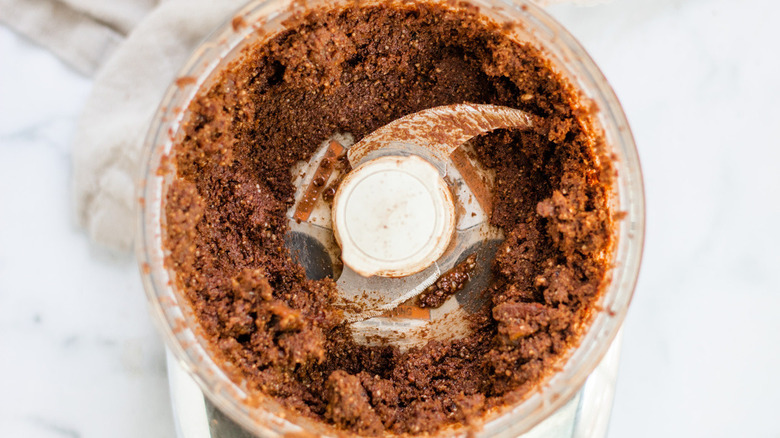 Jaime Bachtell-Shelbert/Health Digest
While there are many recipes that you can make using nothing but hand-operated kitchen tools, this isn't one of them. To grind up all of the different ingredients to form the energy bites, you will need to use a food processor.
Start by grinding the almonds with the cacao (or cocoa), hemp seeds, and three tablespoons of coconut. Once you're done, Bachtell-Shelbert says the mixture should resemble a "coarse meal." Now add the drained dates along with a tablespoon of the water you used to soak the dates, plus the maple syrup. Once you've blended all these ingredients into the mixture, you should have a nice, thick dough.
Roll the energy bites and coat them with coconut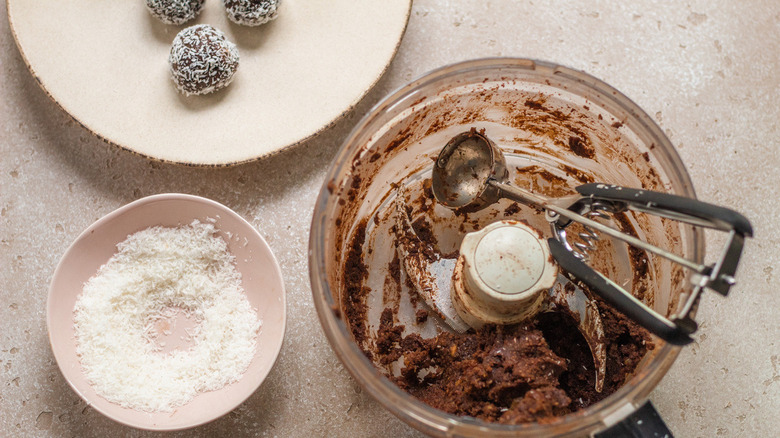 Jaime Bachtell-Shelbert/Health Digest
If you've got the time, you could put the bowl of dough in the fridge for half an hour. While Bachtell-Shelbert says this isn't absolutely necessary, she tells us it "makes rolling the energy bites easier." Roll the dough into small balls, each one about one to one and a half inches in diameter. Bachtell-Shelbert uses a small cookie scoop, one that she says has a one-and-a-half-tablespoon capacity.
Pour the rest of the coconut flakes into a small bowl, and roll each of the date balls in the coconut until they are coated on all sides. As an alternative to the coconut used here, Bachtell-Shelbert suggests, "These [energy bites] could also be rolled in cacao nibs." Store the energy bites on an airtight container. They should keep in the fridge for up to a week.
The nutritional data on these energy bites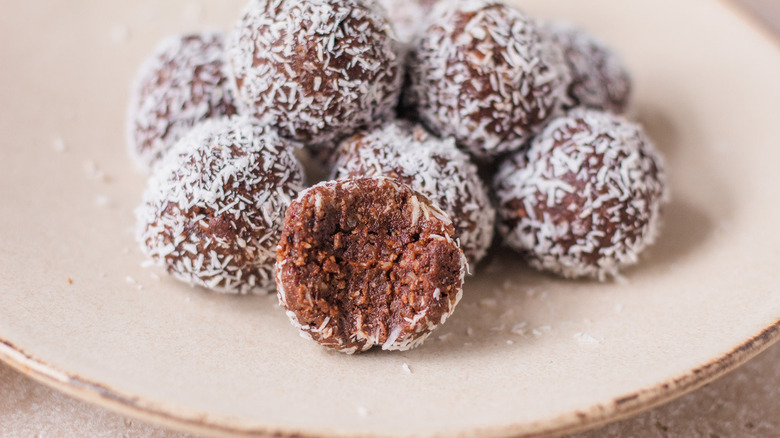 Jaime Bachtell-Shelbert/Health Digest
Bachtell-Shelbert says the best thing about these energy bites is that they're super-healthy. As she tells us, "The dates are packed with fiber, the hemp seeds have plant-based protein and essential fatty acids, and the cacao is an antioxidant powerhouse."
Therefore, you can snack on these without feeling like you're overindulging. They're great for a pre- or post-workout snack, and they're easy to take with you on the go. What more could you want from a healthy snack?
Chocolate Coconut Energy Bites Recipe
These chocolate coconut energy bites are basically a healthier form of candy. Learn how you can make them in your own kitchen!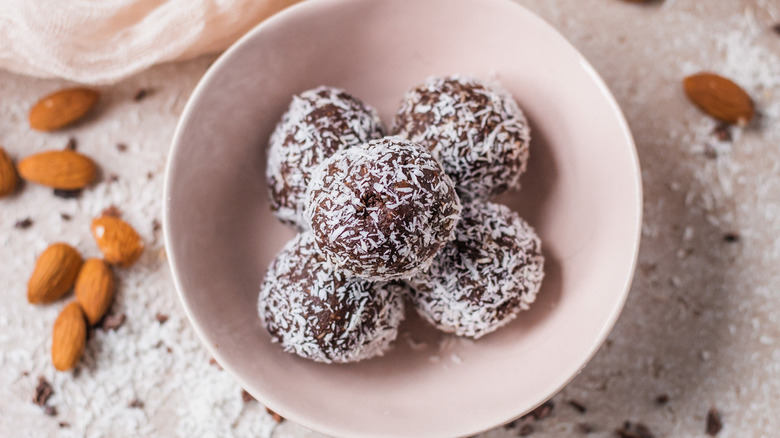 Ingredients
¾ cup pitted dates
¾ cup almonds, raw
¼ cup cacao powder
3 tablespoons hemp seeds
6 tablespoons unsweetened coconut flakes, divided
1 tablespoon maple syrup
Directions
Place dates in a bowl and cover with hot water. Let soak for 20 minutes, then drain, but reserve the date water.
Use a food processor to grind the almonds, cacao powder, hemp seeds, and 3 tablespoons of coconut flakes into a coarse meal.
Add the dates, 1 tablespoon of date water, and maple syrup to the food processor. Blend until these ingredients are incorporated and a dough forms.
Refrigerate date dough for 30 minutes.
Roll the dough into walnut-sized balls.
Place the remaining coconut flakes in a small bowl and roll the energy bites in the coconut flakes to coat.
Serve and enjoy. Refrigerate the energy bites for up to one week.
Nutrition
| | |
| --- | --- |
| Calories per Serving | 165 |
| Total Fat | 9.3 g |
| Saturated Fat | 2.6 g |
| Trans Fat | 0.0 g |
| Cholesterol | 0.0 mg |
| | |
| --- | --- |
| Total Carbohydrates | 19.5 g |
| Dietary Fiber | 5.0 g |
| Total Sugars | 13.2 g |
| Sodium | 2.7 mg |
| Protein | 4.3 g |