Healthy Almond Flour Banana Pancakes Recipe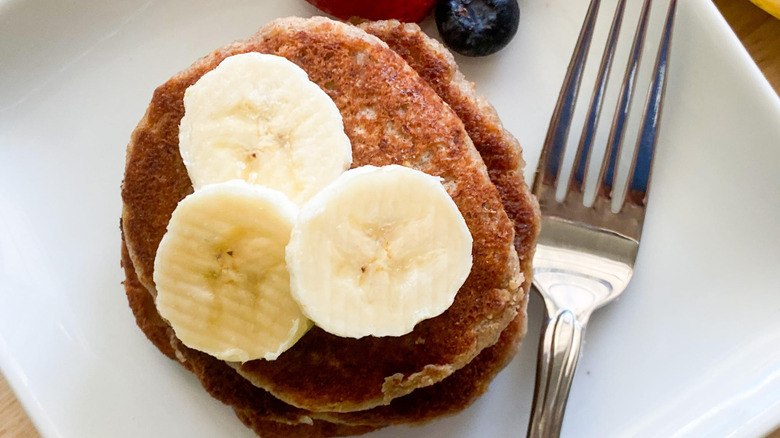 Miriam Hahn/Health Digest
These healthy almond flour banana pancakes are just what you need in your breakfast rotation. The great part about this recipe is that it uses delicious and nutritious ingredients, and it tastes amazing ... especially since you add a hint of cinnamon to the batter. It doesn't get much sweeter than that! This recipe is great for kids and adults alike and will definitely earn you a lot of kudos in the kitchen. Another great part about this recipe is the fact that it's super easy to whip up! Recipe developer Miriam Hahn is the brains behind this delightful yet straightforward banana pancakes recipe, and she says that there's a lot to love about it!
"My favorite thing about this recipe is how quick and easy it is! I always have these ingredients on hand and can whip them up at a moment's notice," Hahn says. "I love how they are sweetened by the banana, and there is no added sugar." Now that your stomach is growling, let's get down to business.
Keep scrolling for step-by-step instructions on how to make these incredible pancakes.
Gather the ingredients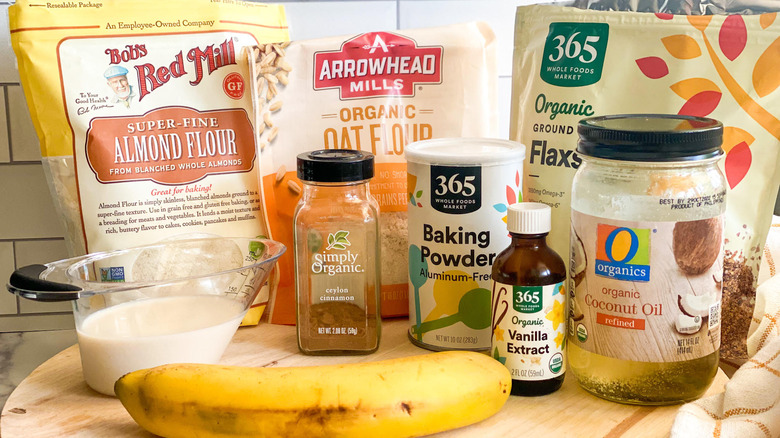 Miriam Hahn/Health Digest
For starts, you will want to get out all of the necessary items to throw this dish together. The recipe calls for a large, ripe banana, which provides a healthy base. In addition, you need some plant-based milk and organic vanilla extract. Instead of regular flour, get some GMO-free almond flour. "The almond flour makes them nice and moist and bumps up the nutrition value! Such a nice alternative to all-purpose flour," Hahn shares.
To complete your shopping list, add oat flour, flaxseed, cinnamon, and coconut oil. Once you have those items, it's time to begin!
Mash the bananas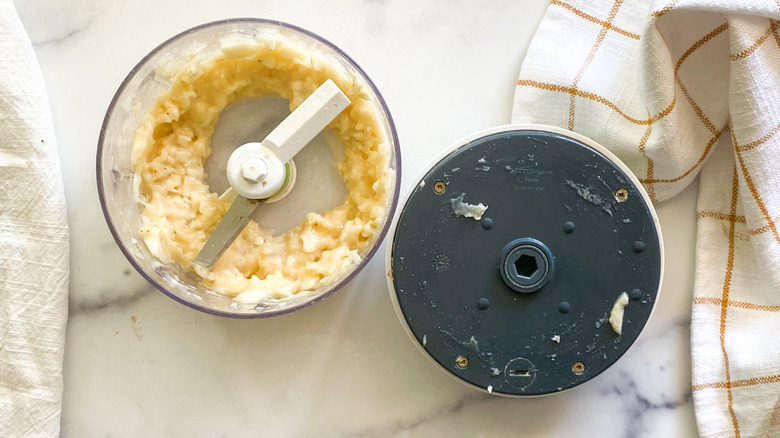 Miriam Hahn/Health Digest
Let's start by making the pancake batter. It will take about five minutes to put together, making prep easy ... especially if you're in a bind for time. Grab a bowl and peel your banana. Then, mash it well with either a fork or a food processor. If the banana is super ripe, it should mash easily. However, if the banana is less ripe and on the yellower side, it's probably wise to use a food processor or a food chopper to make it creamier.
Once the banana is smooth, you can move onto the next step.
Add more items to the mix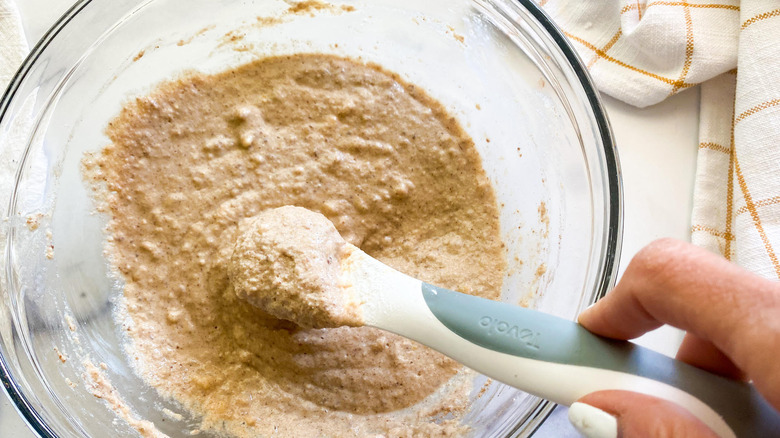 Miriam Hahn/Health Digest
In the same bowl as your banana, toss in the milk and the vanilla extract. Give the mixture a few good stirs to combine everything together. Next, add the dry ingredients. First, dump in the almond flour, followed by the oat flour. Then, toss in the flaxseed and cinnamon. Stir everything well to blend the ingredients and form the mixture into a batter.
It should now have a thicker consistency and look similar to actual pancake batter. 
Cook the pancakes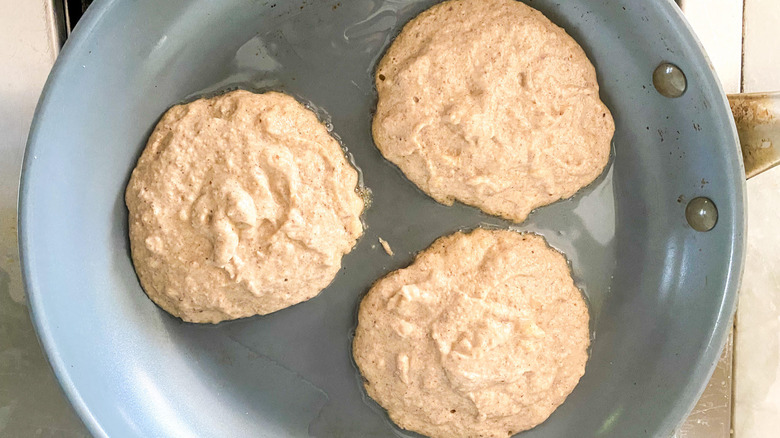 Miriam Hahn/Health Digest
It's time to get cooking! Take out a non-stick pan and heat a teaspoon of oil. You can also use a griddle instead of a pan if you want more space. Kick the heat up to medium, and let the surface get hot. Then, use a quarter cup to measure out the batter, which will make one small pancake. If you don't have a large pan or a griddle, you may have to work in batches.
Pour the batter into the pan and let the flapjack cook for three minutes on each side. After that, you can serve these treats to your lucky guests!
Serving suggestions and leftovers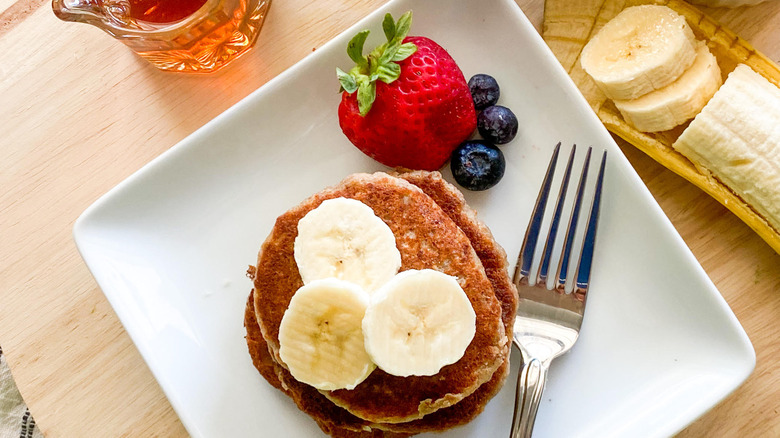 Miriam Hahn/Health Digest
There are plenty of ways to serve these pancakes. "I love topping them with fresh fruit, as you can see from the pictures, but they are so good on their own with just a little syrup," Hahn shares. If you have a sweet tooth, Hahn says that "you can add chocolate chips, cacao nibs, nuts, or blueberries" to the batter ahead of time.
These are also great to make ahead and freeze for a quick breakfast down the road. "Yes, you can definitely freeze and reheat," Hahn says. "This recipe only makes six small pancakes, so you can just double it for a larger quantity."
Healthy Almond Flour Banana Pancakes Recipe
These healthy almond flour banana pancakes are just what you need in your breakfast rotation. Give them a try this weekend.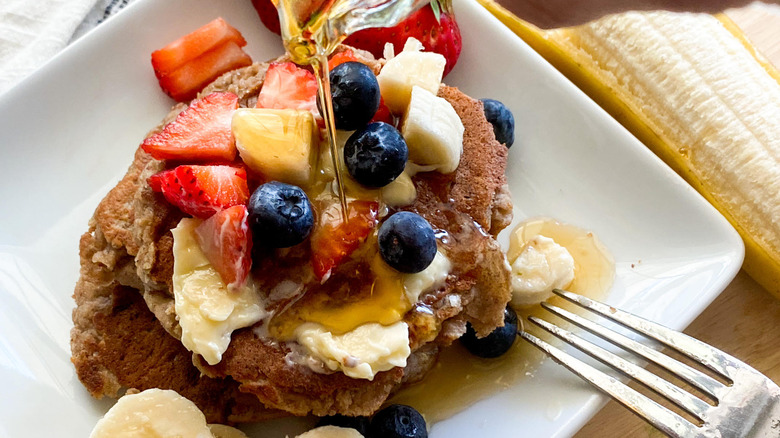 Ingredients
1 large ripe banana
½ cup + 2 teaspoons plant-based milk
1 teaspoon organic vanilla extract
½ cup GMO-free almond flour
½ cup organic oat flour
1 tablespoon ground flax seed
1 teaspoon cinnamon
2 teaspoons coconut oil
Directions
Mash the banana well, either by using a fork or putting in a food processor. If your banana is very ripe, it will mash pretty easily. If it is on the yellower side, using a food processor or food chopper will be easier to make it creamy.
Now add the milk and vanilla. Stir to combine.
Add the flours, ground flaxseed, and cinnamon. Stir again to blend into a batter.
Using a non-stick pan, heat 1 teaspoon of the oil on medium heat. Drop about ¼ cup of batter per pancake in the pan to make a small pancake. You may have to work in batches if you don't have a large griddle. Use the second teaspoon of oil for your second batch.
Cook 3 minutes on each side. Now, your pancakes are ready to serve!
Nutrition
| | |
| --- | --- |
| Calories per Serving | 433 |
| Total Fat | 24.4 g |
| Saturated Fat | 6.7 g |
| Trans Fat | 0.0 g |
| Cholesterol | 6.6 mg |
| | |
| --- | --- |
| Total Carbohydrates | 43.4 g |
| Dietary Fiber | 8.1 g |
| Total Sugars | 13.1 g |
| Sodium | 34.9 mg |
| Protein | 13.7 g |