Hearts Of Palm Vegan Ceviche Recipe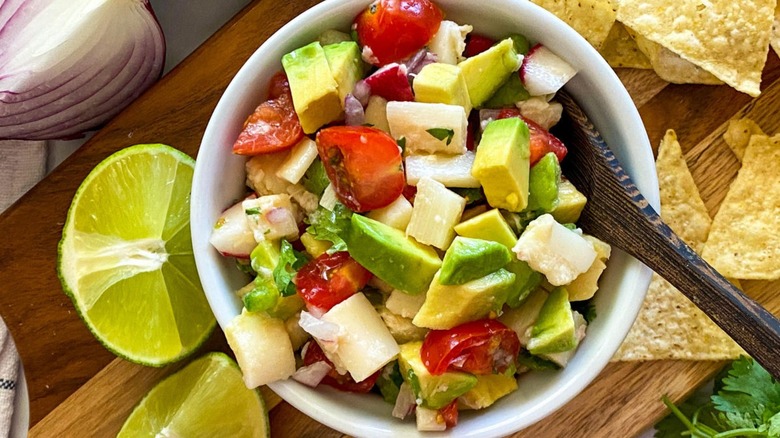 Miriam Hahn/Health Digest
While once upon a time, people were pretty grossed out by the idea of eating raw fish, that all started to change when sushi became one of the top food fads of the '80s and then hung around to become such an everyday culinary staple you can now buy it in just about any grocery store and even in some upscale gas stations. More recently, it's been joined at the top of the raw food popularity chart by yet another type of uncooked fish, ceviche. Ceviche, far from being new and trendy, is a South American dish that What's Cooking America says may possibly date back to the Incas. It consists of either fish or shellfish that's been marinated in the juice of citrus fruit.
While true ceviche is, of course, not vegetarian, the seafood dish is traditionally served with an accompanying vegetable garnish that may include onions, peppers, corn, and even sweet potatoes. Recipe developer Miriam Hahn created this vegan "ceviche" by replacing the seafood with hearts of palm, but the tangy flavor of lime makes for a dish that's just as refreshing as the original. As Hahn tells us, "This recipe has a lot of the same ingredients as traditional ceviche, sans the fish, so it does taste just like it flavor-wise."
Shop for the ingredients for this vegan ceviche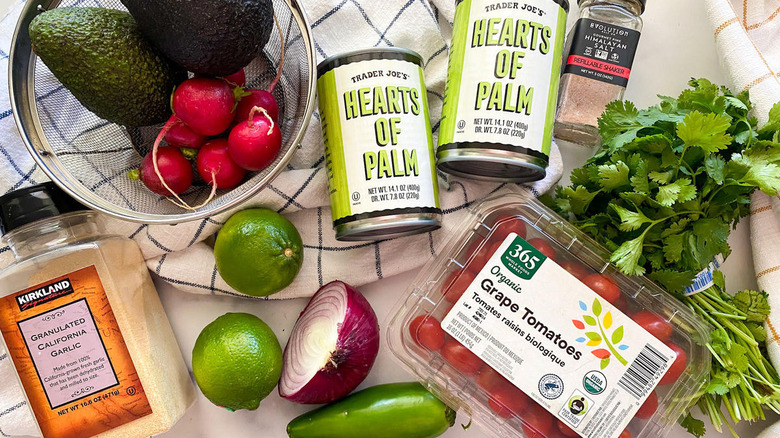 Miriam Hahn/Health Digest
As the name of the recipe indicates, the main ingredient in this mock-ceviche is canned hearts of palm, although they are there more for their bulk than for their very subtle flavor. Hahn explains that "hearts of palm is often used as a fish substitute because of its consistency," but the other veggies in the recipe pack more of a punch, including the radishes, grape tomatoes, red onion, jalapeno pepper, and avocados. Where the real flavor comes in, however, is with the seasonings: cilantro, lime juice, and garlic powder. If you prefer to use fresh garlic, you can use one clove of diced garlic in place of the powder, but Hahn advises, "I would crush it or mince it really fine before adding."
Hahn does suggest a few more ingredient swaps, saying you can use regular tomatoes (diced small) instead of grape ones and scallions in place of the red onion. You could also use a serrano pepper in place of the jalapeno for a spicier ceviche or leave the chiles out altogether if you prefer yours mild rather than wild. Diced cucumber, she tells us, could also be added to the mix.
Prepare the veggies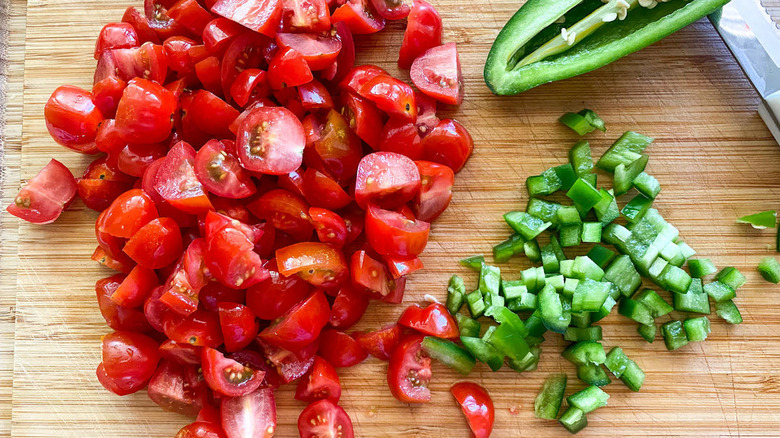 Miriam Hahn/Health Digest
Drain the hearts of palm and dice them into small chunks. Slice the stem ends off the radishes, then chop the radishes. Quarter the grape tomatoes carefully — you don't want to squeeze out all the "guts," after all! The red onion will need to be peeled and then diced, then you'll need to de-stem and chop up the jalapenos, as well.
If you want a milder ceviche, remove the seeds from the jalapenos before chopping them, but leave the seeds in if you want it muy caliente. Peel and chop up an avocado or two — Hahn says this "works best if they are very firm," although not if they're so firm they're unripe to the point of being inedible. Finish the veggie prep by snipping up the cilantro, stems and all.
Marinate the veggies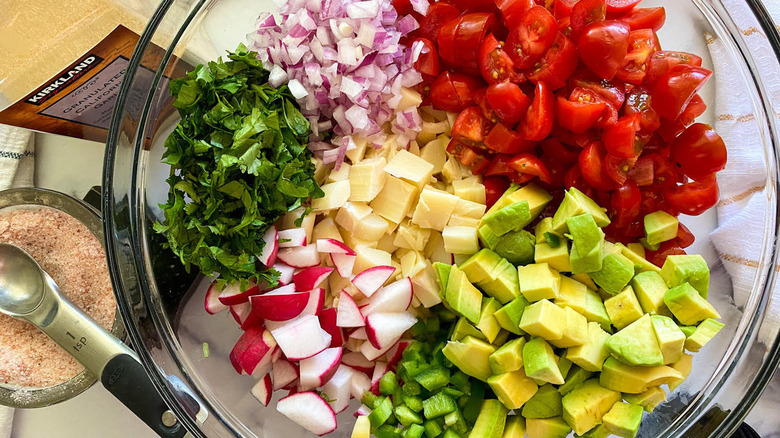 Miriam Hahn/Health Digest
Take all of those veggies as well as that one herb that you've just chopped up and mix them together in a large bowl. Now squeeze both of the limes — although the recipe calls for two, Hahn does say, "You might need three if your limes are not big and juicy." Mix the garlic powder into the lime juice, then stir in a half teaspoon of salt. Toss the dressing with the veggies. At this point, Hahn says, "Taste [the ceviche] to see if you need more salt." She suggests you might want to use up to half a teaspoon more.
This vegan ceviche can be enjoyed in a number of ways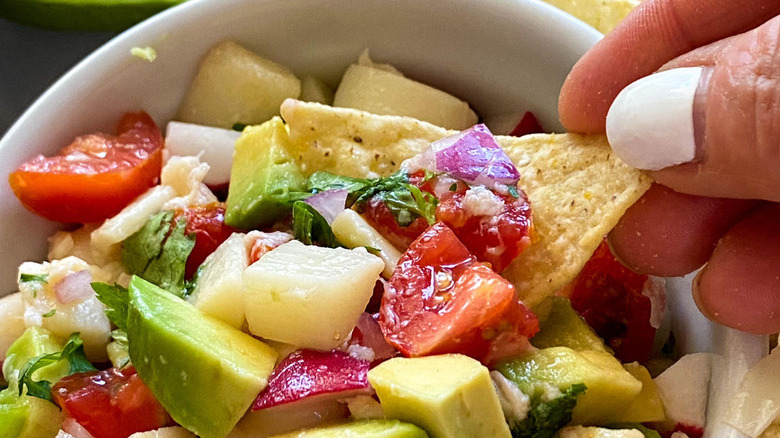 Miriam Hahn/Health Digest
If you wish, you can serve this vegan ceviche as an appetizer in much the same way that you would a traditional seafood-based ceviche. You could also serve it up as a dip in a bowl surrounded by tortilla chips or crackers. Hahn says this hearts of palm ceviche also "makes a great side dish if you don't want to serve it as a dip" — and a healthy one at that.
Hahn also proposes using this ceviche as a burrito topper, but it would work just as well on tacos or tostadas. Yet another idea would be to serve it atop a bed of lettuce. Mix in a tablespoon or two of olive oil, and you've got a veggie-packed salad with a delicious lime dressing.
Hearts Of Palm Vegan Ceviche Recipe
We created this vegan "ceviche" by replacing the seafood with hearts of palm, but the tangy flavor makes for a dish that's just as refreshing as the original.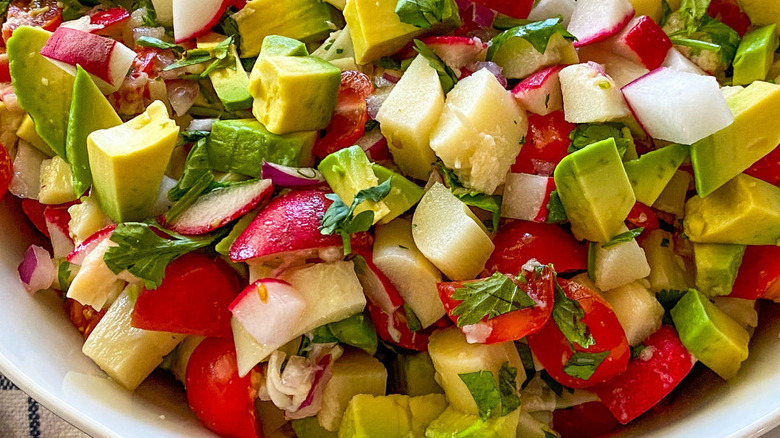 Ingredients
2 (15-ounce) cans hearts of palm, drained and diced
6 radishes, diced
1 cup grape tomatoes, quartered
½ cup red onion, diced
½ to 1 jalapeno, seeds removed, diced
1 to 2 avocados, diced
½ cup cilantro, chopped
Juice of 2 limes
½ teaspoon garlic powder
½ teaspoon salt
Directions
Mix the hearts of palm, radishes, grape tomatoes, red onion, jalapeno, avocados, and cilantro in a large bowl.
Squeeze the limes.
Add the garlic powder and ½ teaspoon salt to the lime juice.
Toss the dressing with the veggies, then add additional salt if needed.
Serve and enjoy.
Nutrition
| | |
| --- | --- |
| Calories per Serving | 211 |
| Total Fat | 12.6 g |
| Saturated Fat | 1.9 g |
| Trans Fat | 0.0 g |
| Cholesterol | 0.0 mg |
| | |
| --- | --- |
| Total Carbohydrates | 24.5 g |
| Dietary Fiber | 12.4 g |
| Total Sugars | 3.5 g |
| Sodium | 949.4 mg |
| Protein | 8.0 g |