Should You Get A Flu Shot If You Have The COVID-19 Vaccine?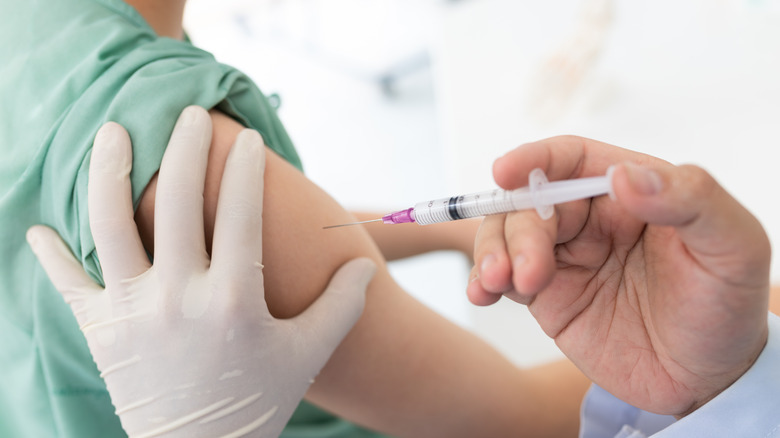 Tong_stocker/Shutterstock
With flu season fast approaching and the highly transmissible delta variant of COVID-19 still circulating across the United States, getting the flu vaccine is more important than ever (via CNN). In 2020, we saw a record low of flu-related deaths in the country, which was largely due to lockdowns, masking, and social distancing; however, many of those safety precautions and preventive measures are no longer in place in 2021.
Since COVID-19 and the flu share many of the same symptoms, it is imperative to get tested at the first sign of flu-like symptoms to determine whether or not you have COVID-19 (via WebMD). It's also possible to get both the flu and COVID-19 at the same time, which may potentially increase the severity of both conditions. That's why it's important to get the flu vaccine even if you've already been vaccinated against COVID-19. They're two different illnesses caused by two very different viruses, so the flu vaccine won't protect you against COVID-19 and vice versa.
How long should you wait to get a flu shot after the COVID-19 vaccine?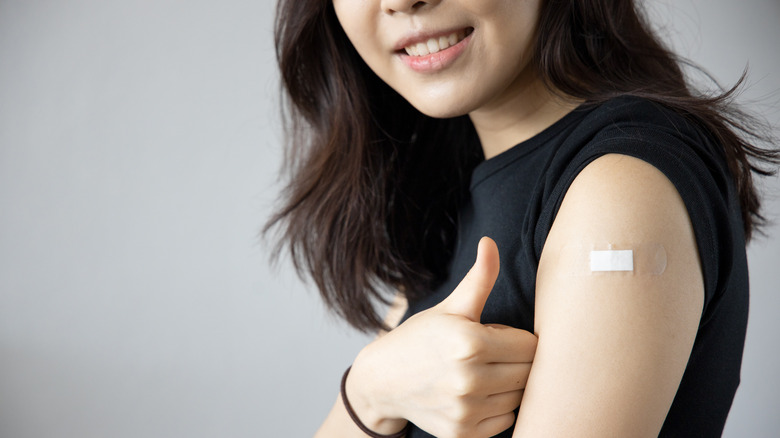 9nong/Shutterstock
Although the Centers for Disease Control and Prevention (CDC) previously recommended waiting 14 days in between vaccinations, experts are now saying that it's safe to get both the flu shot and the COVID-19 vaccine at the same time. Whether you're headed to the pharmacy for your first or second jab of the Moderna or Pfizer-BioNTech COVID-19 vaccine, the one-dose Johnson & Johnson vaccine, or a booster shot, there is no medical reason to avoid getting the flu shot too.
"You can get them at the same time. At the beginning, we discouraged anybody from getting vaccines within two weeks of getting their original COVID shot, but there's a lot of evidence now that says it's perfectly safe to get any vaccine you need in combination," Dr. Michelle Barron, senior medical director of infection prevention and control for UCHealth, confirmed to BioSpace. "We just warn you that maybe, put them in different arms so you don't have a really sore arm afterward."