The Real Reason Teens Are Seeing The Highest COVID-19 Rates Among Children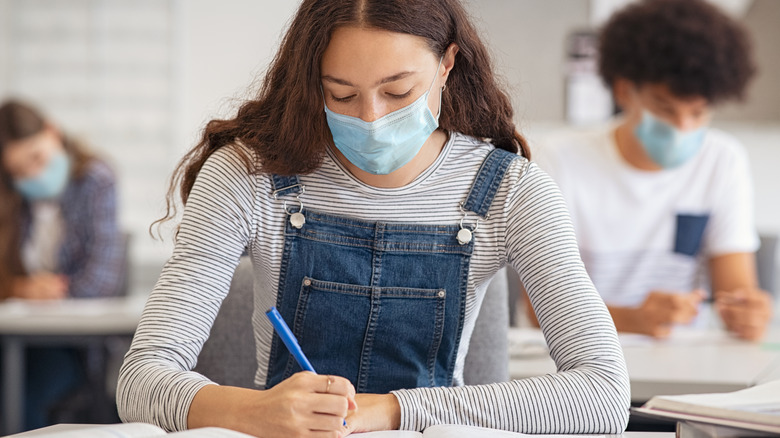 Rido/Shutterstock
Teenagers between the ages of 16 and 17 now have the highest rate of COVID-19 infections among people of all age groups in the United States, according to data from the Centers for Disease Control and Prevention (via CNN). Older teenagers account for 160.3 weekly COVID-19 cases per 100,000 people and make up nearly 800,000 cases overall.
That's because the delta variant — the dominant strain of COVID-19 in the U.S. — is highly transmissible and teenagers are the least likely to be vaccinated among those eligible for the vaccine. "The simple answer is — you have a virus that's highly infectious. It's going to spread to the people who are most vulnerable, and that's going to be the people who are least likely to be vaccinated," Dr. Georges Benjamin, the executive director of the American Public Health Association, told CNN. "And it's still true that the younger people are still least likely to be vaccinated."
More teenagers with COVID-19 are being hospitalized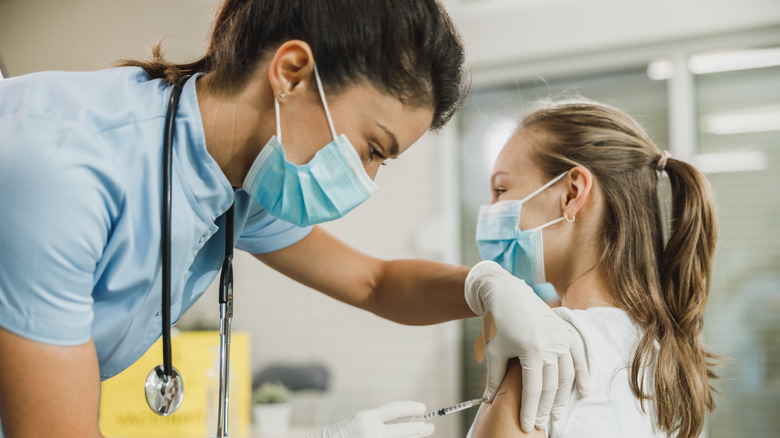 MilanMarkovic78/Shutterstock
As a result, COVID-19 hospitalizations have hit a record high among children and teenagers under the age of 18. Since the beginning of July 2021, the number of minors being treated for COVID-19 in hospitals and intensive care units across the U.S. has nearly quadrupled, NBC News reported.
On average, hospitals now treat more than 1,200 children and teenagers per day, most of whom are unvaccinated. According to data from the Department of Health and Human Services, the states with the highest number of pediatric hospitalizations also have the lowest vaccination rates (via NBC News). While children under 12 are still ineligible for the vaccine, as of this writing, only 32% of teenagers between the ages of 12 and 17 are fully vaccinated against COVID-19 (via CBS 58).
That's why it's important for parents to ensure that their children are vaccinated and protected from the highly infectious disease. "It's human nature to protect our children above all else, and the best way to protect them is to get everyone who is eligible vaccinated and surround children who are not yet vaccine-eligible with people who are vaccinated to effectively shield them from COVID harm," Dr. Rochelle P. Walensky, the director of the CDC, told The New York Times. According to Dr. Walensky, a combination of masking, social distancing, and widespread vaccination is the best way to keep children and teenagers safe in a crowded school setting.