Whatever Happened To P90X?
Michael Tran/Getty Images
Unearthing fitness trends of the past is like opening up a time capsule full of infomercial hits and high-cut neon leotards. Learning about what society does to stay in shape is a definite sign of the times. The next product/trend we're going to take out of the vault and examine is P90X.
According to WebMD, P90X is an intense at-home workout program that was sold as a DVD box set back in the mid-2000s. The workouts were not for spandex-clad housewives looking to work up a light sweat while chatting with their friends. P90X is a high-intensity workout plan with sessions designed to last up to one-and-a-half hours each. The DVDs also come with a nutrition guide, workout manual, and a 90-day calendar to track your progress.
Business Insider states that since its introduction in 2005, more than four million copies of P90X DVDs have been sold. At the height of its popularity, the company that sold the program, BeachBody, spent almost nothing on marketing. Celebrities like Ben Stiller, Ashton Kutcher, and Demi Moore did the job for them by highly praising the workouts to the masses.
The face of P90X had a health scare in the midst of a flood of competition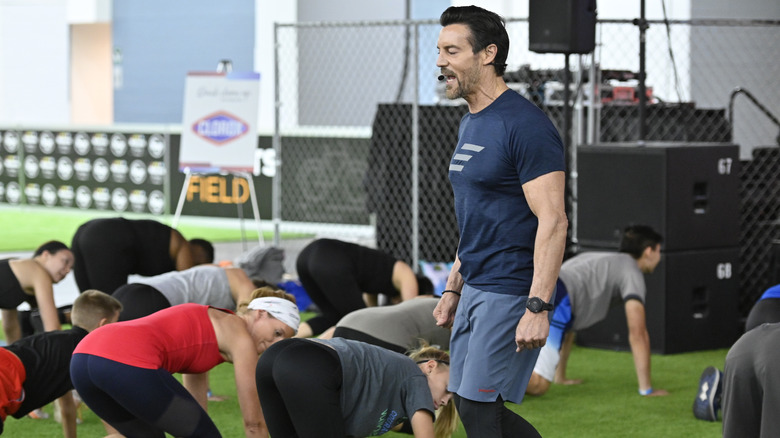 Duane Prokop/Getty Images
So, why aren't celebrities and people on the streets still raving about this workout routine today? For starters, the home workout industry has been flooded with new regimes and products such as Peloton, Insanity, and PII28. Home workout DVDs have also been replaced with streaming platforms and apps.
In addition to the competition and dated method of projection, the workout program's primary instructor and co-creator, Tony Horton, received a debilitating diagnosis in 2017. The Daily Mail states that Horton, the man responsible for the P90X phenomenon, developed Ramsay Hunt Syndrome, which is a rare form of shingles. After battling the disease for over a year, Horton was able to significantly improve his health. "I feel great now," he told The Daily Mail. "There are some days when I am 99% normal. And others where I am 62.5% normal."
The P90X DVD box set is now available online for streaming if you want an intense, guided at-home workout (via Self). Celebrities and the general public may have found new workout trends to try, but Horton and the craze he created over P90X has definitely earned a spot in the history of workout trends.