Why Cheerleading Is Riskier Than You Think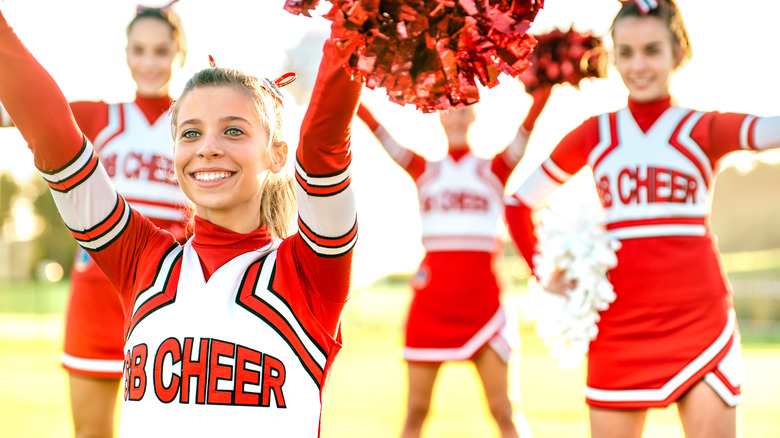 View Apart/Shutterstock
Cheerleading isn't all about sideline hip-shaking. In fact, the stereotype surrounding the sport often masks the threats these athletes are exposed to on a regular basis. Before you grab a pair of pompoms and show your team spirit, you ought to know why cheerleading can be so risky.
"Cheerleading has changed a lot in the last 30 years," Dr. Hans Olsen, an orthopedic surgeon, told Geisinger. "Parents may remember what cheerleading was like when they were in high school, where cheerleaders merely rooted for a team. But with the introduction of competitive cheerleading, the sport has gone from a sideline activity to an intense sport in its own right."
Gone are the days when cheerleaders' biggest job was to do a few dance moves. According to Verywell Fit, competitive cheerleading moves include backflips, tall human pyramids, and other acrobatic stunts. Furthermore, these moves typically require a certain amount of precision and timing.
This is the most common injury in cheerleading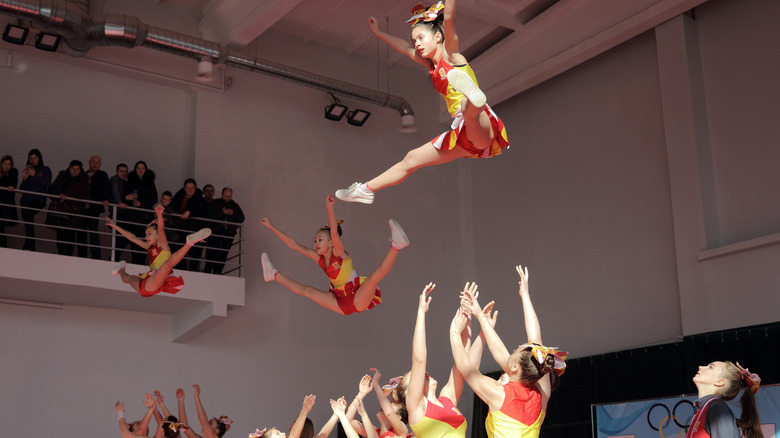 Cherednychenko Ihor/Shutterstock
So what kind of injuries are cheerleaders most exposed to? While there have been many reports of ankle and knee injuries, unfortunately, head injuries are among the most common. "Concussions are one of the most common injuries for cheerleaders," explained Dr. Olsen to Geisinger. "Some schools have actually seen more concussions on the cheerleading squads than football or soccer teams."
Luckily, the dangers of this former cutesy sport are being taken more seriously. "Over the last five years, we have seen a major change in safety awareness out there," Jim Lord, executive director of the American Association of Cheerleading Coaches and Advisors, told ABC News. "We have also made, probably in the last two to three years, significant changes to safety rules that prohibit certain skills to be done on certain surfaces, such as basketball courts." 
Lord went on to say that these safety protocols appear to have made an effect. However, there is always room for improvement when it comes to maintaining the health of athletes.