Should You Really Wear Goggles When You Swim?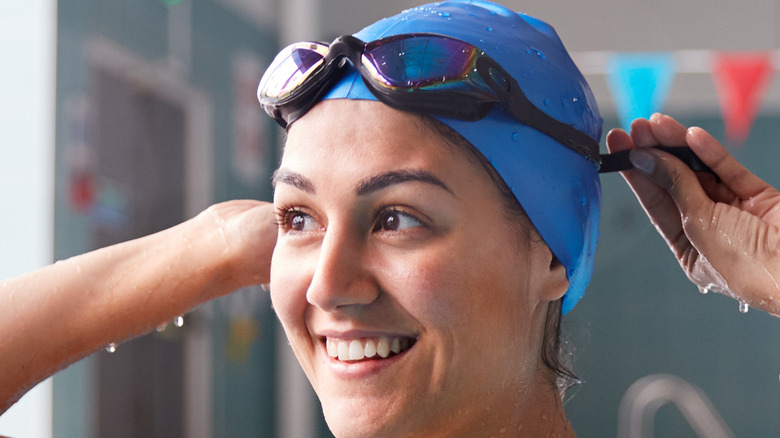 Monkey Business Images/Shutterstock
Swimming can be a fantastic workout. The Centers for Disease Control and Prevention (CDC) bills it as one of the most popular sports in the U.S. and asserts that it is a great way to regularly engage in aerobic physical activity. Even if you're not aiming for a workout, being in and around water can be effective if you're looking to improve your mood.
There are plenty of benefits associated with taking a trip to the nearest swimming hole, but there are also reasons to hang back. One reason some people skip their swim is because they are unsure of whether or not they should wear goggles. It's an understandable question, as the pressure around your eyes can be uncomfortable, the foggy lenses can be a bother, and the band around your head can become downright uncomfortable.
Some people also think that goggles increase pressure on the eyeballs, impacting blood flow to the optic nerves and impairing vision. It's a serious concern, and it sounds like a good reason to skip the goggles when you swim. The science, however, makes it clear there is no cause for alarm.
The truth about swim goggles and eye pressure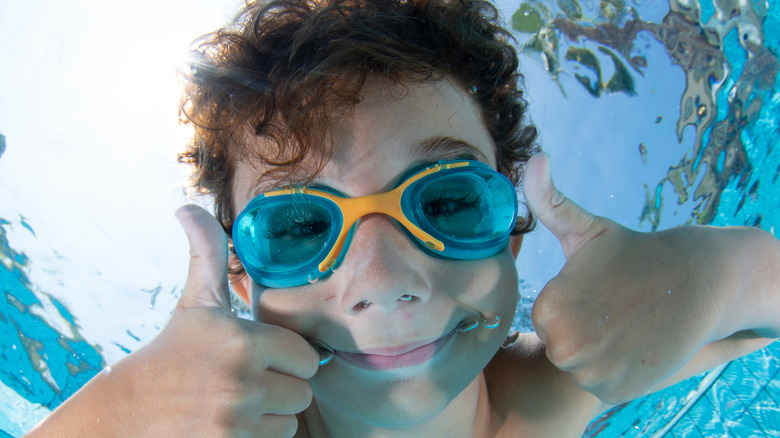 Adnan Buyuk/Shutterstock
Terms like "optic nerve," "blood flow" and "impaired vision" are enough to make almost anyone think twice about something as common as swimming goggles. But, as it turns out, these worries may be unnecessary. A 2007 study published in the Yonsei Medical Journal found that while intraocular pressure increases while wearing goggles, it returns to normal as soon as the goggles are removed. More importantly, they found that the increased pressure is not significant enough to impede blood flow to the ocular nerve head.
That being said, the researchers noted that those with advanced glaucoma may need to consider the additional pressure. The National Eye Institute describes glaucoma as vision loss or blindness due to optic nerve damage. While early stages of glaucoma are hard to detect, advanced stages are marked by loss of peripheral vision and, if left untreated, blindness. A person with advanced glaucoma can speak to their eye doctor about the benefits and risks of swimming goggles. 
The benefits of swim goggles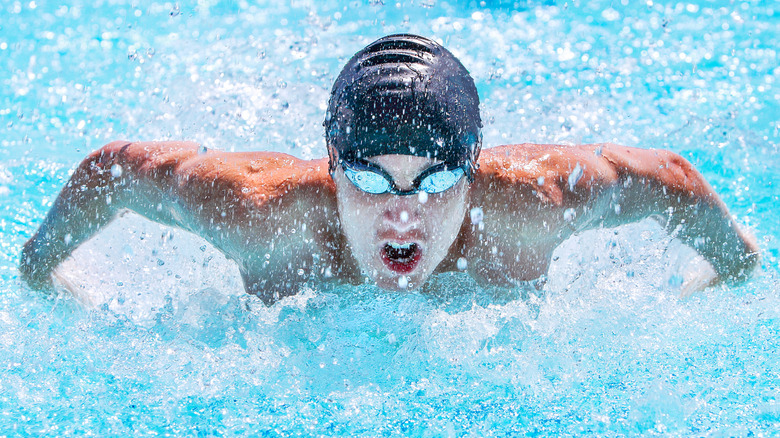 Suzanne Tucker/Shutterstock
The most obvious reason to wear goggles is that the chlorine in pool water can dry out your eyes, as explained by Bard Optical. Chlorine dries out the wet protective coating over our eyes, leaving them dry, red, irritated, and itchy. Goggles reduce this risk by protecting the film over our eyes, but they serve an even greater purpose. While chlorine kills most germs, Bard Optical points out that there are still pathogens in the water. If you're swimming in a non-chlorinated body of water, the number of pathogens is likely higher. Wearing goggles keeps these pathogens out of the eyes while preventing infections, such as pink eye.
Goggles may be especially necessary for people who wear contacts. The CDC states that water can cause contact lenses to swell, warp, or become stuck to the eye. All of these outcomes can lead to scratched corneas and increase the wearer's risk of infection. The CDC recommends removing contact lenses before swimming and opting for prescription goggles.