5-Ingredient Peanut Butter Chickpea Cookies Recipe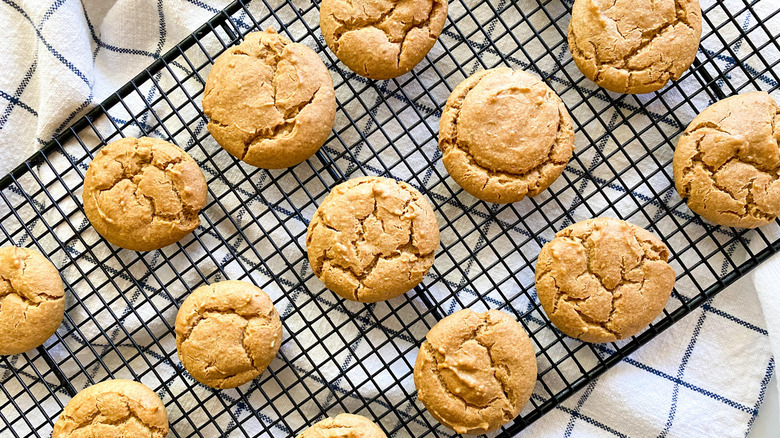 Miriam Hahn/Health Digest
While a number of us are only inclined to look at nut butters for a sandwich or a flavoring for desserts, the truth is, nut butters can be so much more than that. Because of their nutrition profile (They are full of good, heart-healthy HDL cholesterol, protein, fiber, and B vitamins as well as a host of minerals, according to Cedars Sinai.), they are a key ingredient in power cookies like this one that was created by recipe developer Miriam Hahn of YouCare-SelfCare. Hahn has even found a way to power up the protein content of this cookie by adding chickpeas. She says, "Using beans in this recipe really bumps up the nutrition adding lots of fiber and minerals along with resistant starch which is great for gut health! Such a healthy alternative."
If you're not a fan of peanut butter, Hahn suggests you can swap that ingredient out for another nut butter like almond butter or cashew butter. "If someone has a nut allergy, you can substitute sunflower seed butter," she says. But for those who might be familiar with Nutella cookies and are tempted to use the chocolate-hazelnut spread for this particular recipe, Hahn has a warning: "I haven't tried it with Nutella, [so I'm] not sure the consistency would be right."
Gather just five ingredients to make these healthy peanut butter cookies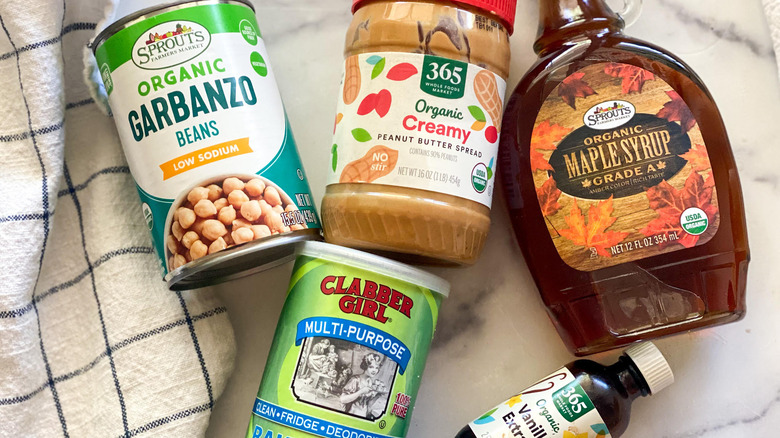 Miriam Hahn/Health Digest
It won't take much to make these easy, protein-rich cookies which are perfect as a snack or for dessert. You'll need a can of chickpeas (aka garbanzo beans), peanut butter, maple syrup, vanilla extract, and baking soda. (Hahn opted for organic ingredients in this recipe.) If all you have on hand are dried chickpeas, do not fret, because Hahn says they work well, too! Just substitute a can of chickpeas for 1 ½ cups of dried chickpeas.
You'll need a food processor to make sure the batter comes out smooth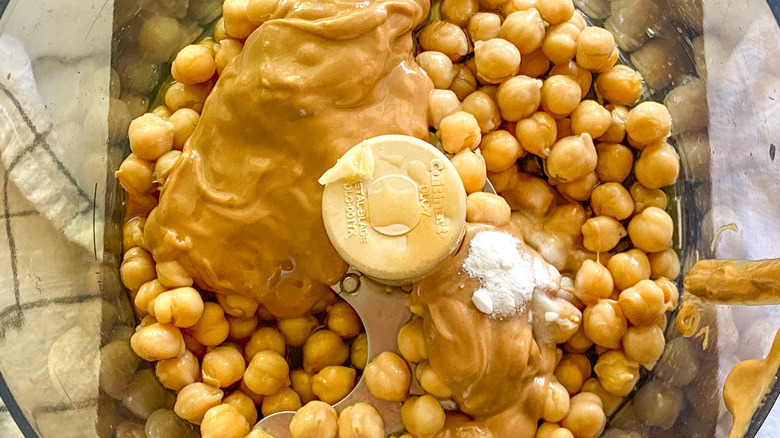 Miriam Hahn/Health Digest
Before you begin, you'll want to pre-heat your oven to 350 F. To prepare your peanut butter batter, place the chickpeas, peanut butter, maple syrup, vanilla, and baking soda into the mixing chamber of a large food processor, and then blend for at least one minute. The mixture should be very smooth.
While some people might think peeling the chickpeas before pureeing them is necessary, Hahn thinks otherwise. She says, "I love quick recipes in the kitchen and [peeling the beans] would be too time-consuming."
These cookies won't need a lot of time to bake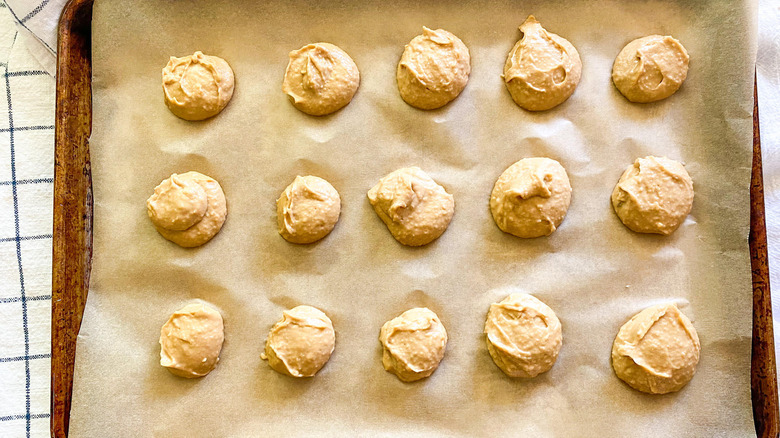 Miriam Hahn/Health Digest
Line your baking sheet with parchment paper to ensure the cookies don't stick to the bottom, then measure out a heaping tablespoon of batter onto the prepared sheet. There should be enough batter to make 15 peanut butter cookies. Once the batter has been evenly distributed, bake the cookies for 20 minutes until they are golden brown. When they're done, take them out, turn off the oven, and cool the cookies on wire racks for about 10 minutes before serving.
Chocolate chips can be a sweet addition to these peanut butter cookies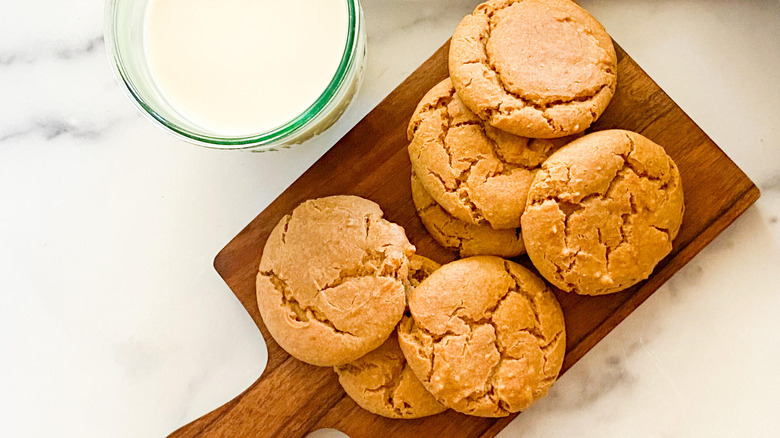 Miriam Hahn/Health Digest
The beauty of this recipe lies in its versatility. If you want to add a bit of extra oomph to these cookies, Hahn suggests folding in an extra ½ cup of chocolate chips at the end of the mixing process, and just before you shape the batter into cookies. If you're not into the idea of using chocolate chips and want to make the cookies even nuttier, chopped walnuts will do the trick as well. Once baked, Hahn suggests you store your cookies in the refrigerator as she does, where they will last for five days.
5-Ingredient Peanut Butter Chickpea Cookies Recipe
These five-ingredient peanut butter chickpea cookies come together in a flash and are so simple to whip up when you're craving something sweet.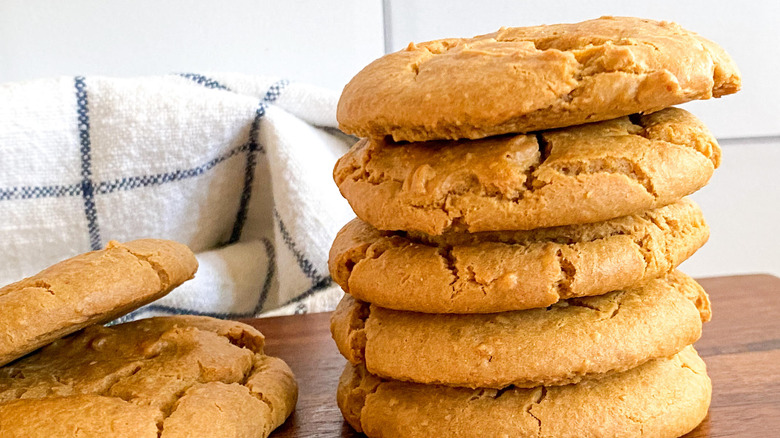 Ingredients
1 can chickpeas, drained
½ cup peanut butter
⅓ cup maple syrup
2 teaspoons vanilla extract
½ teaspoon baking soda
Optional Ingredients
Directions
Preheat oven to 350 F.
Add the chickpeas, peanut butter, maple syrup, vanilla, and baking soda to a large food processor.
Blend for at least 1 minute until the mixture is smooth.
Measure out a heaping tablespoon of batter on a parchment paper-lined baking sheet, and repeat to get 15 cookies laid out.
Bake for 20 minutes until golden brown.
Cool for 10 minutes on a rack, then serve or store.
Nutrition
| | |
| --- | --- |
| Calories per Serving | 111 |
| Total Fat | 5.2 g |
| Saturated Fat | 0.9 g |
| Trans Fat | 0.0 g |
| Cholesterol | 0.0 mg |
| | |
| --- | --- |
| Total Carbohydrates | 13.1 g |
| Dietary Fiber | 2.2 g |
| Total Sugars | 6.3 g |
| Sodium | 114.0 mg |
| Protein | 3.9 g |