Spicy Roasted Cauliflower Recipe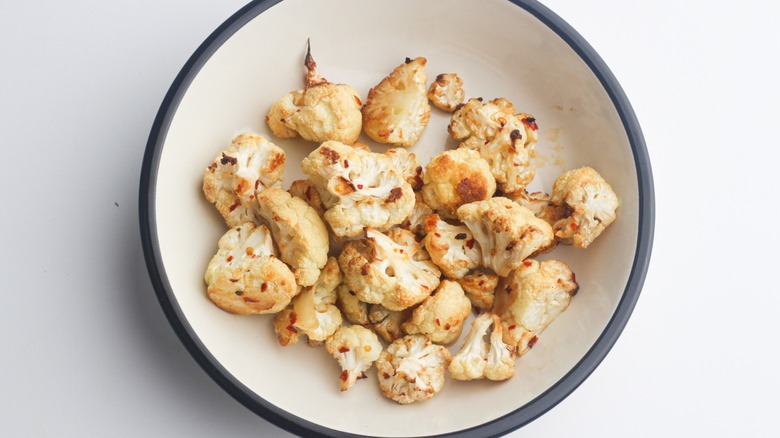 Susan Olayinka/Health Digest
Cauliflower may be one of the blandest of veggies, but this very blandness is why it's become so popular. Cauliflower has been having a moment lately, standing in as a low-carb substitute for everything from rice to potatoes to pizza crust and even sneaking its way into smoothies and desserts. What about cauliflower on its own, though? How can you make this vegetable less boring?
Recipe developer Susan Olayinka of The Flexible Fridge recommends spice — and lots of it. She's a huge fan of making her food spicy, telling us, "I tend to add [crushed red pepper] to everything," and adding, "When I want a bit more of a kick than black pepper can give, I always add chili flakes." She does admit that roasted cauliflower sans spice is "quite neutral-tasting" (that's polite talk for bland and boring), but she says that in this recipe, "adding the spiciness really gives it a kick." If you want it even spicier, though, Olayinka suggests adding paprika, onion powder, and/or garlic powder.
Let's get started on this delicious recipe!
Choose a good head of cauliflower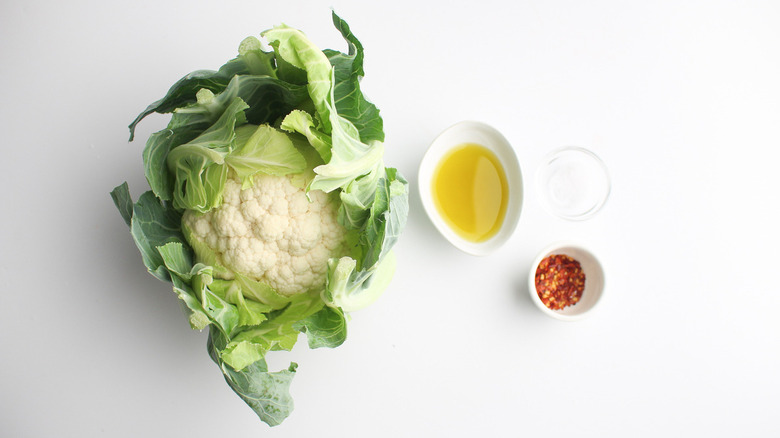 Susan Olayinka/Health Digest
The main ingredient you'll need to make this roasted cauliflower is, of course, a head of cauliflower. Since cauliflower is the star of the show, be sure to choose a good one. Look for a head that's tightly closed and feels very firm to the touch. If there are any soft spots, that head is starting to go bad, so it's better to choose a different one. You should also pass on any cauliflower heads with dark spots, as these might be an indication of sun damage.
In addition to that head of cauliflower, you'll need just a few more ingredients for this recipe: olive oil and crushed red pepper. Olayinka used extra-virgin olive oil, but you can use the not-quite-so-virgin kind here, too, since the oil is going to be cooked rather than used in a salad.
Chop the cauliflower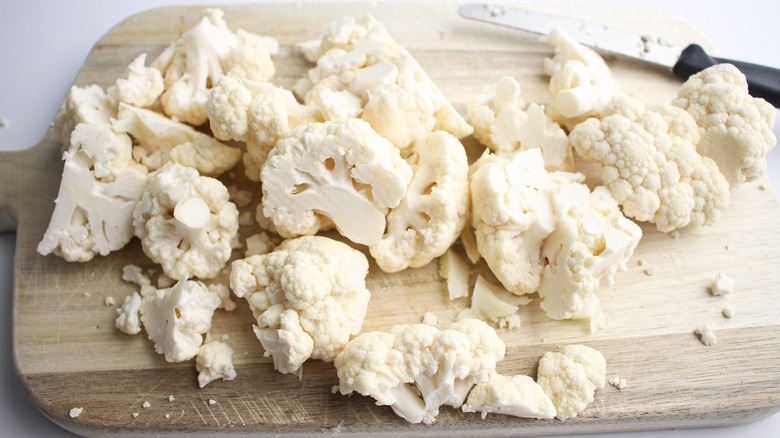 Susan Olayinka/Health Digest
Begin by preheating the oven to 325 F so it can heat up while you get the cauliflower ready to bake. While the oven is doing its thing, peel the cauliflower and chop the florets into bite-sized pieces. Olayinka says she removed the main stem from the cauliflower she used, but this part of the cauliflower is edible too. Instead of throwing it out, consider saving it to make soup or shredding it to add to a slaw.
Once your cauliflower is chopped, dump those florets into a big bowl. Make sure the bowl has plenty of room for them to move around, as the next step will involve tossing them with a spicy dressing.
Season the cauliflower before roasting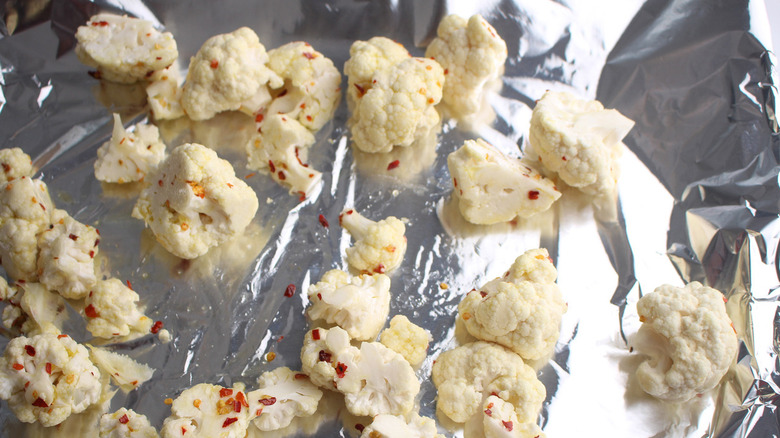 Susan Olayinka/Health Digest
Drizzle the cauliflower with the olive oil, then sprinkle it with the red pepper and half a teaspoon of salt. Use your hands to toss the cauliflower with the oil and seasonings. As Olayinka explains, "The goal [here is] to coat every inch of cauliflower with the marinade."
Once the cauliflower is ready to go, take your oily hands and grease a baking sheet. You could also line the sheet with parchment paper or aluminum foil instead if that's your preference. Spread the cauliflower over the sheet in an even layer. Once the oven is hot enough, put the sheet on the middle rack and bake the cauliflower for 25 minutes.
This spicy roast cauliflower makes a tasty, healthy side dish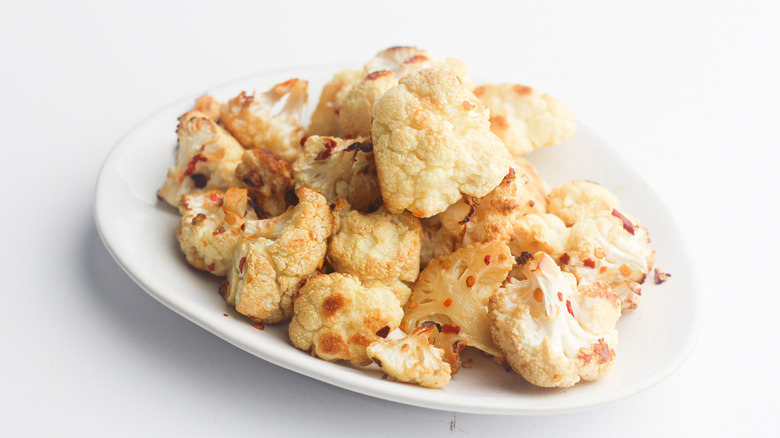 Susan Olayinka/Health Digest
This roasted cauliflower will work well as a side dish for a basic roast meat type of meal. Olayinka suggests serving it with "some grilled steak or some grilled chicken or grilled fish." Cauliflower is pretty bulky and filling, and as Olayinka says, it's "really good for fiber intake." She also adds that cauliflower "has loads of B vitamins in it," so whatever you pair it with, you'll be getting all of the benefits of this healthy vegetable as well as the metabolism-boosting, mood-elevating properties of the red pepper.
Spicy Roasted Cauliflower Recipe
Cauliflower has been having a moment lately, standing in as a low-carb substitute for everything from rice to potatoes. But what about on its own?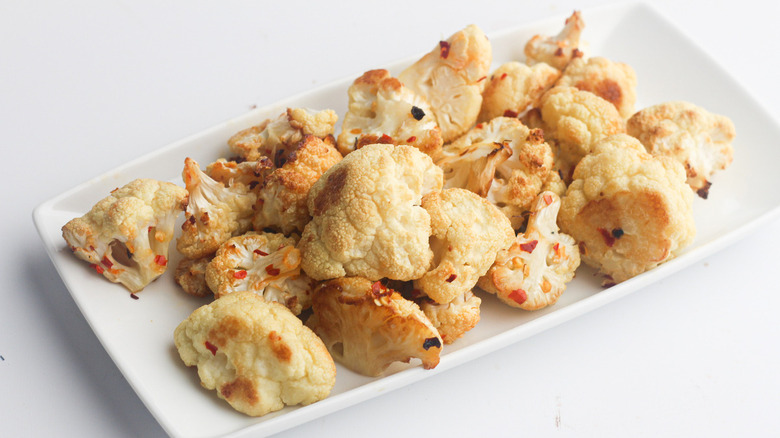 Ingredients
1 head cauliflower
2 tablespoons olive oil
1 teaspoon crushed red pepper
½ teaspoon salt
Directions
Preheat oven to 325 F.
Peel and chop the cauliflower into bite-size pieces.
Place chopped cauliflower in a bowl with enough room to toss.
Add olive oil, red pepper flakes, and ½ teaspoon salt to cauliflower and toss, making sure all of the cauliflower is coated.
Grease a baking sheet or line it with foil or parchment paper.
Spread the marinated cauliflower over the baking sheet.
Bake cauliflower for 25 minutes.
Serve and enjoy.
Nutrition
| | |
| --- | --- |
| Calories per Serving | 189 |
| Total Fat | 14.4 g |
| Saturated Fat | 2.2 g |
| Trans Fat | 0.0 g |
| Cholesterol | 0.0 mg |
| | |
| --- | --- |
| Total Carbohydrates | 13.9 g |
| Dietary Fiber | 5.6 g |
| Total Sugars | 5.2 g |
| Sodium | 658.8 mg |
| Protein | 5.3 g |