Is Premier Protein Good For You?
sarah Tee/Shutterstock
Protein shakes and powders are convenient ways to up your protein intake. Many athletes and fitness buffs swear by these products. One of the most popular protein brands today is Premier Protein. The brand is known for its affordable shakes and powders that come in a wide variety of flavors. But are these products actually healthy, or should you try to find another source of protein? Here's what you should know.
According to Premier Protein's website, one protein shake contains 160 calories, 30 grams of protein, three grams of fat, and only one gram of sugar. One serving of Premier Protein powder has a similar nutrient profile. On the surface, those numbers sound great for someone hoping to increase their protein while keeping their fat and sugar intake low. However, products that are low in fat and sugar have to make up for the lost flavor somehow. Premier Protein products contain artificial sweeteners like sucralose and ​​acesulfame potassium. Research has shown that sucralose can increase inflammation in the body and may negatively affect gut health (via WebMD). Acesulfame potassium is still being studied, but it may have a link to cancer and thyroid damage (via Healthline).
Experts are divided on this protein brand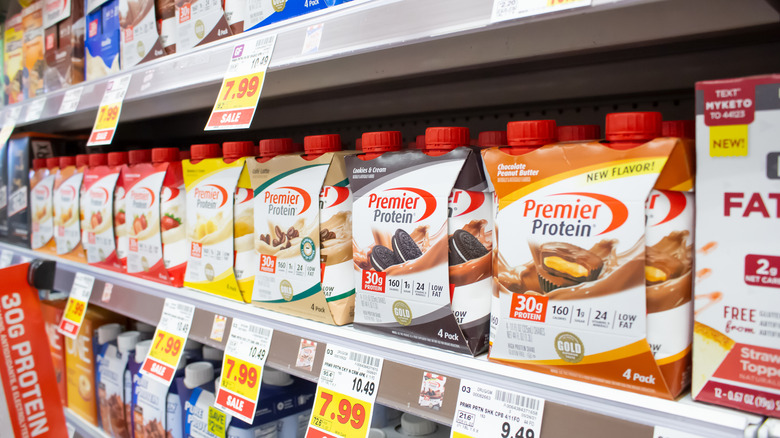 TonelsonProductions/Shutterstock
Although it's clear that Premier Protein contains some questionable ingredients, not all nutrition experts think it needs to be avoided. Small amounts of artificial sweeteners in your diet probably won't cause health issues. According to Health, the most important thing to avoid in a protein shake is added sugar. "Consuming a high amount of added sugar can be deleterious to anyone's health," said registered dietitian nutritionist Kim Rose. "It has been linked to unwanted weight gain, increased triglyceride levels, and type 2 diabetes."
Health notes that along with ingredients, it is important to find a protein product that is easy to add to your lifestyle. If you need to increase your protein intake, you don't want to commit to a shake that doesn't taste good. This is one of the reasons that some dieticians recommend Premier Protein. Registered dietitian Mia Syn enjoys these shakes because they "come in different flavors like chocolate peanut butter and caramel so you can add them to smoothies or protein pancakes, or enjoy on the go" (via Health). While most of your protein should come from whole foods, supplementing your diet with Premier Protein can be a good option if you're struggling to reach your protein goals with food alone.