Are Pumpkin Spice Lattes Bad For You?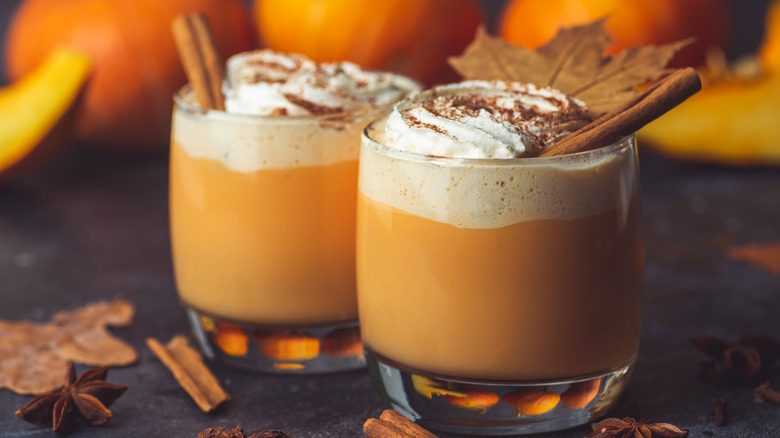 Vovidzha/Shutterstock
When cooler temperatures and blazing orange and red leaves arrive, there is a lot to look forward to. Wearing flannel, carving pumpkins, and chopping firewood are downright charming activities. For many in recent history, the arrival of fall has also become the ultimate sign that pumpkin spice lattes — or PSLs — will finally become available to sip on.
Pumpkin spice lattes can be found in hundreds of cafes throughout the U.S., but the version we're going to examine is arguably the most popular one. According to Food and Wine, the pumpkin spice latte from Starbucks has been on the menu since 2003. As of 2021, the coffee giant has sold more than 424 million PSLs in the U.S. alone. That is truly a lot of pumpkin spice, milk, and espresso being handed out to the masses. Considering the drink battles the scarf as fall's most popular accessory, we have to ask: Are PSLs even good for you?
A grande PSL contains an eye-opening 50 grams of sugar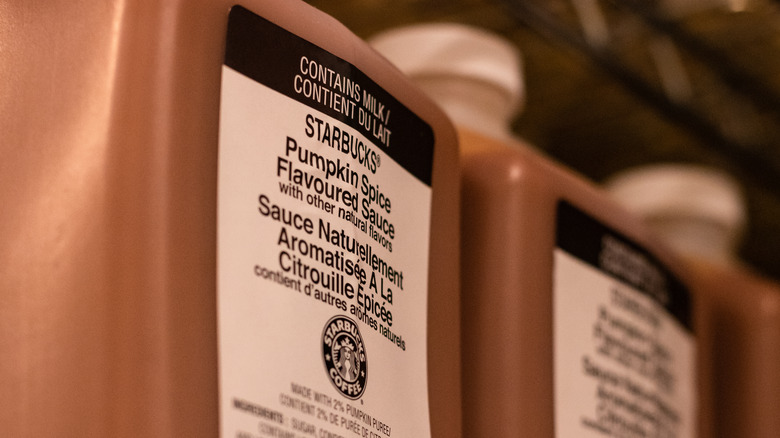 Skyler Sargent/Shutterstock
Bustle says that when you take a sip of this current cultural phenomenon, you'll likely get the flavor profile of pumpkin, cinnamon, clove, nutmeg, milk, and espresso. "Pumpkin itself is healthy. Cinnamon and nutmeg are fine. But pumpkin spice lattes are about sugar," Katie Ferraro, a dietitian, nutrition consultant, and assistant clinical professor of nutrition at the University of California, San Francisco, and the University of San Diego, told Healthline.
Kim Yawitz, a registered dietitian, told Verywell Health that a 16-ounce PSL at Starbucks (also known as a "Grande") contains 390 calories and an eye-opening 50 grams of sugar. This is double the amount of daily sugar consumption recommended by the American Heart Association. This doesn't mean you can't enjoy a PSL every now and then. "Most people don't have room in their calorie budgets for a pumpkin spice latte," Ferrero told Healthline. "Think of it like an ice cream sundae. It's a sometime food, a dessert food."
How to reduce your PSL guilt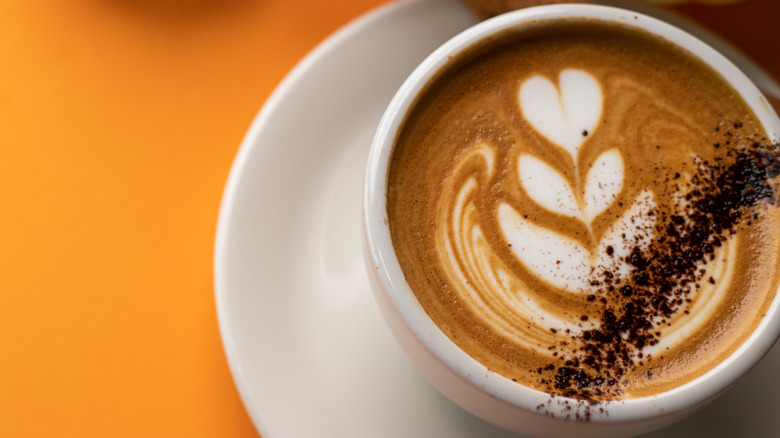 Charles-Edouard Cote/Shutterstock
If you can't resist your favorite fall treat, there are some ways you can make it a little less guilty. According to Mount Nittany Health, you can choose skim milk or a sugar-free milk alternative to avoid the added fat. Rather than have a grande pumpkin spice latte, why not reduce your portion and order a tall size? This will save you 80 calories (via PopSugar). To cut down on the amount of sugar, ask your barista to pump one or two shots of the pumpkin spice syrup rather than the standard four pumps (via Verily). You might love the whipped cream, but it adds 80 calories to your grande PSL. Opt for no whipped cream when you order (via Taste of Home).
You can also work off the calories in your pumpkin spice latte. A 155-pound person can burn off those excess calories by doing 35 minutes of burpees, 30 minutes of running at 8.5 miles per hour, or 35 minutes of vigorous rowing (via IndyStar).