Easy Black Bean Tostadas Recipe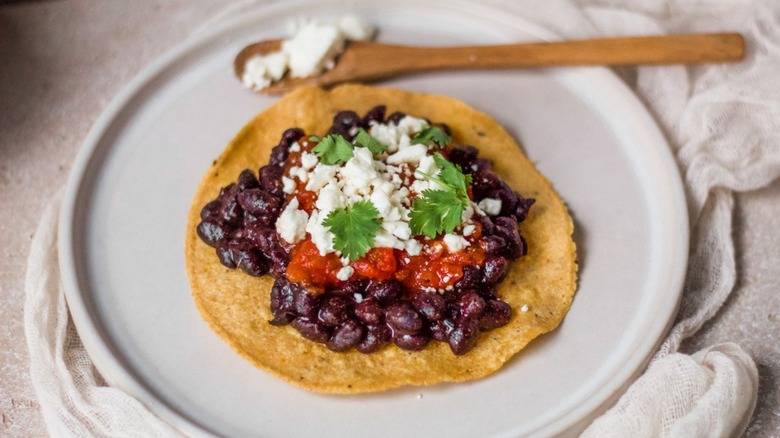 Jaime Bachtell-Shelbert/Health Digest
If there are tacos for dinner, then it must be Tuesday, right? But what about all those other days of the week? And what about all of those other healthy, economical Mexican dishes that you can cook just as easily at home, perhaps even more easily than tacos? And, speaking of easy make-at-home Mexican dishes, why must Tuesday be reserved for tacos, per se, when tostadas might be even easier to put together, and in any event, are way less messy to eat? With that in mind, we present this super easy recipe for black bean tostadas that comes to us from recipe developer and dietician Jaime Bachtell-Shelbert, who blogs at Wholly Nourished.
Bachtell-Shelbert has put together an easy, largely plant-based recipe for tostadas made with black beans. This "quick weeknight meal ... comes together in 20 minutes," she told Health Digest. "Added bonus – it's both tasty and healthy! It's also super customizable in that you can add any ingredients to make it your own." Bachtell-Shelbert likes adding diced sweet potatoes. But for now, let's take a look at her basic recipe for easy black bean tostadas and save the sweet potato-riffing for next Tuesday.
Gather your ingredients for this easy black bean tostada recipe
Jaime Bachtell-Shelbert/Health Digest
This easy black bean tostadas recipe serves four people, so the first thing you'll need are four six-inch corn tortillas. Bachtell-Shelbert recommends organic tortillas, but you can use non-organic if you would prefer. Also, you'll also need some non-stick cooking oil spray to apply to the baking sheet. Of course, you'll also need black beans, and Bachtell-Sherbert has made it really simple by developing this particular recipe around canned black beans — you'll need one 15.5-ounce can.
In addition, you'll need one teaspoon of cumin, one teaspoon of garlic powder, half a teaspoon of smoked paprika, the juice from half a small lime, and a quarter of a cup of feta cheese. And for serving, you'll need salsa (jarred is fine), and, if you like, chopped cilantro.
Preheat your oven and start warming your tortillas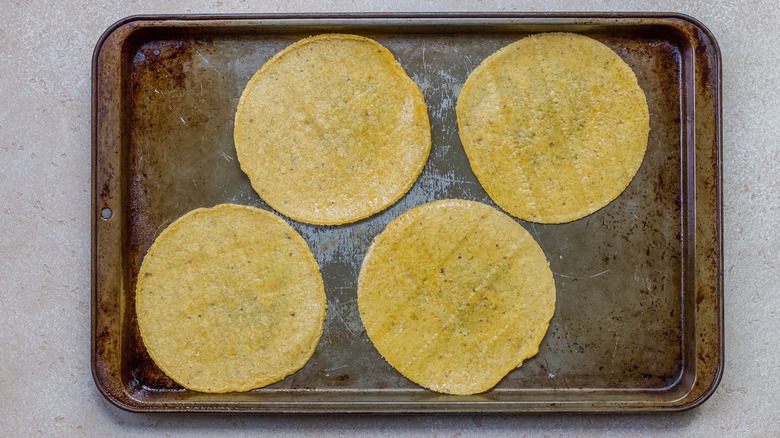 Jaime Bachtell-Shelbert/Health Digest
First things first, preheat the oven to 400 F. Then place your four corn tortillas onto a baking sheet, spraying each side with olive oil or a similar spray-on cooking oil  When the oven reaches the correct temperature, put your tortillas inside. Set a timer for four minutes — really, you'll want to use a timer for this because you're about to move immediately to the next step, and the timer will help keep you from losing track of time. 
Toast your cumin until fragrant, but don't forget about the tortillas!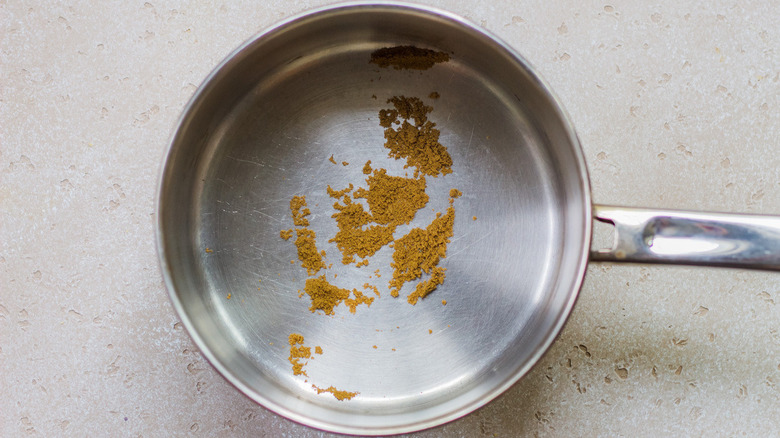 Jaime Bachtell-Shelbert/Health Digest
Have you ever toasted a spice until it's fragrant? If not, well you're about to do so now, and there's a pretty good chance that after this first time, you're going to be seeking out all sorts of excuses for toasting spices. To toast your cumin, place a saucepan on a stove over medium heat, and add the cumin for one minute, stirring constantly (so that the cumin does not burn).
Your oven timer should go off soon. When it does, flip over the tortillas, and allow them to bake for another two minutes. Remove the baking sheet from the oven, and set your tortillas aside while you turn to the next step.
Add the black bean to the toasted cumin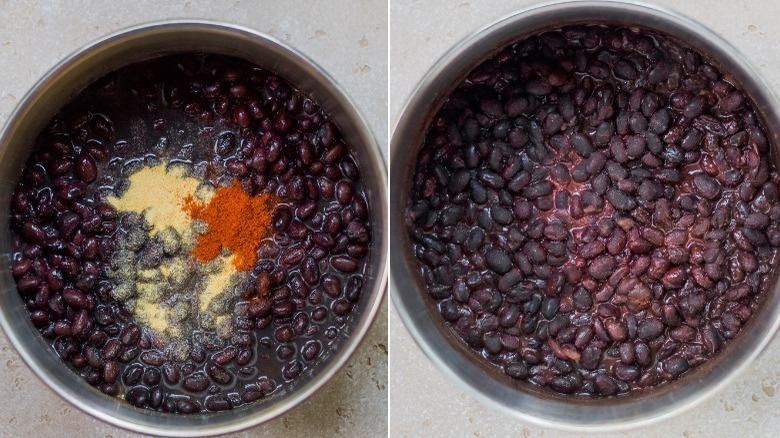 Jaime Bachtell-Shelbert/Health Digest
Open the can of black beans that you gathered earlier, and empty the can into the saucepan containing the toasted cumin. Be sure to add the juice along with the beans (in other words, everything in the can). Add the garlic powder and the smoked paprika, stir to combine, and then allow the beans to come to a boil, stirring occasionally. Then reduce the heat to low, and simmer for five minutes or until the liquid has cooked down.  
It's time to assemble your easy back bean tostadas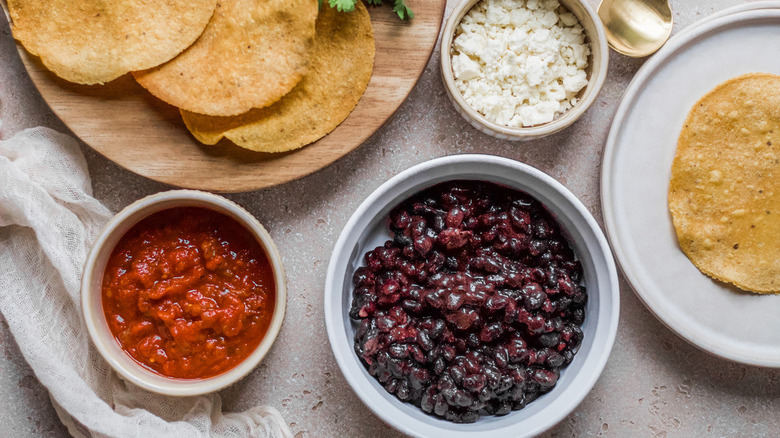 Jaime Bachtell-Shelbert/Health Digest
Take the feta cheese and the salsa out of the refrigerator, and place them beside the toasted corn tortillas and the seasoned black beans. To assemble the tostadas, start by spooning a quarter of the baked bean mixture onto each tortilla. Then top with a dollop of salsa and a quarter of the feta cheese. If desired, scatter some chopped cilantro over the tostadas. And you're ready to serve!
Easy Black Bean Tostadas Recipe
Jaime Bachtell-Shelbert has put together an easy, largely plant-based recipe for tostadas made with black beans. Make it for dinner tonight.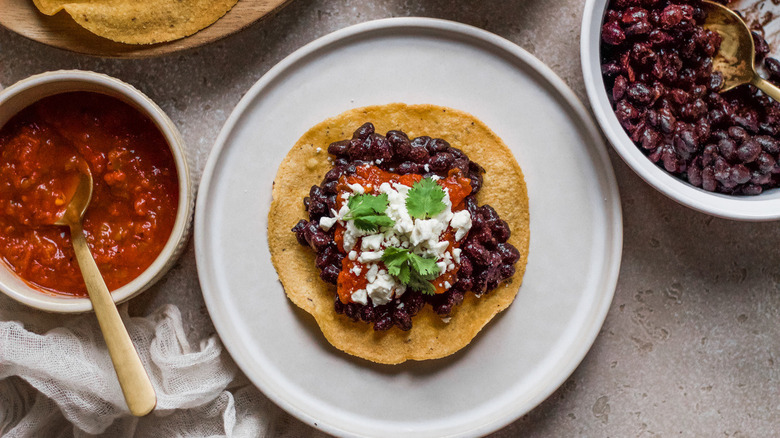 Ingredients
4 (6-inch) organic corn tortillas
Non-stick cooking oil spray
1 teaspoon cumin
1 (15.5-ounce) can black beans
1 teaspoon garlic powder
½ teaspoon smoked paprika
Salsa
¼ cup feta cheese
Chopped cilantro, for topping
Juice from half a small lime
Directions
Preheat oven to 400 F.
Place 4 corn tortillas on a baking sheet and lightly spray each side with non-stick cooking oil spray.
When oven reaches temperature, bake tortillas for 4 minutes, then flip them over and bake for another 2 minutes.
While the tortillas are heating, heat a saucepan over medium heat. Add the cumin to the pan and toast until fragrant. Stir so that the cumin does not burn. This takes about 1 minute.
Add the black beans in their juice, garlic powder, and smoked paprika to the pan. Stir and bring to a boil. Reduce heat to low and simmer for about 5 minutes until the liquid is reduced.
Assemble tostadas by adding a layer of beans on the toasted tortilla, followed by salsa, feta, cilantro, and lime as desired. Serve.
Nutrition
| | |
| --- | --- |
| Calories per Serving | 203 |
| Total Fat | 5.2 g |
| Saturated Fat | 1.8 g |
| Trans Fat | 0.0 g |
| Cholesterol | 8.3 mg |
| | |
| --- | --- |
| Total Carbohydrates | 30.9 g |
| Dietary Fiber | 9.5 g |
| Total Sugars | 1.0 g |
| Sodium | 250.7 mg |
| Protein | 9.7 g |