Applesauce Cookies Recipe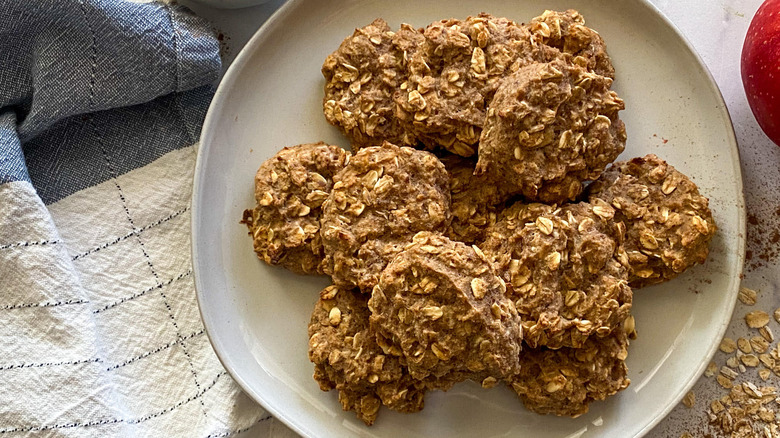 Miriam Hahn/Health Digest
Applesauce cookies are a great way to satisfy your craving for sweets without feeling all the heaviness you'd get from other desserts. Most cookies are filled with flour and sugar, making them a little unhealthy if you're watching what you eat. Recipe developer Miriam Hahn came up with this fantastic recipe for applesauce cookies that uses applesauce as a base. "In some recipes, the applesauce replaces oil. In this recipe, it is used as the main ingredient to add apple flavor and natural sweetness," Hahn notes. "I always use organic, as apples are heavily sprayed with pesticide. I also buy unsweetened because apples are sweet enough on their own."
This recipe is really solid, and Hahn loves the versatility. "My favorite thing about this recipe is that these cookies are so versatile. I think of them as more of a breakfast or energy bar versus a typical cookie. I love that they are full of healthy ingredients and still give you a dessert feel!" she raves. "Oats are so good at leveling out blood sugar and lowering cholesterol and provide lots of protein, fiber, and minerals. You really can't say that for a typical cookie!"
Keep reading to find out how to make these wonderful applesauce cookies.
Gather the ingredients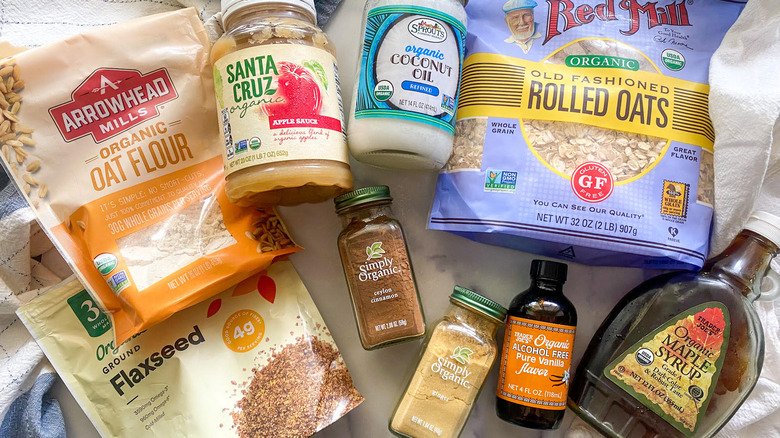 Miriam Hahn/Health Digest
The first thing you need to do is gather all of the ingredients you need to whip up these cookies. For starters, you will need some ground flaxseed and water. In addition, grab some unsweetened applesauce and then a cup of rolled oats. Moving onto the baking aisle, get some organic oat flour.
The recipe also calls for some maple syrup and coconut oil. The remaining three ingredients include vanilla, cinnamon, and ground ginger.
Preheat the oven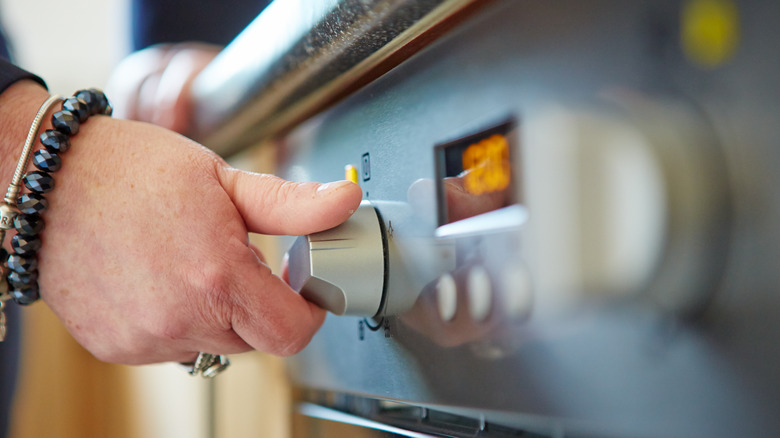 Onzeg/Shutterstock
Since you need to use your oven for this recipe, go ahead and preheat it to 350 F. This step is super important because it will save you time in the long run so you aren't sitting and waiting for the oven to preheat once you're done with the mixing. It's also important because if you put the cookies in before the range has fully preheated, it could botch the whole batch, and we certainly don't want that.
Mix the flaxseed and water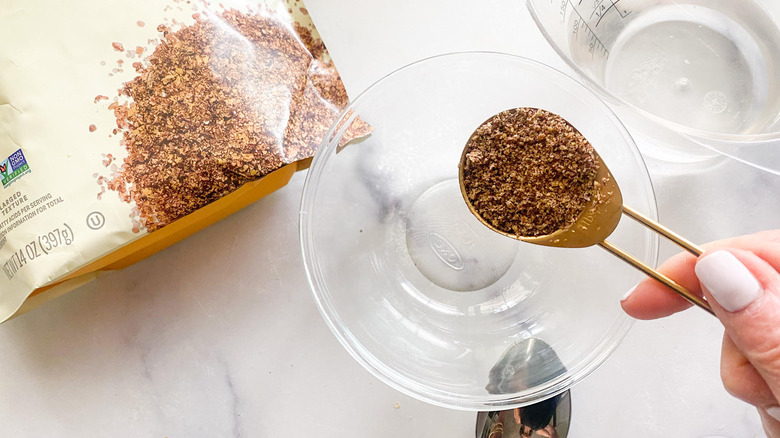 Miriam Hahn/Health Digest
Now that your oven is getting nice and hot, it's time to get to work. Grab the flaxseed and water and throw them both into the same bowl. Stir the mixture and set it to the side. Let it sit for about five minutes so that it forms a gel substance. 
"The ground flaxseed and water acts as your binding ingredient. When it sits for a few minutes, it thickens and turns into a gel. You can also use the same measurements for chia seeds if you have those instead," Hahn explains. "If using flax, you need to make sure you are not using the whole flaxseed. You can buy it already ground or grind it yourself in a small coffee grinder. Ground flaxseeds are also sold as 'flax meal.'"
Add the applesauce and other ingredients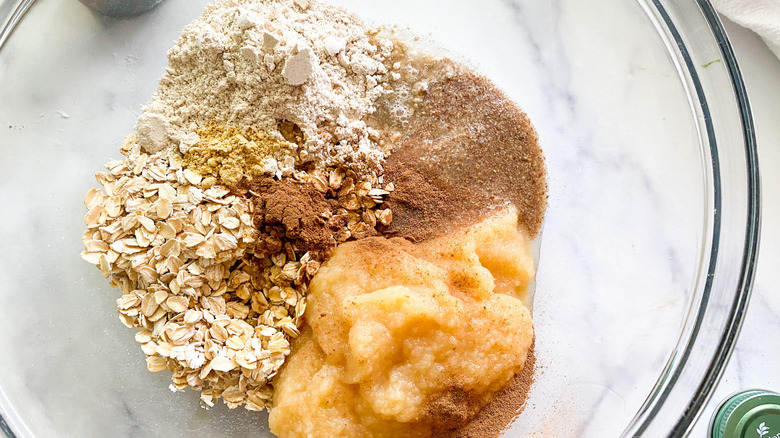 Miriam Hahn/Health Digest
Once your flaxseed and water form that nice gel, it's time to add the rest of the ingredients. Toss in the applesauce, followed by the oats and oat flour. Then, pour in the syrup and the vanilla, which are the only two other wet ingredients you need. The remaining items that you will need to add are cinnamon and ginger. Give the mixture a few good stirs to combine the ingredients.
"You can also add in nuts, dates, or raisins. Chopped dates add the most sweetness and are a delicious add-in," Hahn notes.
Bake the cookies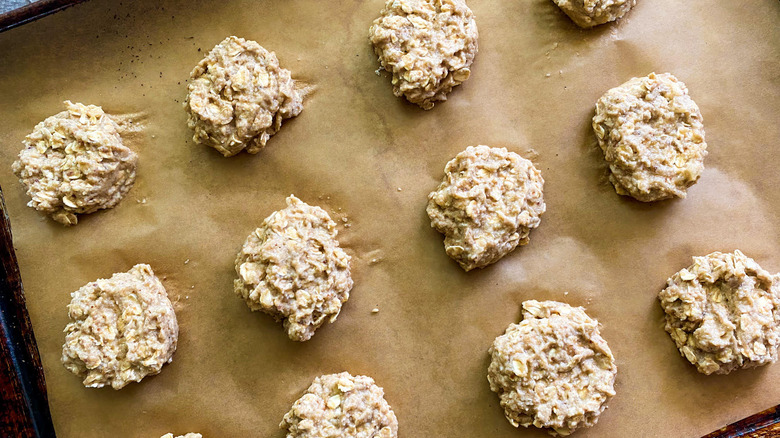 Miriam Hahn/Health Digest
Once you have the batter, you'll want to separate it into 12 cookies and put them on a baking sheet lined with parchment paper to prevent them from sticking. Pop them in the oven for 14 to 17 minutes, and let them cook until they turn a beautiful golden brown color.
Once your timer goes off, grab your oven mitts and take the cookie sheet out of the oven. Then, use a spatula to move each cookie to a cooling rack. Allow the cookies to sit for 10 minutes before serving.
Serve and enjoy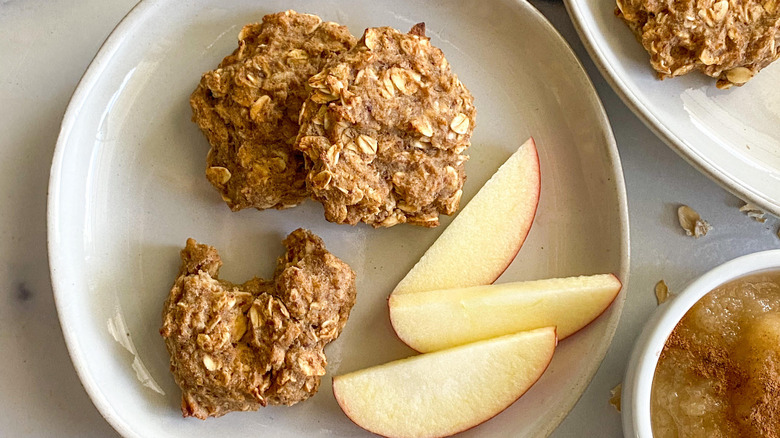 Miriam Hahn/Health Digest
Once the cookies have cooled, you get to do the best part: test the cookies out! The cookies are great without anything else added, and there are a number of occasions on which to enjoy them. "These are great as a pre-exercise snack, breakfast on the go, packed in a school lunch box, after school snack, mid-day snack, or after-dinner treat," Hahn notes. We really like the idea of eating cookies for lunch! 
We don't think you will have any leftovers, but if you do, it's no big deal. "I store them in a sealed container in the fridge," Hahn says. 
Applesauce Cookies Recipe
Applesauce cookies are a great way to satisfy your craving for sweets without feeling all the heaviness you'd get from other desserts.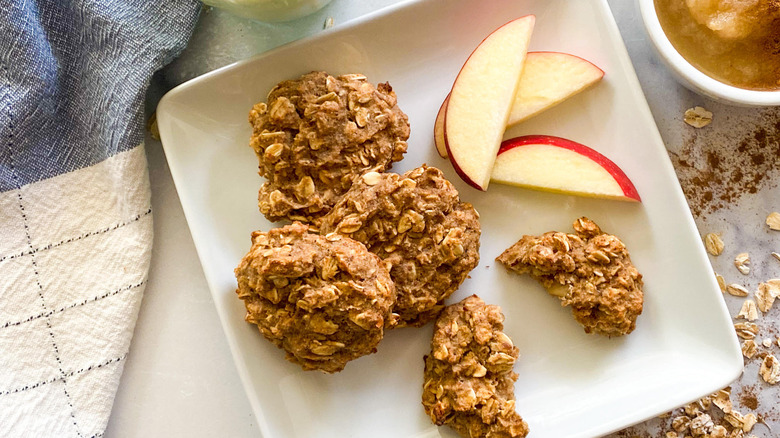 Ingredients
1 tablespoon ground flaxseed + 3 tablespoons water
1 cup unsweetened applesauce
1 cup organic rolled oats
½ cup organic oat flour
2 tablespoons maple syrup
1 tablespoon coconut oil, melted
1 teaspoon vanilla
1 teaspoon cinnamon
½ teaspoon ground ginger
Directions
Preheat oven to 350 F.
Mix the flaxseed and water. Stir and set aside. In about 5 minutes, it will form a gel substance.
Add the applesauce, oats, oat flour, syrup, oil, vanilla, cinnamon, ginger, and flaxseed mixture to a bowl. Stir to combine.
Distribute the batter into 12 cookies on a baking sheet lined with parchment paper. Bake for 14 to 17 minutes, until they start to turn golden brown. Cool on a rack for 10 minutes before serving.
Nutrition
| | |
| --- | --- |
| Calories per Serving | 74 |
| Total Fat | 2.2 g |
| Saturated Fat | 1.1 g |
| Trans Fat | 0.0 g |
| Cholesterol | 0.0 mg |
| | |
| --- | --- |
| Total Carbohydrates | 12.4 g |
| Dietary Fiber | 1.4 g |
| Total Sugars | 4.1 g |
| Sodium | 1.9 mg |
| Protein | 1.7 g |