Smash Mouth's Steve Harwell's Heart Issues Explained
In 2015, lead singer for the multi-platinum recording band Smash Mouth, Steve Harwell, was diagnosed with cardiomyopathy (per People). A representative for the band revealed to TMZ that recently, due to this medical condition as well as heart failure, Steve has missed some performances. TMZ was also informed by the Smash Mouth rep that, while Steve has been managing his heart condition with medication, he has had some setbacks that call for "adjustments" to be made.
Although the "All Star" singer has missed some concerts and appearances, he is on the mend and expected to be back on Thursday to perform at the Jackson Mississippi State Fair (via People). TMZ shares that Twitter blew up with fans who were concerned that Steve was fired or replaced, and some fans even asked if they could sing in his spot. Smash Mouth responded cleverly with their own post, stating, "Nobody got fired but anytime you wanna come sing All Star with us we're down."
What is cardiomyopathy?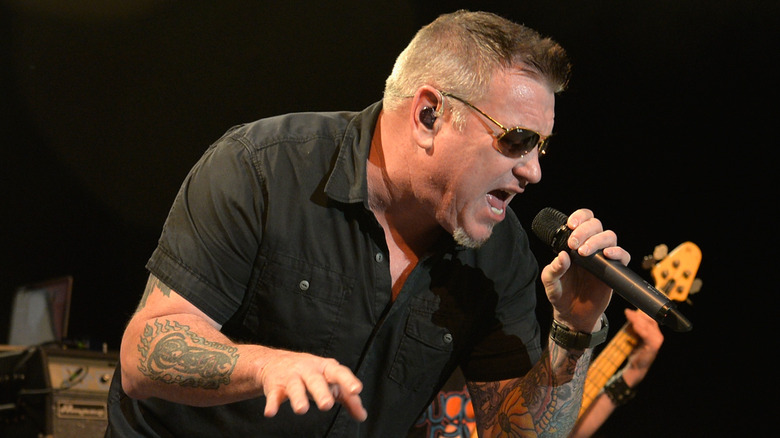 Michael Tullberg/Getty Images
This is not the first time the band missed their lead singer due to symptoms stemming from his heart condition. TMZ reports that in 2017, Smash Mouth had to cancel a concert when the "I'm a Believer" singer was rushed to the hospital in an Uber with health complications stemming from cardiomyopathy. 
The Mayo Clinic explains that, initially, there may not be any symptoms of cardiomyopathy, but signs can include chest pain, leg and feet swelling, fatigue, and difficulty breathing. The American Heart Association (AHA) explains that cardiomyopathy means disease of the heart muscle, and it can cause the muscle to become thicker or enlarged. When cardiomyopathy is left untreated or continues to get worse, it becomes more difficult for the heart to pump blood through the body.  
The AHA shares that complications of cardiomyopathy include arrhythmias, heart valve problems, a weak heart, and heart failure. The medical condition can occur from a viral infection, alcohol abuse, or even from genetics (via Johns Hopkins Medicine).