This Is How Much Sugar Is Hiding In Your Pasta Sauce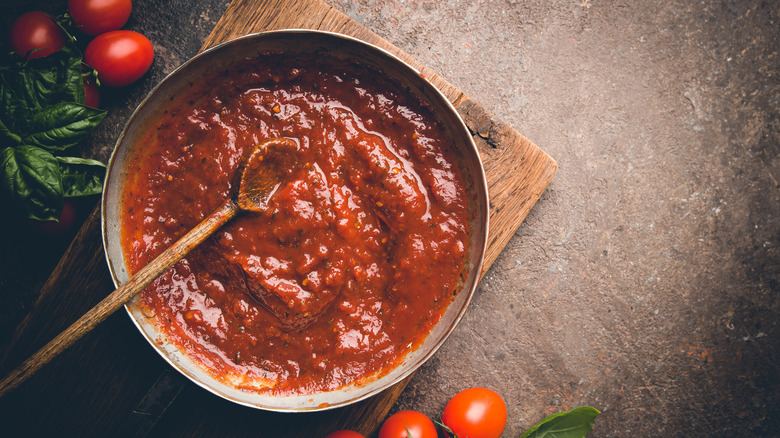 Goskova Tatiana/Shutterstock
Most people are aware of the sugar epidemic going on in the United States. According to Healthline, the average American eats about 20 teaspoons of sugar every single day. That is much more than the recommended daily intake of six teaspoons per day for women and nine teaspoons per day for men.
One of the reasons that Americans consume so much sugar is that it is a common additive in many processed and packaged foods. And it's not just sweet foods like cakes, cookies, and candy that are packing added sweeteners. Many canned and jarred sauces contain sugar for added flavor. Pasta sauce is one of the main offenders in this category. Bertolli's Tomato & Basil pasta sauce, for example, contains 11 grams of sugar in just half a cup (via Bertolli). That is almost three teaspoons, which can add up in a saucy spaghetti dish. According to The Daily Meal, other pasta sauces that contain a lot of sugar include Bertolli's Vidalia Onion With Roasted Garlic Sauce, Ragu's Chunky Tomato, Garlic, and Onion Sauce, and Prego's Heart Smart Traditional Sauce.
Sugar can contribute to a variety of health conditions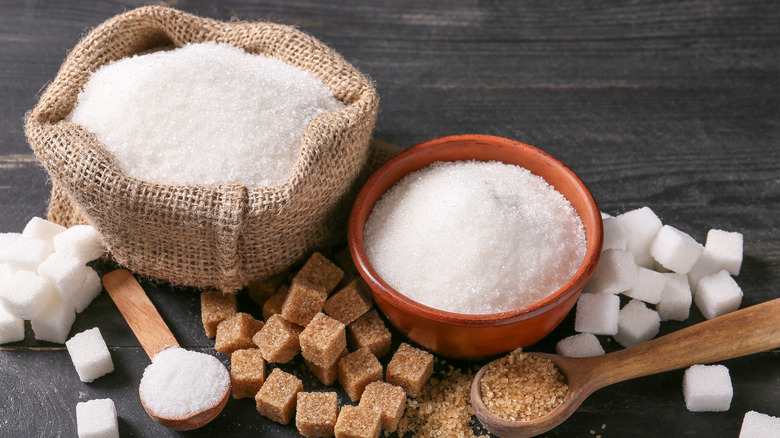 Pixel-Shot/Shutterstock
Too much sugar in the diet contributes to a variety of health problems. According to Eat This, Not That!, our bodies are not equipped to deal with large amounts of sugar in the stomach at once. One of the side effects this can cause is an upset stomach and digestive issues. "Too much white sugar won't help you if you're trying to promote healthy bacteria in your system," said Brigitte Zeitlin, MPH, RD, CDN.
Sugar can cause breakouts, wrinkles, and cavities. It can negatively impact your mood and cause you to get less sleep at night, which in turn can cause other health issues. Sugar can also cause joint pain, weight gain, bloating, high blood pressure, and decreased motivation.
If you want to decrease your sugar intake, the first step is to avoid processed foods as much as possible. Processed and prepackaged foods often contain added sweeteners, even if the foods are not found in the dessert section of the grocery store. Stick to a whole foods diet full of fruits, vegetables, whole grains, and lean protein. Sugar is fine to enjoy in moderation, but try to avoid added sugars as much as possible.