Surprising Uses For Vicks VapoRub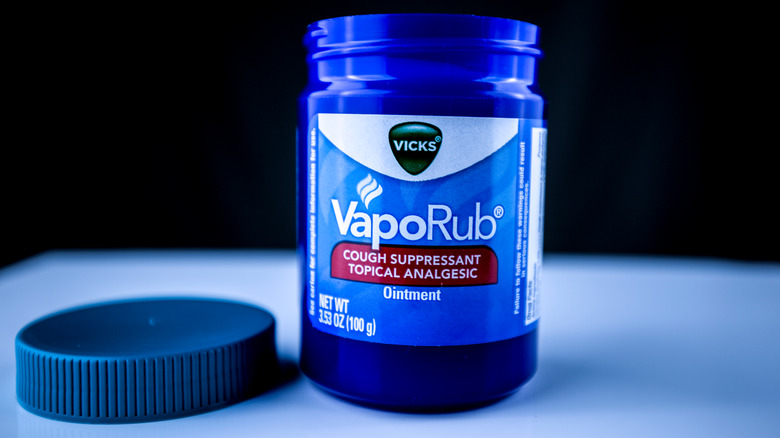 Teresa Schaeffer/Shutterstock
If you've got a nasty cough, you might want to get some Vicks. Perhaps your muscles are sore after the 10K you just completed. In this case, busting out the Vicks may help, too. Vicks VapoRub, also known as Vicks, is a medicinal ointment that is commonly used to treat colds and muscle aches, according to MedicineNet. If you grew up with the familiar blue jar of Vicks in your bathroom medicine cabinet, know that you have this medicine memory in common with the many generations that came before you.
According to the Vicks website, the product originated 127 years ago as a salve to help cure croup and pneumonia. A young pharmacist named Lunsford Richardson created the salve to help his own son's severe cough. We, and our ancestors, know the healing power that the distinctly strong eucalyptus salve has on our hacking coughs and aching muscles. What might come as a surprise is that it can be used in a multitude of other ways.
Vicks can come to the rescue while camping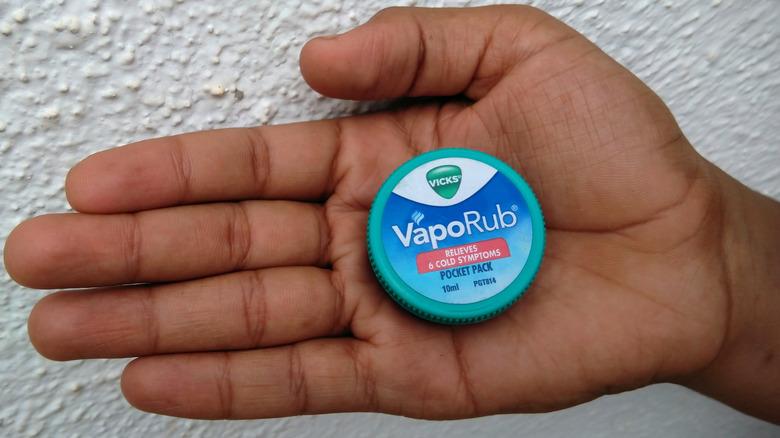 Vivek Paygude/Shutterstock
Vicks has been known to treat both cracked heels and even Athlete's foot. A blend of oils make up the active ingredients, and the petroleum-based rub helps seal in the moisture. "Vicks VapoRub has three major oils in its ingredients," Dr. Pauline Jose, a specialist in family medicine, told Byrdie. "It has camphor, 4.7% which is found in trees in China, Japan and other countries in Asia, and eucalyptus 1.9% from eucalyptus plants and menthol 2.6%."
Though there is no research to back this next claim, Healthline states that many have reported Vicks Vaporub to be an effective topical ointment to reduce the appearance of stretch marks. In addition, many beauty bloggers rave over the calming effects Vicks has on acne when dabbed directly on a blemish.
Vicks can also become a camping or outdoor staple in your hiking bag. Its incredibly strong scent makes it an effective bug repellent. "Camphor is a white crystalline substance obtained from the tree Cinnamomum camphora and used for centuries as a spice, component of incense and medicine. It is also an insect repellant and kills fleas," Dr. Jose told Byrdie.
It appears a tub of Vicks can be used as a fix to a multitude issues. We can only hope our ancestors were also aware of all the ways this century-old ointment can come to the rescue.