Heart-Healthy Collard Greens Recipe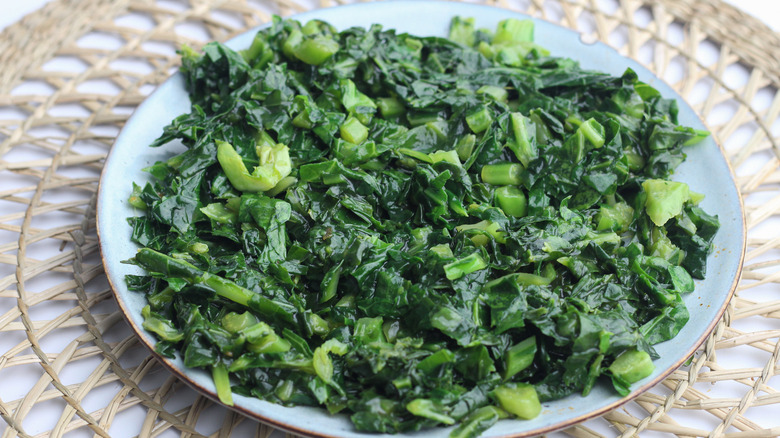 Susan Olayinka/Health Digest
While many classic Southern dishes are delicious, Southern cooking seems to have gained a reputation for being unhealthy. Cornbread, fried chicken, and buttermilk biscuits may not be the healthiest items on any given menu, but that doesn't mean that there aren't some super healthy gems in Southern cuisine. If you're looking for a good place to start for healthy Southern dishes, turn first to the veggies — and particularly, the greens. There are a ton of Southern recipes for greens that turn out amazing — and they're actually good for you too.
That's certainly the case with this heart-healthy collard greens recipe from chef and recipe developer Susan Olayinka of The Flexible Fridge. Using just a few classic ingredients and the simplest, purest of cooking techniques, her method of cooking collards will have you rethinking some of your assumptions about Southern food and reaching for seconds at the same time. Learn how to make these collards for your family.
Gather your ingredients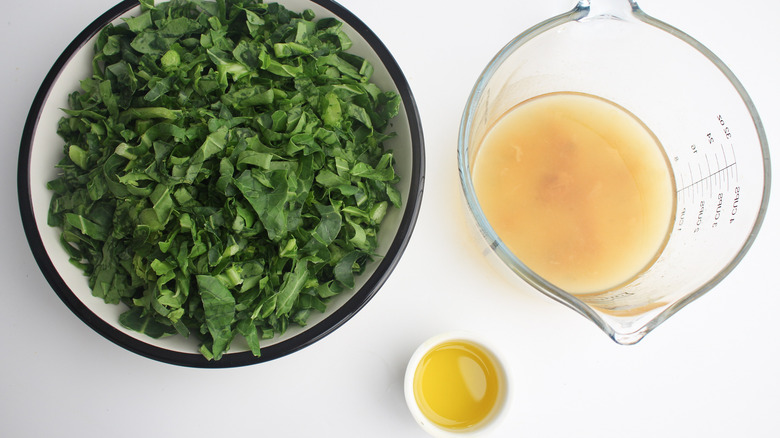 Susan Olayinka/Health Digest
This recipe is a classic example of that whole "less is more" thing. You'll only need three ingredients here. While you could always add more spices and seasonings to the mix, it's not a requirement.
All you need for two satisfying servings of collard greens are about seven ounces of collards, roughly chopped, a tablespoon of olive oil, and a cup of chicken stock. You could also use veggie stock here if you prefer to keep things vegetarian-friendly. Of course, feel free to add some extra salt if you're using low-sodium broth.
Cook the collard greens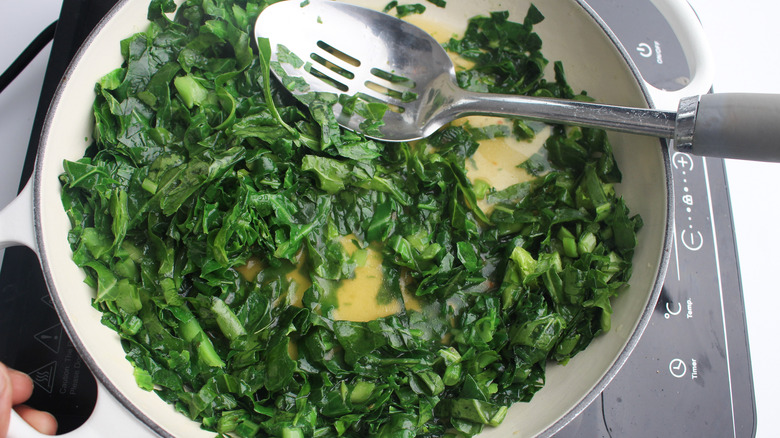 Susan Olayinka/Health Digest
Cooking heart-healthy collard greens is so easy, it's almost a one-step process. Simply pour the olive oil into a large pan (ideally a nonstick pan), and then put that on a burner at medium-high heat. Once the oil is warmed, add the chopped collards and sauté them for about three minutes, then add the chicken stock and continue to cook and stir for about two minutes more.
And that's it! Your collard greens are ready to be served and enjoyed.
The only mistake to watch out for? Olayinka says to "[avoid] overcooking, or they will go soggy." And if you have extra collards left after dinner, she says you can keep them for two to three days in the fridge and reheat your greens in a microwave.
Serving ideas for collard greens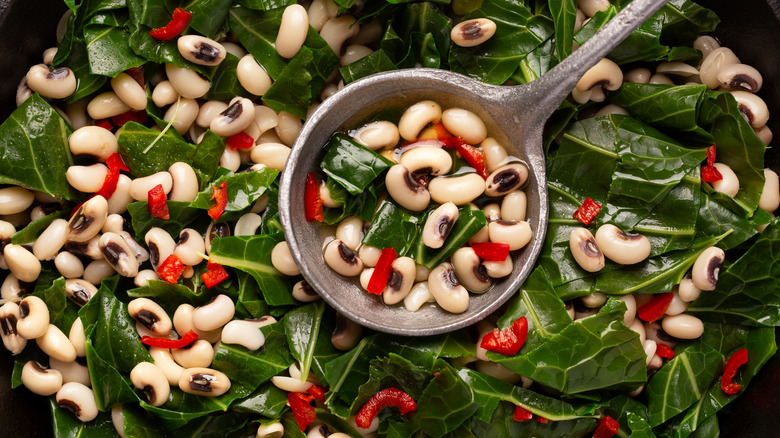 Linda Hughes Photography/Shutterstock
For Susan Olayinka, it's hard to beat collard greens served "at a BBQ [with] mac and cheese," she says, calling traditional pairings always "great ideas." And by all means, do consider pairing collards with cornbread, with black-eyed peas, chitlins, and of course, with a lot of delectable, slow-cooked meats. They can be a great addition to any meal, from seared salmon with quinoa to roasted chicken with mashed potatoes.
The health benefits of collard greens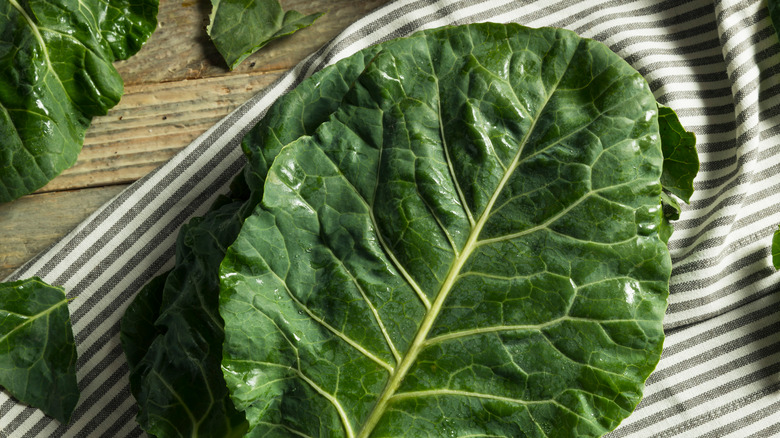 Brent Hofacker/Shutterstock
Collards deserve the same nutritional nod as, say, kale or spinach. According to WebMD, collards pack in the nutrients, like Vitamin A, Vitamin K, and Vitamin C, they are rich in dietary fiber that's good for digestion and can lower cholesterol, and they're loaded with folate, which is especially beneficial for growing kids and pregnant women. And let's not forget that collard greens are also high in antioxidants and may even be able to reduce your risk of certain cancers.
Heart-Healthy Collard Greens Recipe Directions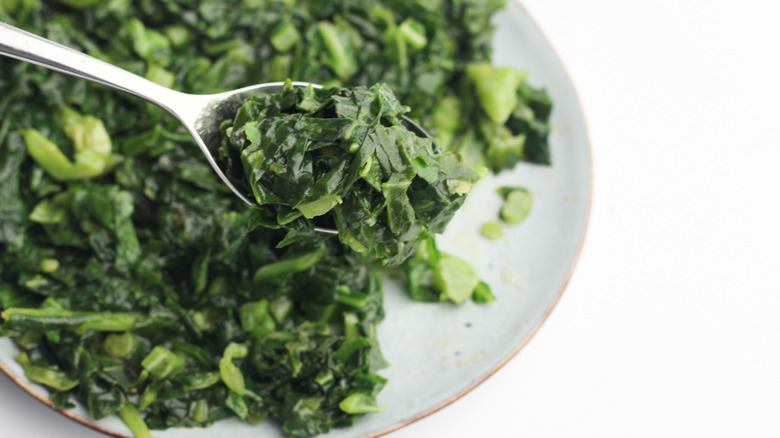 Susan Olayinka/Health Digest
Prep Time:
Cook Time: 5m
Yield: 2 servings
Ingredients
1 tablespoon olive oil
7 ounces collard greens
1 cup chicken stock
Directions
Pour the oil into a pan and set it to medium-high heat.
When the oil is hot, add the collard greens and sauté for 3 minutes.
Add the chicken stock and cook for a further 2 minutes.
Transfer to a serving dish and enjoy.