Are ONE Protein Bars Good For You?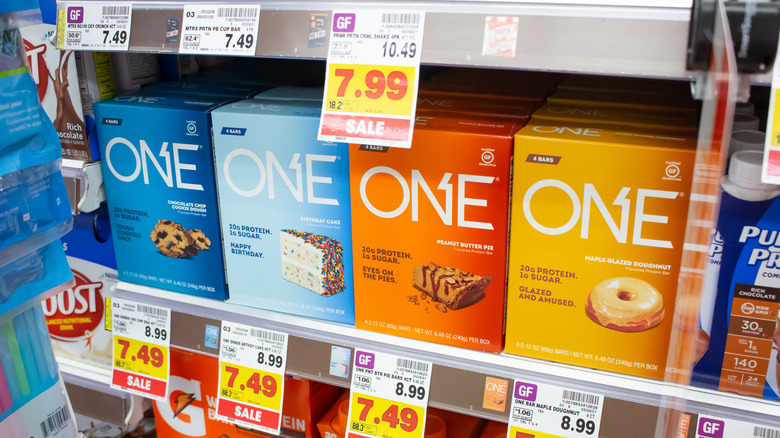 TonelsonProductions/Shutterstock
Protein bars are a convenient way to get a filling snack in during the day. They are particularly helpful to people who work out regularly and people who have a hard time fitting in meals during the day. Although a protein bar shouldn't replace a nutritious meal, it can be a great snack option to hold you over until you can eat. But not all protein bars are created equal. Some are balanced nutritionally while others are basically glorified candy bars. ONE protein bars are a popular brand of bars that can be found at most supermarkets. They're known for their large variety of tasty flavors, but are these bars actually healthy?
ONE bars contain 20 grams of protein and one gram of sugar per bar (via ONE Brands). The number of calories in each bar varies by flavor but usually ranges from 220 to 250 calories per bar. Although only one gram of sugar per bar sounds great, these snacks contain several grams of sugar alcohol per bar (via BarBend). Sugar alcohols are safe to consume in small amounts but can cause stomach upset and digestive issues in some people (via Cleveland Clinic). However, others may not experience any ill effects from consuming sugar alcohols. Overall, ONE protein bars are high-protein, low-sugar snacks that are ideal for fitness buffs, office workers, and more.
How to find a good protein bar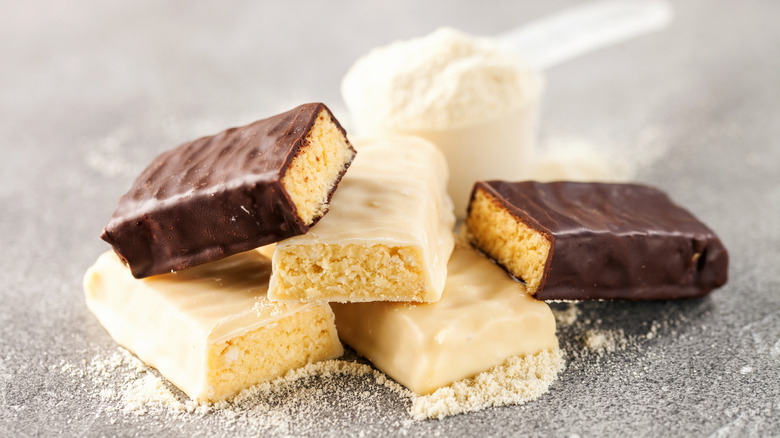 NatalyaBond/Shutterstock
When searching for protein bars in the grocery store, there are some key details to keep in mind. According to Eat This, Not That!, the ideal protein bar will contain a mixture of protein, fiber, and healthy fats. It should also be between 200 and 400 calories. You should choose a bar that has at least eight grams of protein, which will help you stay satisfied after eating.
Avoid bars with more than 13 grams of sugar. Opt for products made with natural sweeteners when possible. These are more easily digested and less likely to cause stomach upset. You should also avoid synthetic sources of fiber as well, which can also cause digestive issues in some people. "Ingredients I watch out for and advise athletes avoid (especially around the times they're training as they can cause bloating, gas, abdominal pain) include artificial sweeteners and sugar alcohols like maltilol, erythritol, and xylitol, and large amounts of synthetic fibers like soluble corn fiber or chicory root," said Angie Asche, MS, RD, CSSD. If you follow all of these recommendations, you can enjoy a protein bar that will help you stay full and make you feel good.