Healthy Pumpkin Smoothie Recipe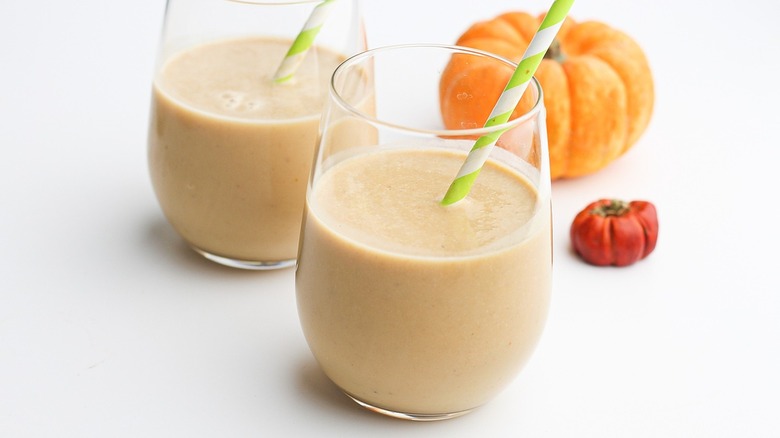 Susan Olayinka/Health Digest
With fall in full swing, we all have our sights set on one quintessential fall food: pumpkin. The colorful and festive gourd serves several purposes, from carving to decorating, but our favorite way to use pumpkins is to eat them. Though pumpkins have a pretty mild flavor, they complement countless foods and recipes, both sweet and savory. And though pumpkin is often used in hearty recipes like pie or stew, why not incorporate it into something healthy?
Recipe developer Susan Olayinka of The Flexible Fridge has crafted a healthy pumpkin smoothie recipe that is just as tasty as it is nourishing. Olayinka describes the flavor of this smoothie to be "like a pumpkin spice latte taste but creamier and cold." Need we say more? While it's tempting to opt for a pumpkin spice latte all season long, this smoothie will give you all of the flavors without the price tag. Also, this is a much more nourishing option, so it's truly a win-win. So, grab your pumpkin puree, Greek yogurt, oat milk, and pumpkin spice, and let's make this easy but incredibly flavorful smoothie!
Gather the ingredients to make this healthy pumpkin smoothie recipe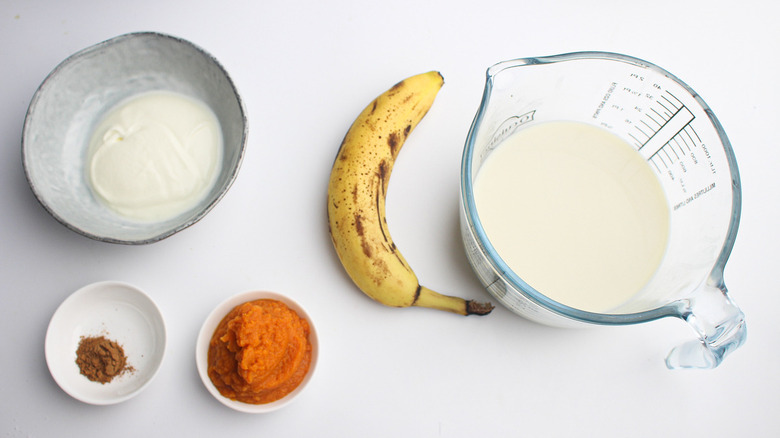 Susan Olayinka/Health Digest
Before you can blend up this smoothie, you'll want to be sure that you have the right ingredients. Many of them are likely sitting in your fridge or pantry, though you may have to make a quick trip to the grocery store to grab some of them. In particular, this seasonal recipe uses pumpkin puree, so be sure that you have some of that on hand. Additionally, you'll need Greek yogurt, a frozen banana, oat milk, and some pumpkin spice to round out the flavors and truly give it that autumnal taste. Olayinka also notes that you can use any kind of milk, so feel free to switch it up by using soy, almond, or dairy milk.
Add the ingredients to a blender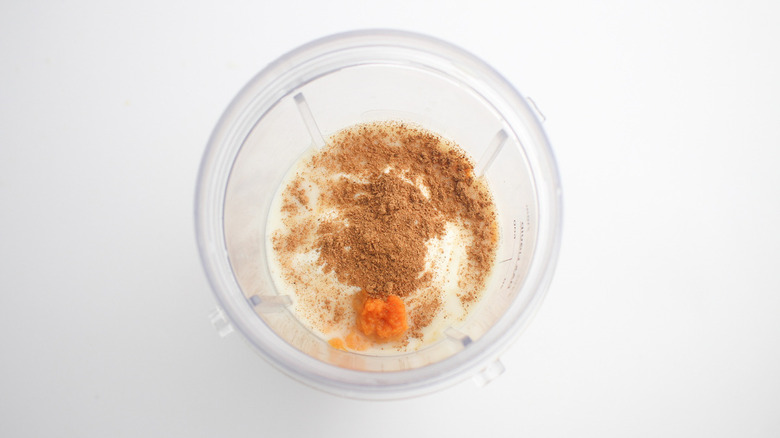 Susan Olayinka/Health Digest
One of the best things about smoothies is that they're incredibly easy to make but often provide amazing flavor and nutrition — it's truly the best of both worlds! Olayinka's healthy pumpkin smoothie is no different, and you'll love how easy it is to make.
To start, grab your blender and load the Greek yogurt, pumpkin puree, frozen banana, oat milk, and pumpkin spice inside. You'll notice that Olayinka calls for using a frozen banana, and this is a pretty important distinction, as it will help make the smoothie cool and refreshing. "You could definitely add ice instead of a frozen banana," Olayinka notes. "Just bear in mind that as the ice melts, the smoothie will become watered down."
Blend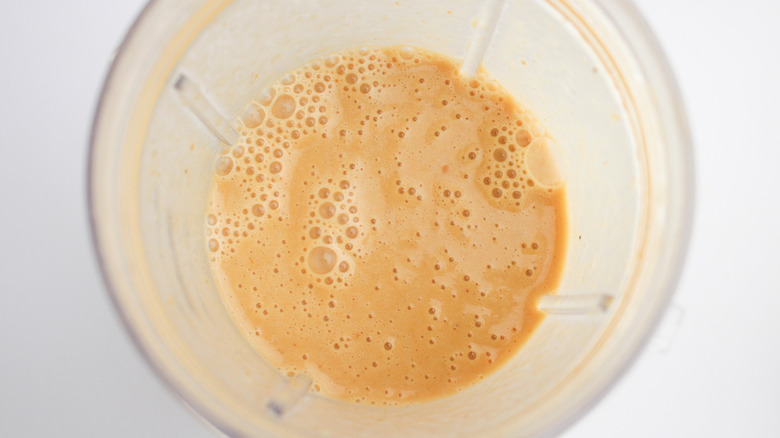 Susan Olayinka/Health Digest
Once you have all of the delicious ingredients loaded into the blender, you can take the easiest step in the whole recipe: press blend! Simply blend all of the ingredients on high for about 30 seconds or until everything is thoroughly broken down and mixed together. If you prefer your smoothies with some texture, then you can cut back on the blending time. If you want all of the ingredients to be completely mixed together, however, then be sure to give the smoothie plenty of time to blend. 
Serve your healthy pumpkin smoothies, and enjoy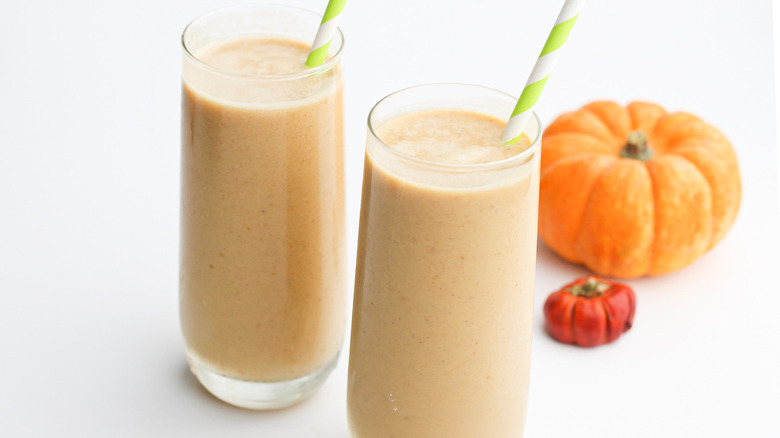 Susan Olayinka/Health Digest
As soon as you've reached the desired consistency, you can pour your smoothie out of the blender, serve, and enjoy. Though smoothies are typically associated with summer, Olayinka believes that "we can still have delicious smoothies" even in the fall — and this recipe is definitely proof! While the ingredients and process behind this smoothie are incredibly simple, you can sip away on it knowing that it's loaded with nutrients as well as flavor. 
Though this is a very fall-themed beverage, you may soon find yourself craving this healthy pumpkin smoothie all year round.
Healthy Pumpkin Smoothie Recipe
With fall in full swing, we all have our sights set on one quintessential fall food: pumpkin. This smoothie is a great way to incorporate it into your diet.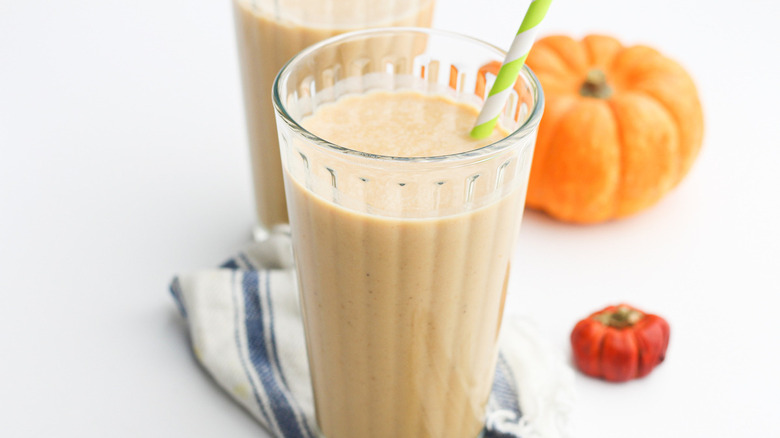 Ingredients
2 tablespoons Greek yogurt
2 tablespoons pumpkin puree
1 ½ cups oat milk
1 banana
½ teaspoon pumpkin spice
Directions
Freeze banana overnight.
Place Greek yogurt, pumpkin puree, oat milk, frozen banana, and pumpkin spice into blender.
Blend on high for 30 seconds.
Serve smoothies in jars or glassware.
Nutrition
| | |
| --- | --- |
| Calories per Serving | 185 |
| Total Fat | 7.2 g |
| Saturated Fat | 4.1 g |
| Trans Fat | 0.0 g |
| Cholesterol | 20.7 mg |
| | |
| --- | --- |
| Total Carbohydrates | 24.1 g |
| Dietary Fiber | 2.0 g |
| Total Sugars | 17.4 g |
| Sodium | 88.7 mg |
| Protein | 7.9 g |