Where Is The Best Place To Get Your Child The COVID-19 Vaccine?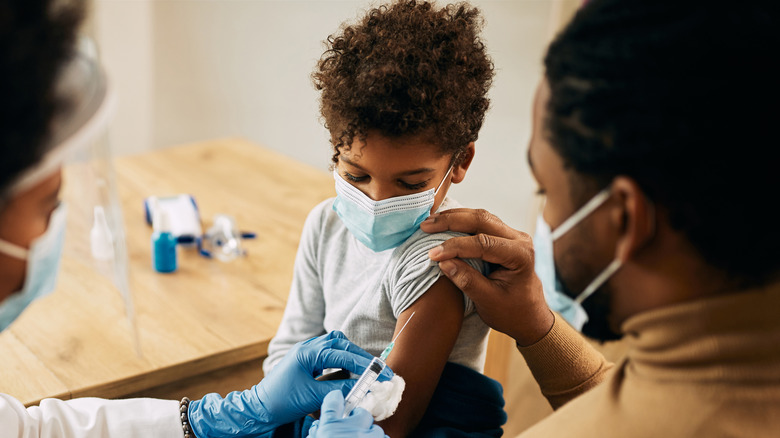 Drazen Zigic/Shutterstock
As of October 29, the U.S. Food and Drug Administration (FDA) has authorized emergency use of the Pfizer COVID-19 vaccine for children ages 5 to 11. The vaccine proved to be over 90% effective in the prevention of COVID-19 infection in young children. For parents who have been awaiting the opportunity to vaccinate their kids, many are now looking for guidance regarding next steps for booking their child's appointment.
Since the onset of the pandemic in 2020, nearly 800 children have died from COVID-19, with 5 to 11-year-olds making up 172 of those total deaths (via NPR). Children are also at risk for severe virus-related complications and intensive care unit hospitalization, as indicated by an analytical study of youth hospitalization records in the U.S. that found children ages 2 through 11 experienced more severe COVID-19 side effects than those ages 12 through 18 (via JAMA Network Open). Thankfully, vaccines are becoming available to young children both at pharmacies and pediatrician offices alike — but where should parents turn first?
Try your pediatrician first before your local pharmacy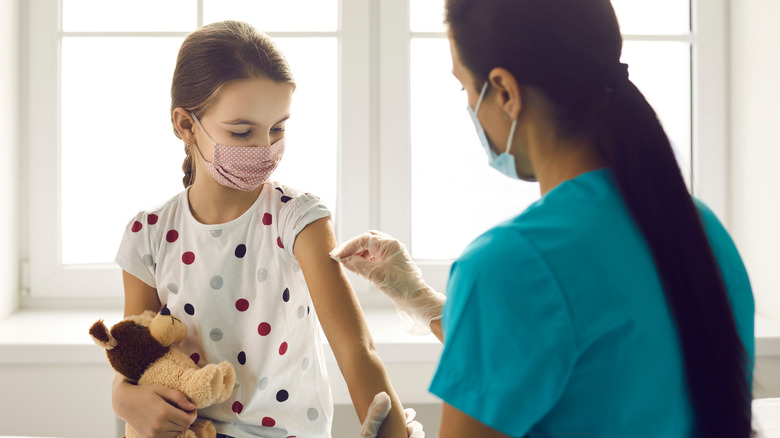 Studio Romantic/Shutterstock
CNN medical analyst Dr. Leana Wen advises parents to first reach out to their child's doctor regarding appointment availability (via CNN). While the benefit of going to a pediatrician is that they will be familiar with your child's medical history, Dr. Wen acknowledges that some offices may be experiencing backup during this time. If an appointment is not available within a matter of days, she suggests that parents sign up for the office waitlist while considering a pharmacy appointment. Walgreens, for example, announced in a public release that pediatric doses of the Pfizer vaccine will become available to children starting Saturday, November 6 at all locations (via CNN). Parents can access appointment availability on the Walgreens website.
However, Dr. Wen advises that parents first check with their local pharmacy as to whether or not that particular location is administering vaccine doses to children, stating, "Make sure to mention your child's exact age, as some places may not give shots to young kids. If they are not sure yet, call back the next day — a lot is changing very quickly" (via CNN). This is important as the Pfizer pediatric vaccine is different from the vaccine given to those 12 and up and is only one-third the amount of a standard adult dosage.