Avoid Touching This At The Airport To Avoid Germs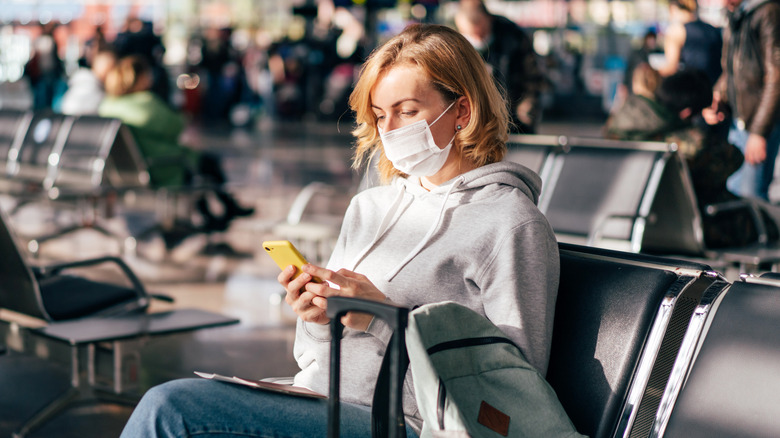 Ilona Titova/Shutterstock
Airports are loaded with germs and bacteria, but not in the areas that you might think. Believe it or not, the dirtiest place in an airport isn't the bathroom (via Condé Nast Traveler). According to a 2018 study from InsuranceQuotes.com, self-service check-in kiosks are by far the dirtiest places in an airport. In fact, self check-in kiosks are 1,475 times dirtier than a household toilet seat.
After conducting 18 tests on various surfaces in three major airports across the U.S., researchers found that the average self check-in screen contains 253,857 colony-forming units of bacteria. "If you check into a kiosk, you're going to have to hit all those buttons for your ticket and checking your bags, and that's a high-touch surface," Dr. Thomas Russo, a professor and chief of infectious diseases at the University at Buffalo, told Best Life. That's why it's important to wash or sanitize your hands as soon as you're done using the kiosk.
Security bins are also full of germs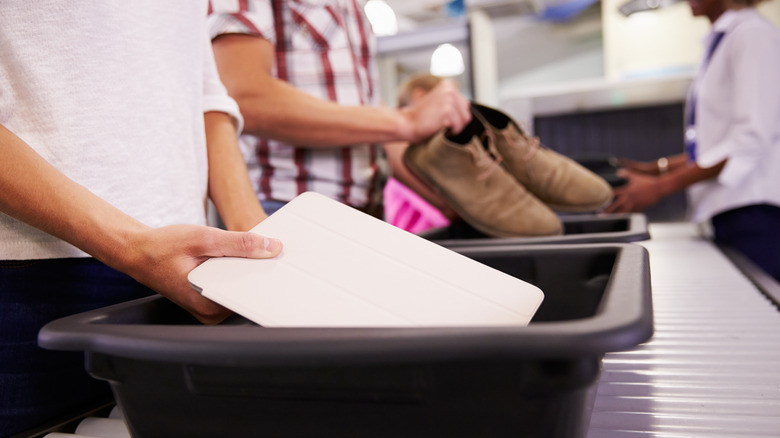 Monkey Business Images/Shutterstock
Self check-in kiosks aren't the only high-touch surfaces at the airport, though. Airport security bins are also teeming with germs and bacteria. Another study published in the BMC Infectious Diseases journal found that security bins are also much dirtier than the average toilet seat (via Romper).
After monitoring and assessing the amount of germs living on high-touch surfaces at the Helsinki-Vantaa airport in Finland, researchers from the University of Nottingham and the Finnish National Institute for Health and Welfare found that security bins contain higher levels of viruses than any other place or object in an airport. In fact, the study revealed that security bins are popular hotspots for respiratory viruses like rhinovirus and influenza.
Fortunately, there are some safety precautions you can take to help reduce the spread of these viruses. According to Jonathan Van Tram, a professor of health protection at the University of Nottingham School of Medicine and co-author of the study, you can help minimize the spread of viral infections by washing or sanitizing your hands and sneezing or coughing into a tissue, handkerchief, or sleeve when you're at the airport or any other public place.