Healthy Black Bean Salad Recipe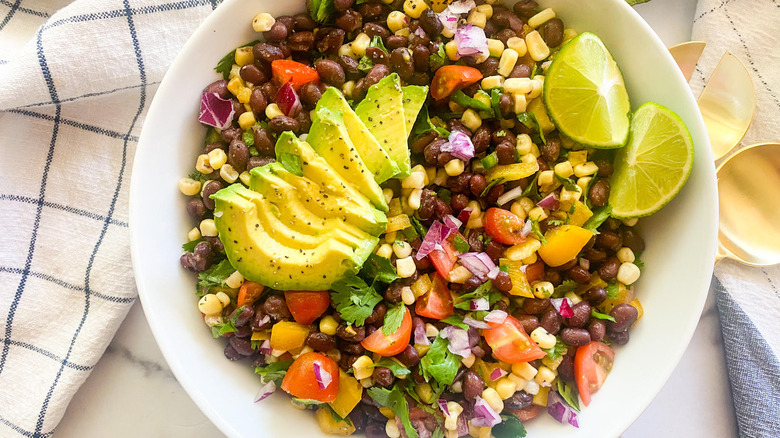 Miriam Hahn/Health Digest
When it comes to making a salad, there are plenty of different options to choose from. And guess what? Some of them don't even involve lettuce. This healthy black bean salad combines the excellent taste of black beans with the addition of onions, peppers, tomatoes, and a little jalapeño for added flavor. You top the bean salad with a light dressing, adding even more flavor and giving the salad a total wow factor. This salad would be great on its own or served to accompany pretty much any kind of Mexican food from tacos to quesadillas. 
Recipe developer Miriam Hahn came up with this flavorful dish that hits the spot. "I love that this recipe can be a side dish or the main event. Black beans are very nutritious, filling, and full of resistant starch, which is good for our gut health," Hahn raves. "I love how easy it is to throw together, making it a great weeknight dinner. If it is a main meal, I usually serve it with warmed tortillas to make soft tacos out of it. My husband likes to put it in a large tortilla to make a burrito out of it." Keep reading to find out how to make this filling salad. 
Gather the ingredients for this healthy black bean salad
Miriam Hahn/Health Digest
The first thing you need to do is make a list of all the items required to make this salad. For starters, grab a few cans of black beans and frozen organic corn. Moving onto the produce section, you will need some red onion, yellow pepper, jalapeño, grape tomatoes, and cilantro. To make the dressing, be sure to pick up olive oil and apple cider vinegar. You will also need a few limes.
When you swing by the spice aisle, get some cumin, garlic granules, salt, and pepper. Last but definitely not least, you will need an avocado or two.
Rinse and drain the black beans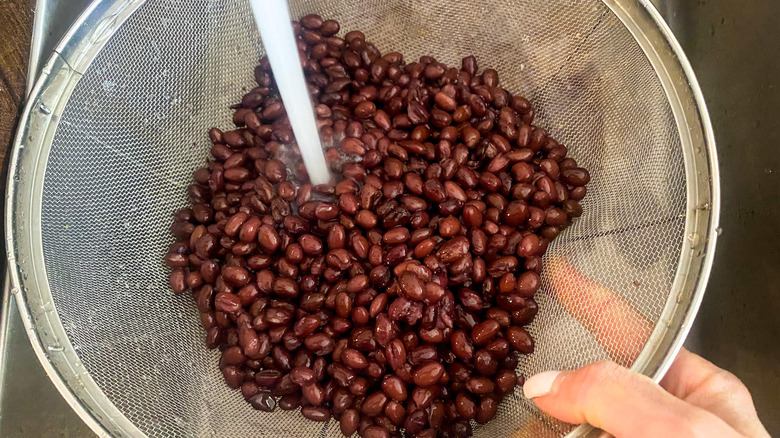 Miriam Hahn/Health Digest
Are you ready to begin? Start by opening each can of beans and pouring the contents from the can into a colander. Rinse and drain them well. "I typically always drain the beans," Hahn notes. "They usually have salt on them that I like to rinse off, and in a salad like this, you don't want the extra liquid. Make sure that you keep rinsing until the water runs clear. This may take a few minutes under the faucet.
Add the ingredients to a bowl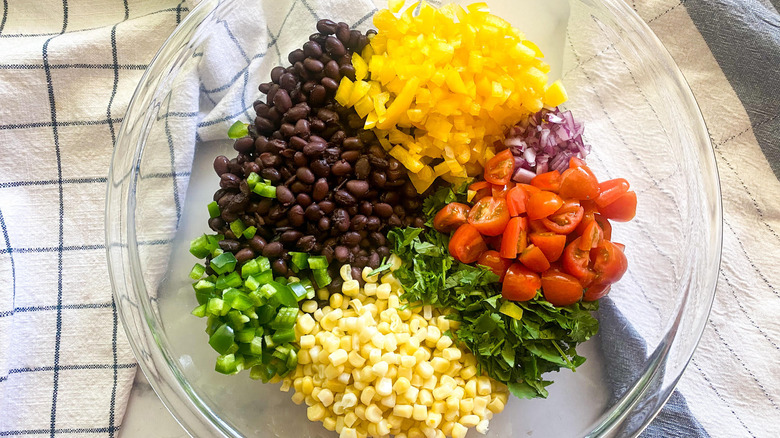 Miriam Hahn/Health Digest
Now, take your drained black beans and move them from the colander to another bowl. Be sure that the bowl is large enough to fit all of your ingredients. Then, throw in the corn. As a reminder, you should have thawed it out ahead of time, so it's ready to go now. You can also add the red onion and jalapeño, which should also be chopped and ready to go.
The last two items that you will need to add are tomatoes and cilantro. Feel free to give the mixture a few good stirs to combine everything. "You can control the heat also by adding or reducing the amount of jalapeño you use," Hahn shares. "Always nice to serve those on the side too." 
Make the dressing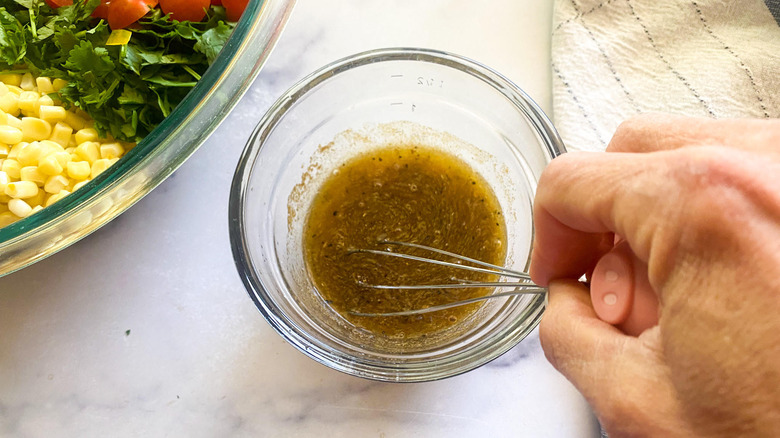 Miriam Hahn/Health Digest
Now, grab a small bowl and start adding the wet ingredients to it. This dressing serves as the perfect topping for your beans and veggies, and it offers it a light and beautiful flavor. Start with the olive oil, and then toss in the apple cider vinegar. Next, add the juice from your fresh lime. Then, you can throw in the spices to add even more flavor to this wonderful topping. Simply sprinkle in the cumin, garlic, and then salt and pepper. Drizzle the liquid over the beans and veggies, and then toss everything together to combine.
Top the salad with avocado, and enjoy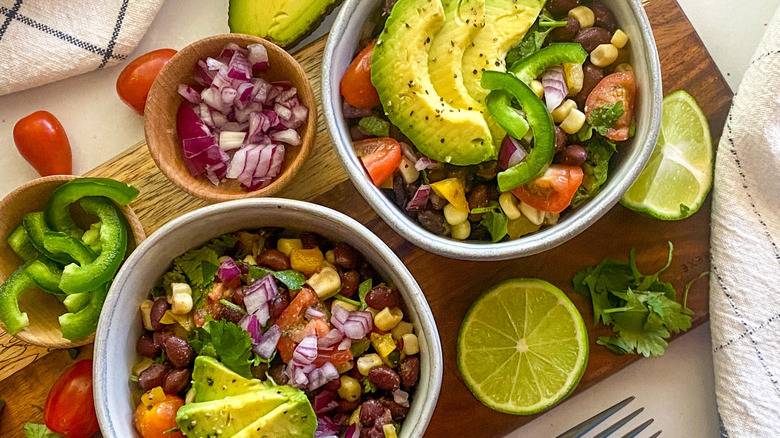 Miriam Hahn/Health Digest
Now, you can add the bean mixture to small bowls or serve how you wish. Top with avocado if you plan on serving it right away, or else just add it right before serving. "This would go great on a quesadilla also! It would also make a great dip with tortilla chips," Hahn shares. 
Have leftovers? No worries! "It is still good the next day, but after that, the tomatoes and avocado don't hold up that well," Hahn shares. "You can always add those two items to each individual serving if you want this salad to last. It will be fine in that case for three to five days." Now, dig in! 
Healthy Black Bean Salad Recipe
This healthy black bean salad combines the taste of black beans with the addition of onions, peppers, tomatoes, and a little jalapeño for added flavor.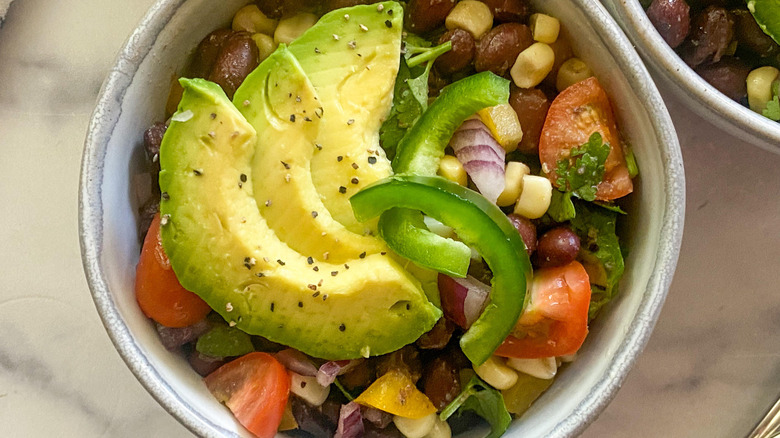 Ingredients
3 cans black beans, rinsed and drained
2 cups frozen organic corn, thawed
¼ cup red onion, diced
1 organic yellow pepper, diced
1 jalapeño, seeds removed, diced
1 cup organic grape tomatoes, quartered
1 bunch organic cilantro, chopped
3 tablespoons olive oil
3 tablespoons apple cider vinegar
juice of 1 lime + more for serving
1 teaspoon cumin
1 teaspoon garlic granules
1 teaspoon salt
½ teaspoon pepper
1 to 2 avocados, sliced or chopped
Directions
Rinse and drain the black beans well.
Add the beans, corn, red onion, pepper, jalapeño, tomatoes, and cilantro to a large bowl.
In a small bowl, mix the olive oil, vinegar, lime juice, cumin, garlic, salt, and pepper. Toss with beans and vegetables.
Top with avocado if serving right away, or add just before serving.