Here's How Many Germs Are Really On Door Handles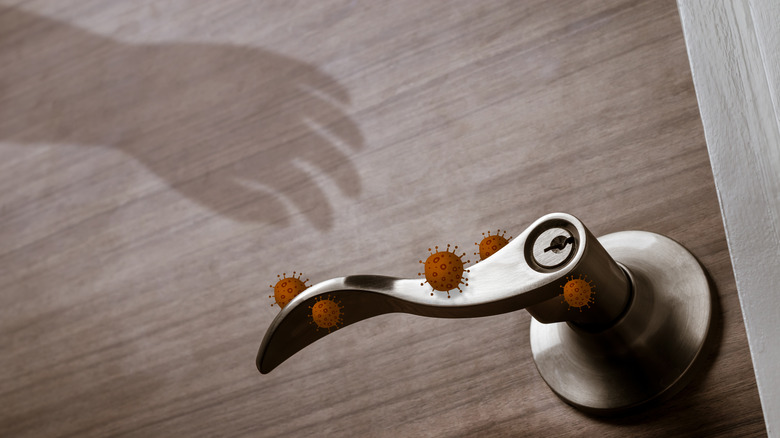 happycreator/Shutterstock
Money, cell phones, and shopping carts are just a few of the innumerable items people may touch on a daily basis. Unfortunately, the more hands these items pass through, the higher the chances of contracting illness-causing germs.
Disease experts state that washing one's hands between six and 10 times per day can greatly reduce the risk of viral or bacterial infection (via Labmate). Handwashing is particularly important, as the use of hot soapy water can rid one's hands of contaminants that could otherwise enter their body if they were to touch their face. However, a survey by Puronics found that only 49% of participants reported "always" using soap while handwashing.
This raises concerns when it comes to objects that people frequently touch throughout the day. Doorknobs rank among the top five dirtiest objects in people's homes, according to Evo Products. With so many germs lingering on our own doorknobs, are there even more lurking on public door handles?
The germs on our hands can transfer to door handles
Daisy Daisy/Shutterstock
Germs can be transferred from humans to surfaces through a sneeze, a cough, or even a simple breath (via StepNpull). The University of Colorado reports that hands can carry as many as 3,000 bacteria at any given time. A study conducted by Penn State examined the number of germs on a public café door handle and discovered the presence of millions of different bacteria. Adam Krieder, a student participant in the research stated, "I swabbed the (doorknob) right in front of Bruno's Café, and it was pretty bad. The bacteria filled the whole petri dish."
According to the Conservation Construction of Dallas, Staphylococcus aureus and E. coli are among the many types of bacteria that can be found on door handles, both of which can make people seriously ill. Evo Products reports that on average, door handles house about five different kinds of bacteria. For this reason, it's important to be diligent about handwashing and follow CDC guidelines to thoroughly lather the back, front, and nails of your hands and scrub for a total of 20 seconds before rinsing.