Surprising Uses For Vaseline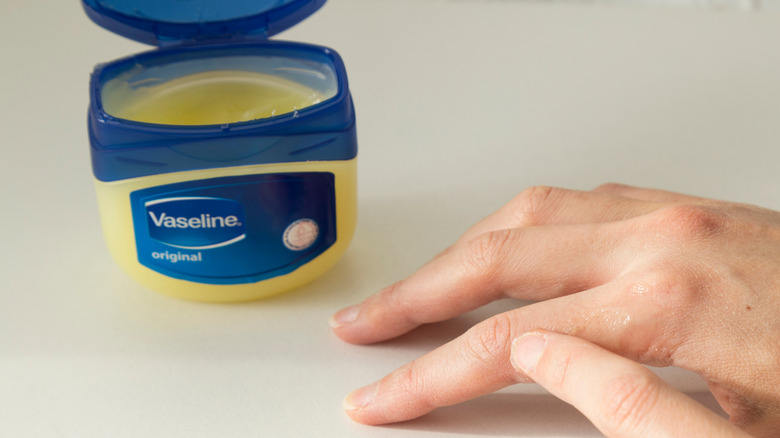 Fertas/Shutterstock
Our skin is our largest organ, and caring for it doesn't have to break the bank. In fact, one of the best products for our skin is something you can find at any drugstore: petroleum jelly.
Petroleum jelly, which is marketed under the popular brand name Vaseline, was accidentally discovered during oil drilling over 100 years ago (via Medical News Today). Petroleum, which is a crude oil, is refined until it becomes petroleum jelly, making it safe for use on skin. Not only is Vaseline safe, but it's also incredibly inexpensive. In a 2017 study published in JAMA Pediatrics, Vaseline was given the best cost-benefit ratio among other skin moisturizers. However, not all petroleum jelly is made the same. If it's not purified correctly, it can contain dangerous carcinogens. Vaseline is one brand that's proven to be refined to a safe degree, given the highest safety rating by the Environmental Working Group.
It's an obvious choice for skin moisturizing, but you might be surprised at how many other uses Vaseline has.
Vaseline: A wonder substance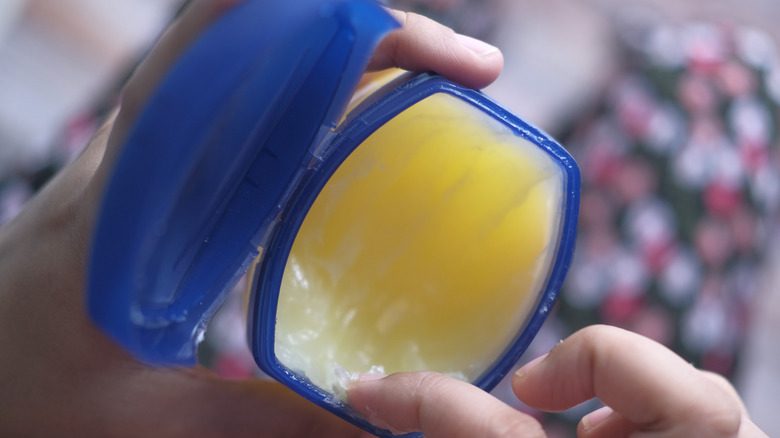 Towfiqu Ahamed Barbhuiya/Shutterstock
Is there anything Vaseline can't do? Well, yes, but it can do a lot. First and foremost, it's worth noting that the skin doesn't actually absorb Vaseline. Instead, it's effective at creating a barrier to seal in moisture, keep dirt out, and protect against cold, dry air (via Medical News Today). According to a 2013 study published in the Journal of Drugs in Dermatology, Vaseline has also been proven effective for treating wounds (as long as they've been properly washed and dried first). If your dog's paw pads are cracked or dry, Vaseline can be helpful for healing them. Simply apply it after washing and drying their paws (via Healthline).
According to the American Academy of Dermatology Association, Vaseline can also be useful for treating diaper rash. Apply it during each diaper change, and it should clear in 3-4 days. In a 2014 study published in the Journal of Allergy and Clinical Immunology, it was found that petroleum jelly used on the skin of high-risk newborns made them less likely to suffer from eczema outbreaks.
Using Vaseline on nails and cuticles in between manicures and pedicures is useful for preventing brittleness (via American Academy of Dermatology Association). Finally, it's worth noting that because Vaseline is made from oil, it is good at breaking down makeup. This makes it a popular choice for removing eyeliner, mascara, and more. Some even say it helps with crow's feet lines (via Healthline).