Vegetarian Jambalaya Recipe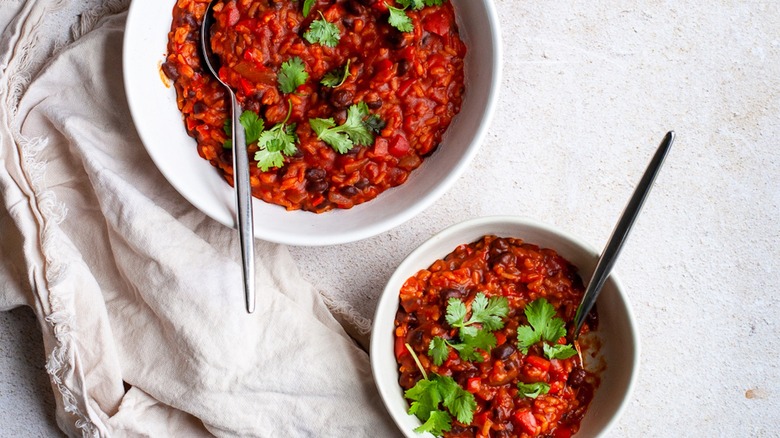 Christina Musgrave/Mashed
When the weather gets cold, you tend to want to eat a bowl of something warm and comforting every night. Sure, soup is a great choice, but it's not always what you're craving. Stew? That's fine too, but not every night. When it's too cold to leave the house and you don't want to order delivery, it's nice to cook something that's not just warm and comforting, but will also wake up your shivering taste buds. This vegetarian jambalaya by recipe developer Christina Musgrave of Tasting with Tina fits the bill perfectly. It's spicy (but not too spicy), flavorful, and a great way to shake up dinnertime.
"Jambalaya does classically have meat, I wanted to create a vegetable-forward version that fits all diets," Musgrave explains, noting that her recipe isn't just vegetarian, it's also vegan. Just because food is meat-free doesn't automatically make it healthy of course, but this jambalaya has the benefit of being both. "This recipe has very little fat and is balanced with carbohydrates from the vegetables and rice, and protein from the beans," Musgrave adds. Plus, it's all made in one pot!
Assemble and prep your jambalaya ingredients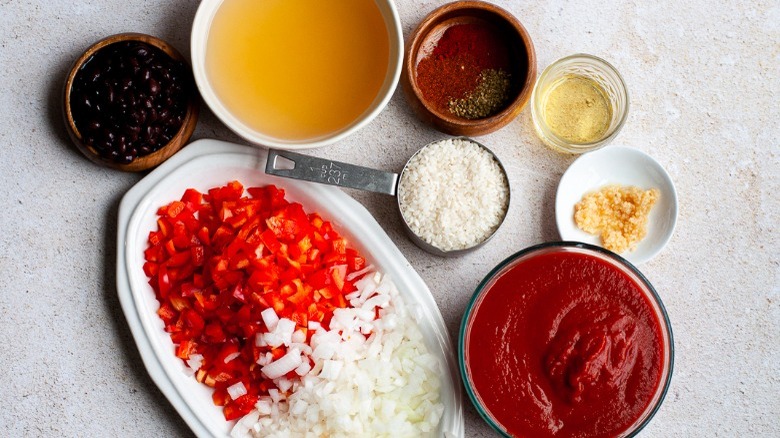 Christina Musgrave/Mashed
This one-pot vegetarian jambalaya is easy, but it'll be even easier if you get everything measured and chopped up ahead of time. You'll need chopped bell peppers (Musgrave says you can use whatever color you have on hand), diced onion, a couple cloves of minced garlic, white rice, canned black beans, canned crushed tomatoes, olive oil, and vegetable broth. To season everything you'll need cayenne pepper, paprika, and oregano. If you don't have canned tomatoes, Musgrave says that fresh tomatoes will also work just fine.
Start cooking your jambalaya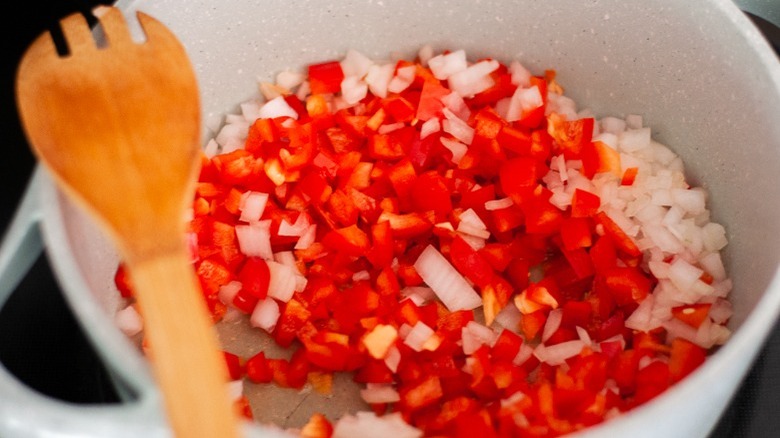 Christina Musgrave/Mashed
After you've chopped up your ingredients, you can get right to it. First, heat some olive oil in a Dutch oven or another large pot. Once that starts getting hot, add all the onion and bell pepper. Let them cook for a bit — about five minutes — until your veggies are soft and smelling good. Stir the pot occasionally, but don't feel the need to stir constantly.
Add the other ingredients and simmer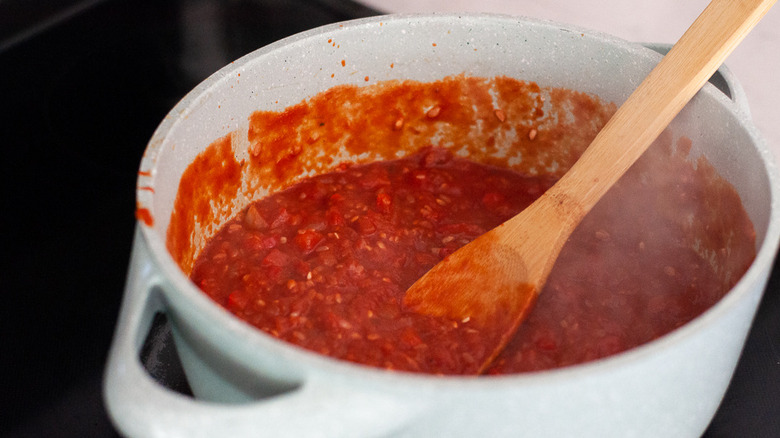 Christina Musgrave/Mashed
Now that your veggies are cooking down, simply add more ingredients to the pot — that's the beauty of a one-pot recipe. Toss in the minced garlic, rice, canned tomatoes, and seasonings (oregano, paprika, and cayenne). Now, your kitchen is going to smell even better! You're not quite done cooking yet, though. Sauté everything, stirring occasionally for a few minutes (mostly to make sure everything is properly mixed together). 
I know you're hungry, but this next step requires a little bit of patience. First, add the vegetable broth and beans to the pot. Let everything come to a simmer, then turn the heat down and put on the lid. Then, let the dish continue cooking for about 20 minutes. This is mainly so the rice can cook fully, so your final cooking time will depend on when the rice is cooked through. It shouldn't take too long, so maybe get a head start on dishes while listening to a podcast to pass the time.
It's jambalaya time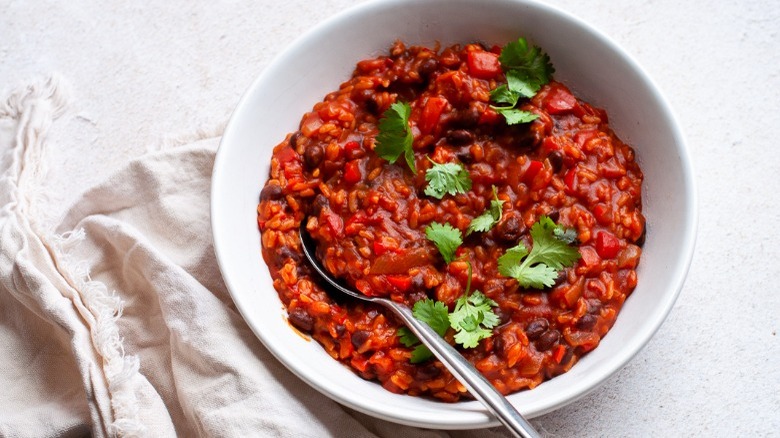 Christina Musgrave/Mashed
You've patiently waited for your jambalaya to finish cooking, and now it's time to enjoy the flavorful fruits of your labor. Add some cilantro garnish (if you're into that), and voilà you've got a comforting, memorable dinner anyone can enjoy. "This would be great with a salad or some fresh bread," Musgrave says, adding that if you have leftovers, they'll keep for 3 to 4 days in a sealed container in the fridge. 
She also notes that this jambalaya, "can definitely be frozen," so if you have a free day and want to make a double batch to freeze for later, go for it. Think of it as a delicious gift to your future self.
Vegetarian Jambalaya Recipe
This nourishing vegetarian jambalaya is a twist on a classic meat-centric dish. Enjoy this easy and flavorful one-pot recipe it as the weather cools down.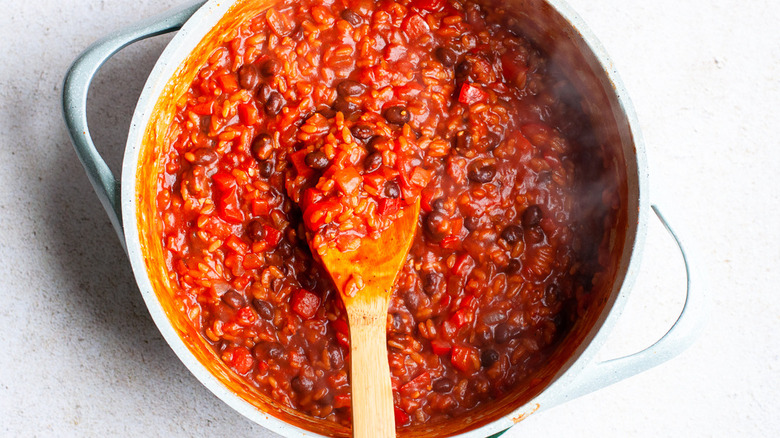 Ingredients
2 tablespoons olive oil
2 bell peppers, chopped
1 white onion, diced
2 cloves of garlic, minced
1 teaspoon paprika
1 teaspoon oregano
½ teaspoon cayenne pepper
1 cup white rice
1 (28-ounce) can crushed tomatoes
3 cups vegetable broth
1 (15-ounce) can black beans, drained
Directions
Heat a large pot over medium heat.
Add the olive oil, chopped bell peppers, and diced onion, and cook for 5 minutes, until softened.
Add the minced garlic, paprika, oregano, cayenne pepper, rice, and crushed tomatoes to the skillet and sauté for 3 minutes.
Add the vegetable broth and black beans to the pot and cover.
Bring the contents to a simmer, then turn the heat to low.
Simmer for 20 to 25 minutes, until the rice is cooked.
Serve and enjoy.
Nutrition
| | |
| --- | --- |
| Calories per Serving | 289 |
| Total Fat | 5.5 g |
| Saturated Fat | 0.8 g |
| Trans Fat | 0.0 g |
| Cholesterol | 0.0 mg |
| | |
| --- | --- |
| Total Carbohydrates | 52.4 g |
| Dietary Fiber | 8.9 g |
| Total Sugars | 8.7 g |
| Sodium | 365.2 mg |
| Protein | 9.4 g |