How Well Do The COVID-19 Vaccines Work Against The Omicron Variant?
Rido/Shutterstock
Researchers are working to learn more about the latest variant of COVID-19 — Omicron. While little is known, the symptoms of this strain appear to be mild, according to a South African doctor who first became aware of it. Dr. Angelique Coetzee told the BBC that most of the patients she had seen experienced extreme fatigue, body aches, and headaches (via Business Insider). In addition, she said that they did not lose their sense of taste or smell, which is a common symptom of COVID-19. She added that none of her patients needed to be admitted to the hospital.
Coetzee's patients were under 40 years old and half of them were not vaccinated, per Reuters. Other reports from across the world also indicate that symptoms are mild. Of course, this could change in the upcoming weeks. It is not known if the symptoms of Omicron will be the same with everyone who becomes infected.
All of this talk about a new variant may have you wondering if our current COVID-19 vaccines will work against Omicron. Here's what we know.
What experts are saying about vaccines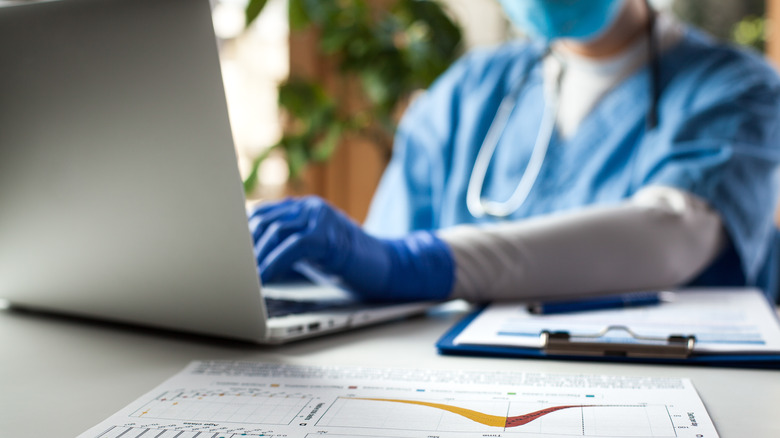 Cryptographer/Shutterstock
As of this writing, the World Health Organization is working with experts to find out how effective current vaccines might be. The organization notes that vaccines reduce severe illness and death against the Delta variant, but there are still many unknowns regarding Omicron.
Moderna CEO Stephane Bancel indicated in an interview with Financial Times that they could be less effective. That being said, he also pointed out that waiting for data was important. Former commissioner of the U.S. Food and Drug Administration and director of Pfizer Scott Gottlieb had a more hopeful outlook. He told CNBC that the current vaccines might be enough to slow the spread of Omicron. Furthermore, John Moore, professor of microbiology and immunology at the Weill Cornell Medical College, pointed out that it was not necessary to create a new vaccine for the Delta variant, so it might not be essential for Omicron, either. As of now, it is simply too early to tell (via NBC News).