Vegan Apple Crisp Recipe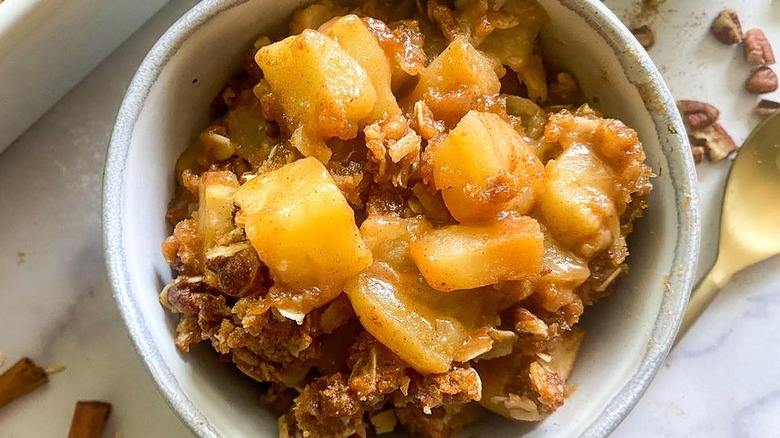 Miriam Hahn/Health Digest
There really is nothing quite like apple crisp — part apple pie, part granola, there is such a wholesome goodness about it. Luckily, recipe developer Miriam Hahn agrees with that sentiment, and has made a fully-vegan version of the classic dessert, that maxes out the nutrition without sacrificing taste.
"This actually has some healthy ingredients so it is much healthier than most desserts," Hahn explains. "Apples of course are loaded with fiber and they also have quite a bit of pre-biotic fiber which helps multiply our good gut bacteria. There is a reason for the old saying an apple a day keeps the doctor away." Of course, apples aren't the only healthy ingredient in this recipe: "Also oats are high up on the healthy ingredient list," Hahn says. "They are helpful in lowering cholesterol and maintaining blood sugar."
Best of all, this dessert only takes 15 minutes to prep and 45 minutes to cook, making a perfect alternative to the more-time-consuming pie. "This can be a dessert, snack or breakfast," Hahn explains. "It is also great on a brunch menu, especially for Christmas morning!"
Gather the ingredients to make vegan apple crisp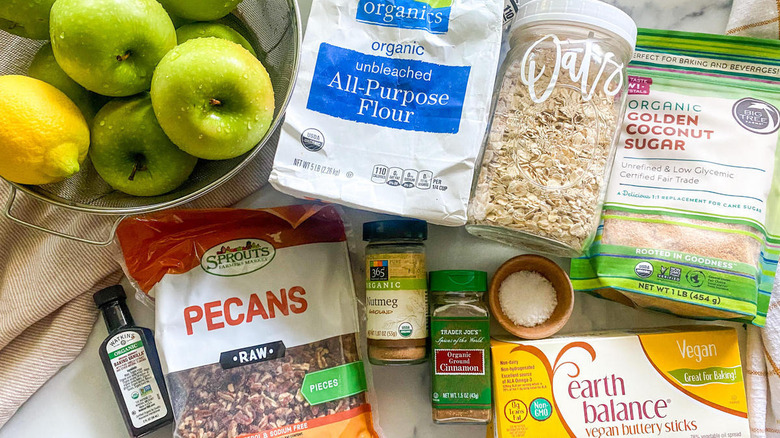 Miriam Hahn/Health Digest
This delicious meal is centered around the apples, obviously, but there are also a lot of sweet spices and the makings of the crumbles that tie it together. For this recipe specifically, you'll need eight granny smith apples. "Yes you want fresh, crisp apples," says Hahn. "They will taste the best in this." While you're still near the produce, pick up a lemon, which you'll use the juice from. Then, in the baking aisle, get a bag of coconut sugar and a bag of flour. "I used coconut sugar because it is less processed than typical brown sugar," says Hahn, though she adds that if you prefer it "you can substitute with brown sugar."
Now, in the spice aisle, grab some cinnamon, nutmeg, salt, and some vegan vanilla extract — be sure to check if you already have these in your pantry at home. Also, pick up a box of rolled oats and some pecans. Finish off your grocery trip with a couple sticks of vegan butter. "Earth Balance butter is much lower in saturated fat than real butter with no taste difference," Hahn suggests.
Cube and coat the apples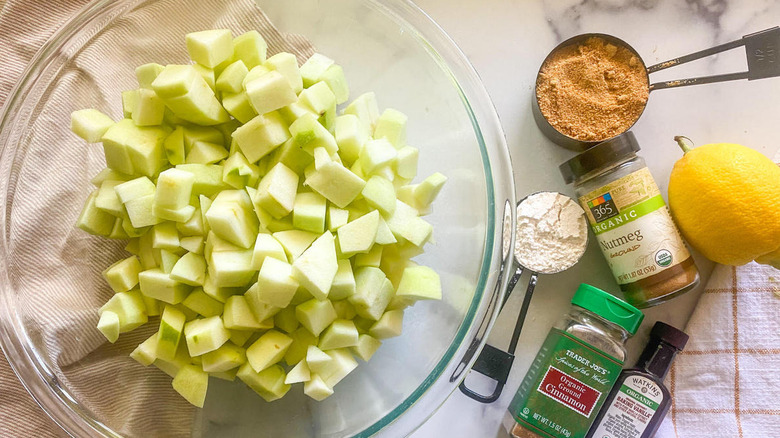 Miriam Hahn/Health Digest
Start off your cook by preheating your oven to 350 F so it's ready by the time you're done prepping. Next, peel your apples and chop them into ½-inch cubes. Put them all in a large mixing bowl, then spray a 9x13-inch baking pan with cooking spray. "You can cube the apples in advance...I would say the day or two before would be fine," explains Hahn. "They will turn brown but that won't matter because once they are mixed with the other ingredients they will be brownish in color anyway."
Now add the spices to the apples into a bowl. Drop in ½ cup of the coconut sugar,  ¼ of a cup of flour, two teaspoons of cinnamon, all of the nutmeg, salt, lemon juice, and a teaspoon of the vanilla. Mix it well so that the apples are all completely coated, then pour the mixture into the pan and set it aside.
Blend the crisp crumble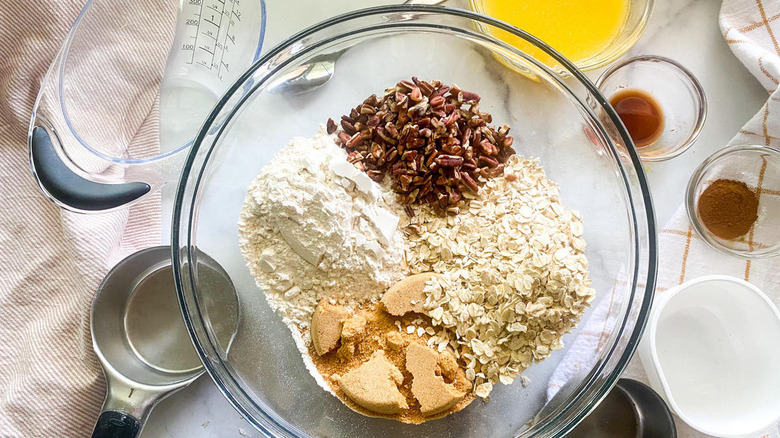 Miriam Hahn/Health Digest
Now, it's time to make the "crisp" part of the recipe. Drop the remaining flour into a separate bowl. Add the oats, the remaining cup of coconut sugar, the final teaspoon of cinnamon, and vanilla to it. Finish this crumble blend off with the pecans and the melted butter. "You can melt the butter in a microwave or on the stove in a small pot," Hahn says. Mix this well, ideally with a wooden spoon. You want to make sure this all becomes one single coating, since these ingredients are what bring that distinctive, crisp texture to the dish.
Bake your vegan apple crisp and serve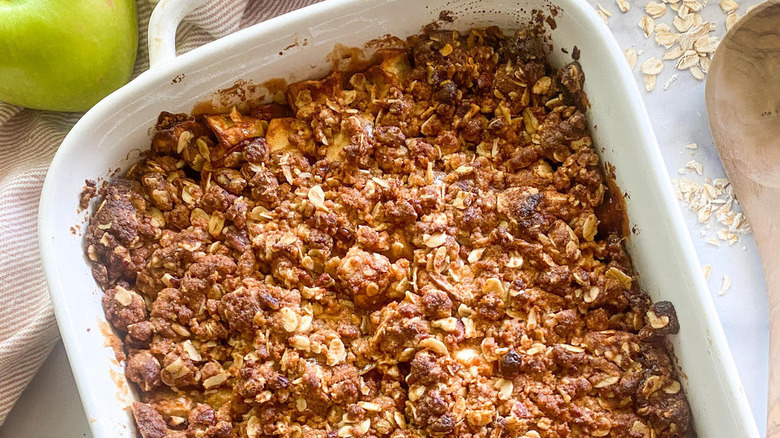 Miriam Hahn/Health Digest
Finally, add this crumble mixture on top of the apple and spice blend. The key is to spread this out, making sure it gets into every nook and cranny. You want the crisp crumble throughout the whole mixture, so it all bakes together as one. Pop the dish into the oven and bake for 45 minutes. "You want the top to turn a golden brown," suggests Hahn, adding that it is a "good idea to check it at around 35 minutes to make sure it is not getting burnt on top since all ovens are so different." Don't panic if it does get a little too crispy, as Hahn reassures us that "it is a pretty forgiving recipe and if the top gets overdone a little bit, it will still be delicious."
If your big cooking day is already pretty packed, though, "you can actually make the whole thing, cover and store in the fridge and then just pop it in when you are ready to serve it," says Hahn. "It will stay great in a warming drawer as well if you cook it before dinner and want to keep it warm for dessert.
And, as for serving itself, Hahn says that "it is best warmed up but it can be eaten cold too," adding that "you can top it with vegan coconut whipped cream or a vegan ice cream." One final thing Hahn notes: "You can't even believe how good the house smells when you make this!"
Vegan Apple Crisp Recipe
Apple crisp is a warm, delicious dish, and thanks to Miriam Hahn's vegan apple crisp recipe, it now has an added health boost.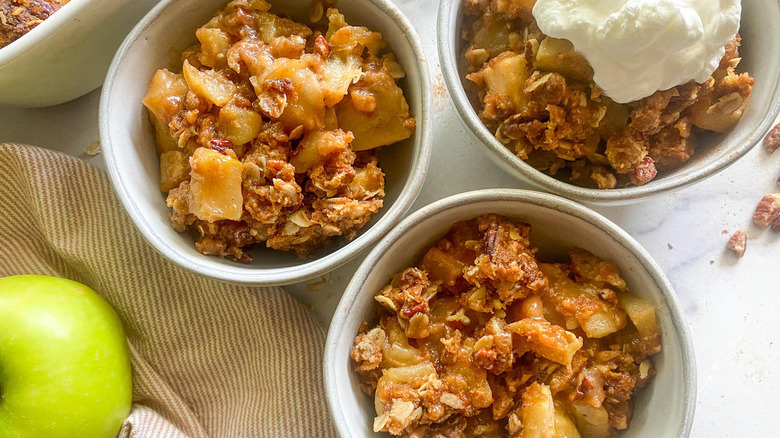 Ingredients
8 granny smith apples
1 ½ cups coconut sugar, divided
1 ¼ cups all-purpose flour, divided
3 teaspoons cinnamon, divided
½ teaspoon nutmeg
¼ teaspoon salt
juice from ½ lemon
2 teaspoons vegan vanilla extract, divided
1 cup rolled oats
½ cup pecans, chopped
¾ cup vegan butter, melted
Directions
Preheat the oven to 350 F.
Peel and chop the apples into small cubes, about ½-inch in size. Put them into a large bowl.
Add ½ cup of the coconut sugar, ¼ cup of the flour, 2 teaspoons of the cinnamon, nutmeg, salt, lemon juice and 1 teaspoon of the vanilla into the bowl with the apples. Stir well, then pour this into a 9x13-inch pan that has been sprayed with cooking spray.
To make the crumble topping, combine the remaining 1 cup of flour, oats, the remaining 1 cup of coconut sugar, the remaining 1 teaspoon of cinnamon, the remaining 1 teaspoon of vanilla, the pecans, and the vegan butter. Stir to mix well.
Spread this mixture evenly on top of the apples to cover all areas.
Bake the dish for 45 minutes, and let it cool 20 minutes before serving.
Nutrition
| | |
| --- | --- |
| Calories per Serving | 579 |
| Total Fat | 26.6 g |
| Saturated Fat | 19.8 g |
| Trans Fat | 0.1 g |
| Cholesterol | 0.0 mg |
| | |
| --- | --- |
| Total Carbohydrates | 83.8 g |
| Dietary Fiber | 7.7 g |
| Total Sugars | 53.5 g |
| Sodium | 94.6 mg |
| Protein | 4.9 g |