Vegan Stuffed Shells Recipe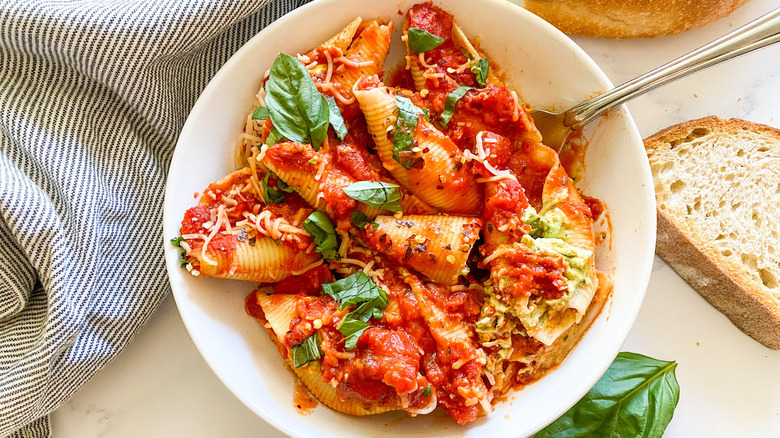 Miriam Hahn/Health Digest
Stuffed shells are always a good idea, no matter the reason or season. What's better than oversized pasta, a tasty ricotta filling, and a generous portion of sauce? Honestly, not much! Recipe developer Miriam Hahn of YouCare SelfCare presents us with a wonderful recipe for vegan stuffed shells, which means that everyone can join in on the fun. These shells are great any time of the year, but there's just something about them that screams family dinner or holiday meal. If you are looking to impress your guests, search no further than this incredible dish.
"I love absolutely everything about this recipe," Hahn shares. "It is super healthy, easy to make, and perfect for entertaining because you can make it ahead and pop it in the oven before serving. Whether you eat vegan or not, everyone loves this meal!" We love the sound of that! Keep reading for directions to whip up this incredible dish in no time.
Gather the ingredients for these vegan stuffed shells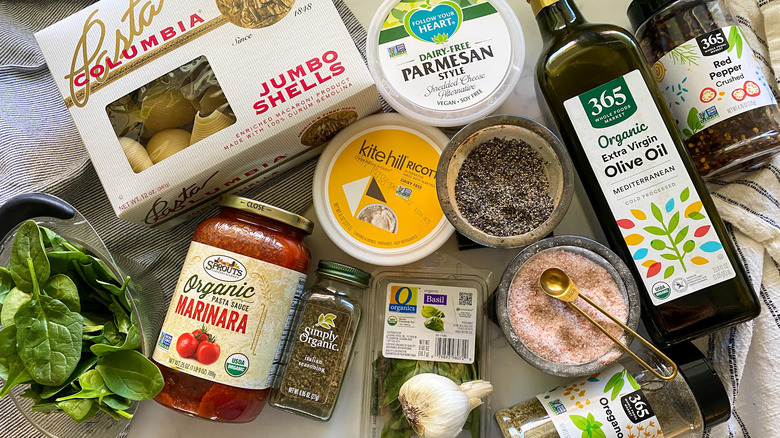 Miriam Hahn/Health Digest
Before you do anything else, you will need to gather up all of the ingredients necessary to make these incredible vegan shells. Start by heading to the pasta aisle for a box of jumbo shells and a jar of organic pasta sauce. You will also need some dairy-free ricotta cheese, dairy-free Parmesan-style cheese, and olive oil. In terms of spices, you will need oregano, Italian seasoning, red pepper flakes, salt, and pepper. Finally, head to the produce section and pick up spinach, garlic, and fresh basil for topping.
This recipe is filled with wonderful ingredients, but spinach has to be the healthiest in the dish. "Spinach is a very powerful green! It has many antioxidants, iron, Vitamin C, and A, making it great for skin, eyes, heart, and in general [for] preventing disease. It is a good idea to eat spinach both raw and cooked because the nutrition varies," Hahn explains. "For example, it is really high in absorbable calcium when cooked, but much higher in lutein (a powerful antioxidant) when it is eaten raw. I buy a huge tub of spinach every week and add it to foods every day like smoothies, soups, pastas, salads, etc. ... [I'm a] big fan," she adds. We love the sound of that!
Preheat the oven and cook the shells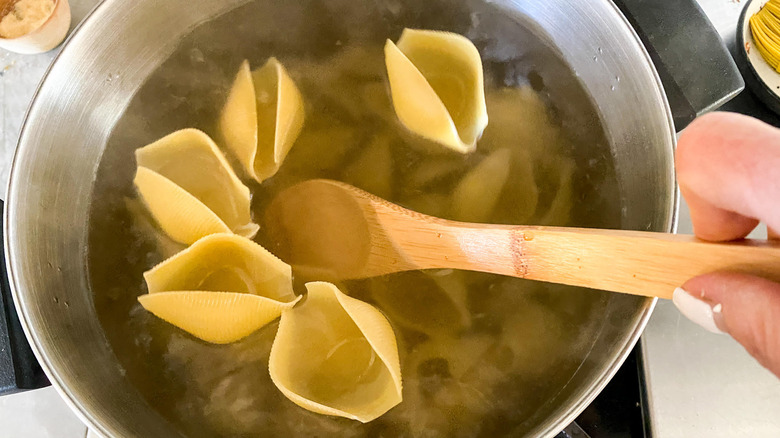 Miriam Hahn/Health Digest
Since you will need to use the oven for this recipe, go ahead and preheat it to 350 F so that it gets nice and hot while you tend to the rest. Next, grab your box of pasta shells and cook them on the stovetop in boiling water for about 10 minutes. "​​For the shells, you just follow the package instruction," Hahn specifies. Once you finish cooking the shells, be sure to drain off the water. "You have to be kind of gentle when you are stirring them and draining them, so they stay intact," Hahn warns. "There are usually some shells that start out broken in the box, but you don't need all of them, so it works out [okay]."
Make the filling for the shells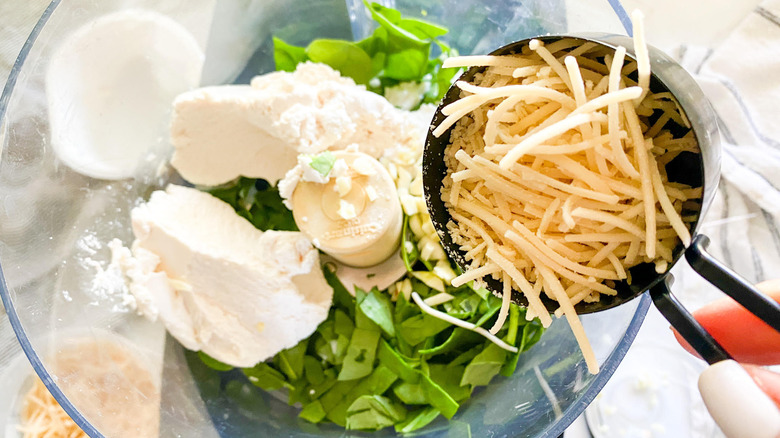 Miriam Hahn/Health Digest
Now, it's time to make the filling for the shells. This is super easy and you pretty much use up all your ingredients in this step. Set out a bowl and add the ricotta in first. Then, toss in the olive oil, spinach, and garlic. At this time, you can also add oregano, Italian seasoning, red pepper flakes, salt, and pepper. Then, throw in ½ cup of dairy-free Parmesan cheese. Finally, dump all of the ingredients into a food processor and blend the mixture until it is smooth. "You can also make it more home-made by making your own vegan ricotta really easily," Hahn suggests.
Start filling the pasta shells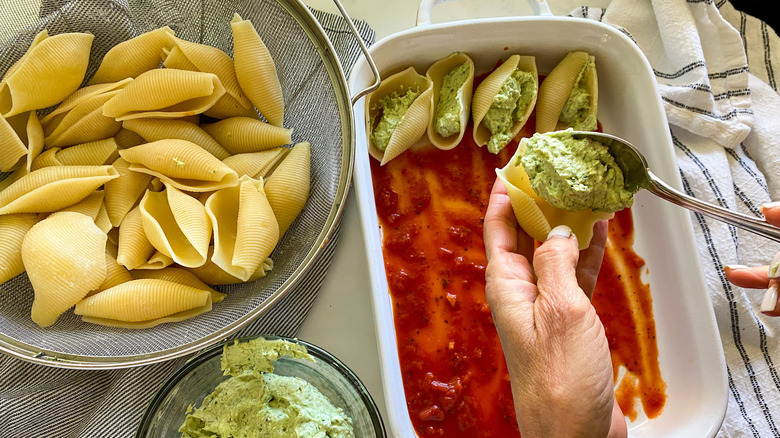 Miriam Hahn/Health Digest
Take out a 9x13-inch baking pan and coat the bottom with cooking spray. This will help prevent the shells from sticking to the bottom. Then, spread about ½ cup of the sauce across the bottom of the pan. To make things simple, use a jar of store-bought sauce but if you're in the mood for homemade, Hahn suggests an easy and delicious option: "You can also make your own marinara."
Now, grab the shells one at a time and fill each with about 1 tablespoon of the ricotta mixture. Once it's filled, place the shell in the pan and repeat with the remaining ones until you use up all the filling. Please note that you will have some leftover shells, but since some will break while boiling, it's best to cook the whole box in case you need extra. Pour the remainder of the sauce over the stuffed shells and bake them in the preheated oven for 20 minutes. Once your timer dings, take the dish out of the oven and place it in a safe spot on your counter.
Serve these vegan stuffed shells and enjoy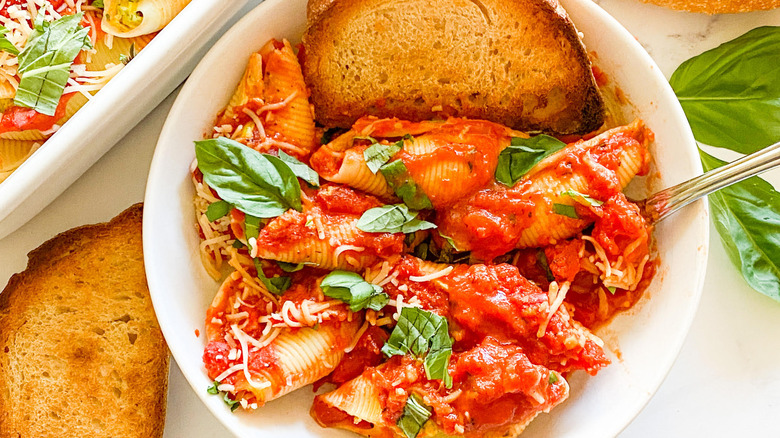 Miriam Hahn/Health Digest
Once the shells have cooled off a bit, top them with fresh basil, and then serve. "These stuffed shells are great for the holidays but also good for a weeknight dinner," Hahn notes. "I usually serve them with a green salad and a great loaf of sourdough bread." We also think that they would go well with garlic bread! If you have anything leftovers, be sure to save them. "Leftovers will last for up to a week in an airtight container. I don't think they would freeze that great," Hahn shares.
Vegan Stuffed Shells Recipe
These delicious vegan stuffed shells are a favorite for everyone. Packed with flavor and nutrients, this easy dish can be whipped up as a quick and tasty meal.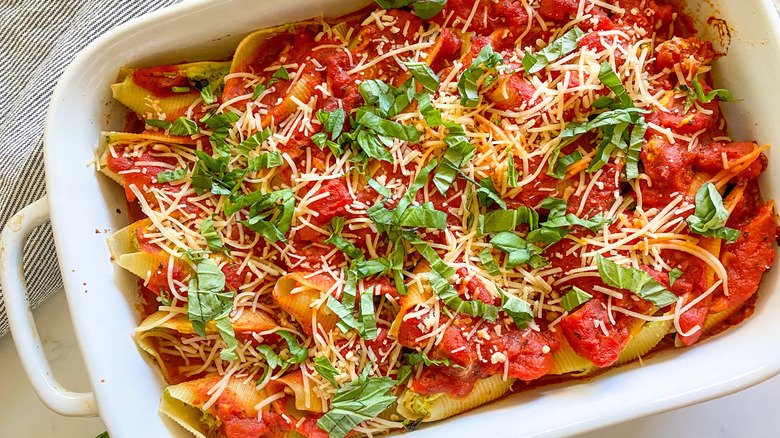 Ingredients
1 (12-ounce) box jumbo pasta shells
16 ounces dairy-free ricotta cheese
1 tablespoon olive oil
1 ½ cups spinach, chopped
2 cloves garlic, minced
1 teaspoon oregano
1 teaspoon salt
1 teaspoon Italian seasoning
½ teaspoon red pepper flakes
¼ teaspoon pepper
¾ cup dairy-free Parmesan style cheese, divided
1 (25-ounce) jar organic pasta sauce
¼ cup fresh basil, for topping
Directions
Preheat the oven to 350 F.
Place a pot of water to boil, then cook the pasta shells for 10 minutes and drain when done.
Add the ricotta, oil, spinach, garlic, oregano, salt, Italian seasoning, red pepper flakes, pepper, and ½ cup of Parmesan cheese to a food processor and blend until smooth.
Spray a 9x13-inch baking pan with cooking spray and spread out ½ cup of the sauce on the bottom of the pan.
Fill about 25 shells with 1 tablespoon each of the ricotta mixture and transfer them to the baking dish. (You will have leftover shells, but some will break while boiling so cook the whole box.)
Pour the rest of the sauce on top of the stuffed shells and bake for 20 minutes.
Top with fresh basil and serve.
Nutrition
| | |
| --- | --- |
| Calories per Serving | 561 |
| Total Fat | 20.6 g |
| Saturated Fat | 10.2 g |
| Trans Fat | 0.2 g |
| Cholesterol | 57.7 mg |
| | |
| --- | --- |
| Total Carbohydrates | 68.8 g |
| Dietary Fiber | 4.9 g |
| Total Sugars | 8.8 g |
| Sodium | 693.0 mg |
| Protein | 24.3 g |