Homemade Vegan Cream Cheese Recipe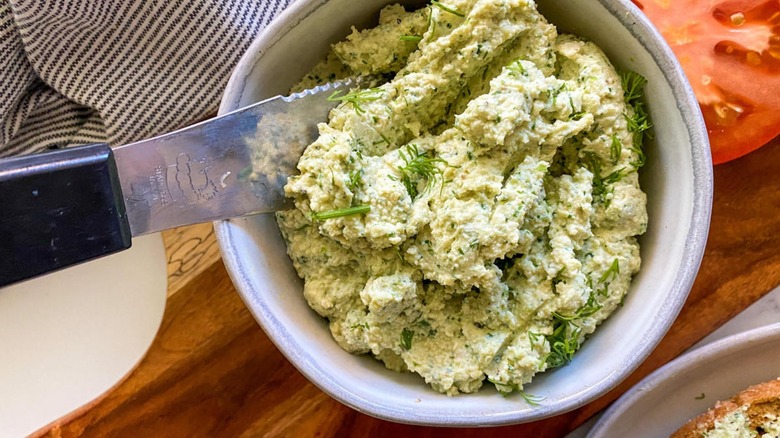 Miriam Hahn/Health Digest
Where would we be without cream cheese? We wouldn't be able to make cheesecake, and so many creamy dips would be out of reach. Worst of all, we'd have to eat our bagels sans schmear! While there are plant-based cream cheese substitutes available for those following a dairy-free diet, they can be pricey and may contain dubious stabilizers, flavorings, and other ingredients made in a lab. Why not try a DIY version instead?
Recipe developer and wellness coach Miriam Hahn tells us, "I love this recipe for so many reasons! It is full of healthy ingredients and super easy to whip up. It has so much flavor with the fresh herbs and you can do so many different things with it." While the version she has created here is a flavored one, you may also want a plain cream cheese to use for baking or to spread on a non-savory bagel such as blueberry or cinnamon raisin. In that case, Hahn says you can omit the dry seasonings in this recipe but advises to keep the lemon juice, vinegar, and salt. She says you could also add a tablespoon of agave nectar or maple syrup if you want a sweeter spread.
Gather the ingredients for this vegan cream cheese recipe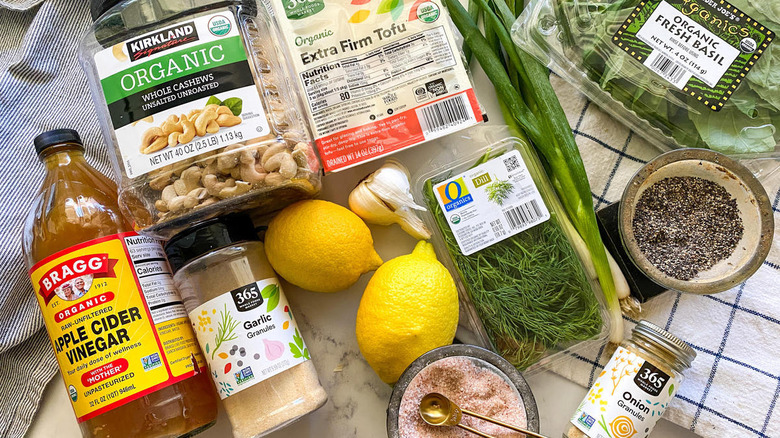 Miriam Hahn/Health Digest
To make this cream cheese substitute, you'll need raw unsalted cashews and tofu — the extra-firm kind is used here in order to create the proper texture. You'll also be using lemon juice and apple cider vinegar. For a savory seasoned version, you'll add fresh dill, basil, scallions, and garlic, as well as granulated or powdered garlic and onion. 
If you don't want a flavored version but are instead looking for a vegan cream cheese to use in baking, Hahn suggests adding ½ cup of an unflavored non-dairy yogurt substitute. As is, she says, "This recipe has a thicker texture than regular cream cheese."
Start by preparing the cashews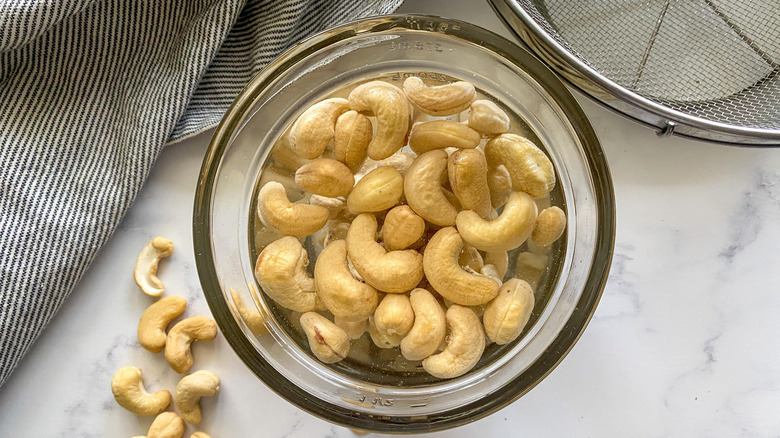 Miriam Hahn/Health Digest
Before the cashews are recipe-ready, they'll have to be soaked in boiling water for at least 20 minutes. As Hahn explains, "You need to soak the cashews just so they are soft enough to blend in a blender." She explains that if you don't have a powerful high-speed blender, an hour soak might be ideal. If you prefer, you can also soak the cashews overnight.
As to why cashews are the nut of choice for this recipe, Hahn explains that they take on a creamy texture once softened and blended. She adds, "They don't have a skin on them like almonds so [they] are much easier to use for the home cook." She likes to use cashews for their nutritional benefits and says, "[They] help with mood and sleep along with being high in plant-based protein and healthy fats."
Next, drain the water from the tofu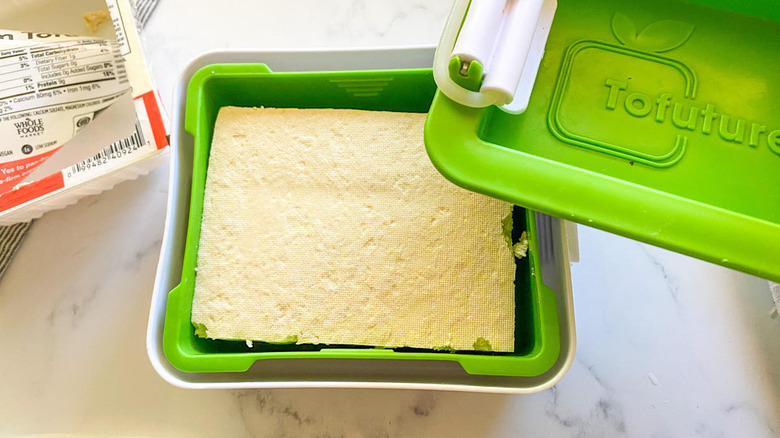 Miriam Hahn/Health Digest
When you remove the tofu from the packaging, you'll find it sitting in a puddle of water, so go ahead and drain that. Hahn says the draining doesn't stop there though. You'll also need to press the tofu to remove all of the excess water that's soaked into it. Put the tofu in a bowl, then top it with a flat plate. Weigh the plate down with something heavy (Hahn suggests a cast-iron skillet), and let the tofu sit and be squished for about 20 minutes. Should you happen to have an actual tofu press, Hahn indicates that of course you can put this implement to its intended use.
Blend the ingredients to make the cream cheese, then serve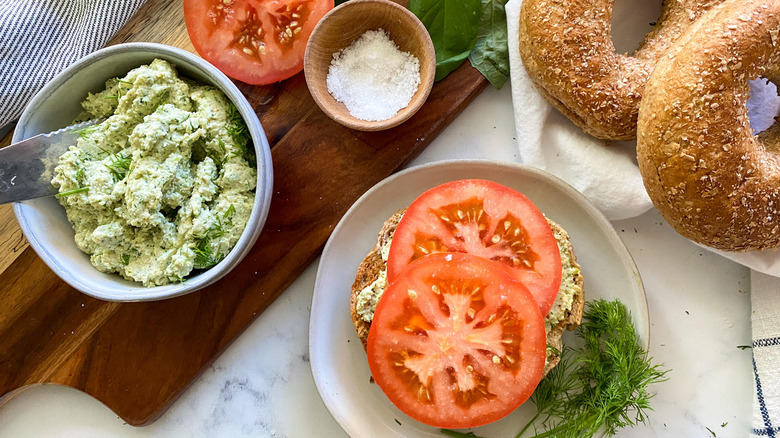 Miriam Hahn/Health Digest
Once the cashews are soft enough to blend, drain them as well as the excess water you've collected from the tofu. Transfer the nuts and tofu to a food processor along with all of the other ingredients. Blend everything until you have a homogeneous and relatively smooth cream cheese lookalike mixture. 
Hahn tells us, "I like to serve this with bagels and top [it] with fresh tomato and fresh herbs. I also love to use it like you would use hummus, as a dip with whole-grain crackers or fresh vegetables." She also suggests it as a sandwich or bruschetta topper, calling it "super versatile." If you're not planning to use it up right away, Hahn says, "This will keep fine in the fridge for a week in a sealed container."
Homemade Vegan Cream Cheese Recipe
This vegan cream cheese is a step above any store-bought product thanks to fresh ingredients and customizable flavors. Serve it on a bagel or as a tasty dip.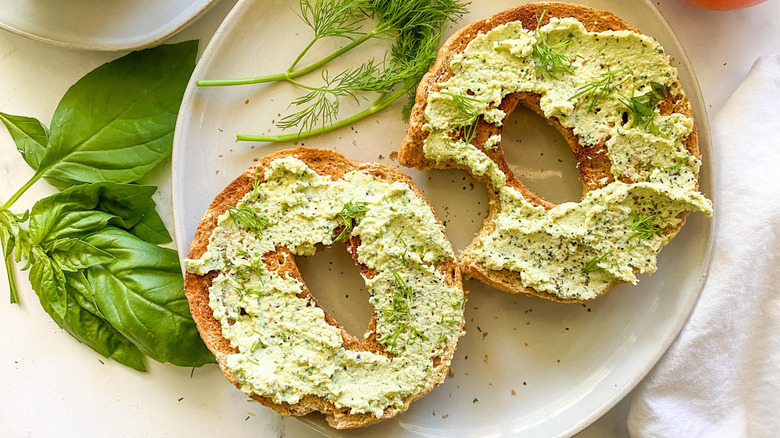 Ingredients
¾ cup raw, unsalted cashews
1 (14-ounce) package extra-firm tofu
4 tablespoons lemon juice
1 tablespoon apple cider vinegar
⅓ cup fresh dill, chopped
⅓ cup fresh basil, chopped
⅓ cup scallions or chives, chopped
3 cloves garlic, minced
2 teaspoons garlic granules or powder
2 teaspoons onion granules or powder
2 teaspoons salt
½ teaspoon pepper
Directions
Pour boiling water over the cashews to cover and soak them for at least 20 minutes, though it may take 1+ hour until they're soft enough to blend.
Remove the tofu from the package and drain it.
Place the tofu in a shallow bowl or dish and set a flat plate on top of it. Weight it down with something heavy and let it sit for about 20 minutes.
Drain the water pressed out of the tofu.
Drain the softened cashews.
Mix the pressed tofu, cashews, and seasonings in a food processor, blending until smooth.
Nutrition
| | |
| --- | --- |
| Calories per Serving | 115 |
| Total Fat | 7.9 g |
| Saturated Fat | 1.5 g |
| Trans Fat | 0.0 g |
| Cholesterol | 0.0 mg |
| | |
| --- | --- |
| Total Carbohydrates | 6.5 g |
| Dietary Fiber | 1.1 g |
| Total Sugars | 1.4 g |
| Sodium | 187.4 mg |
| Protein | 6.7 g |