Vegan Spinach Artichoke Dip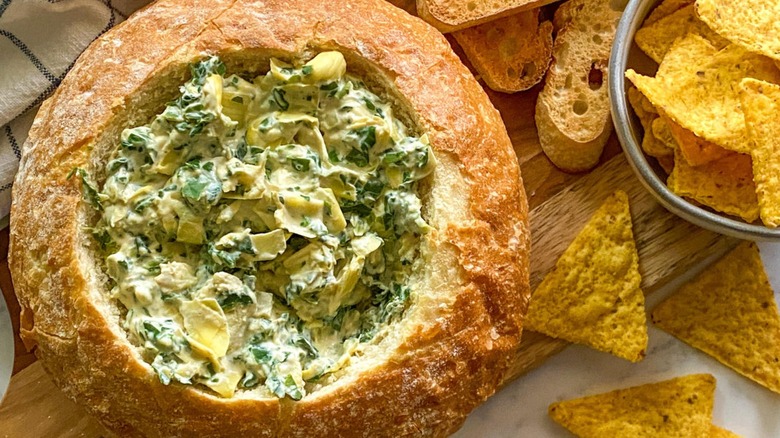 Miriam Hahn/Health Digest
Yep, that's right — a vegan spinach and artichoke dip is not only possible but undeniably delicious. Health coach and recipe developer Miriam Hahn recommends making this dip as an appetizer for your next party or gathering. Hahn says, "It is a huge crowd-pleaser and even those who don't eat vegan absolutely love it." Cashews provide plenty of creaminess, and tofu, nutritional yeast, and dairy-free cheese are easy plant-based alternatives. If you're looking for a nut-free way to enjoy this dish, Hahn shares that "you can substitute the cashews with sunflower seeds." 
Not only is this dish popular with guests, but it is also easy to prep ahead of time which makes it perfect if you are preparing a mixed spread. Hahn tells us, "You can get it baked and then just reheat [it] when [you are] ready to serve, or you can get everything mixed and do the full bake time right before serving." Talk about making our lives easier! Luckily this recipe makes a pretty large portion and even if you're just preparing it for a few people, Hahn notes that the leftovers are equally tasty.
Gather your ingredients for this vegan spinach artichoke dip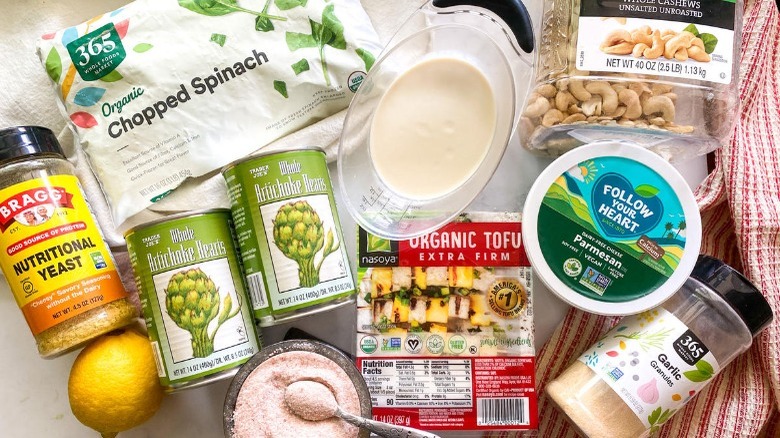 Miriam Hahn/Health Digest
To make this tasty dip, start off by gathering the ingredients required. You will need frozen spinach, extra firm tofu, canned artichoke hearts, raw cashews, unsweetened almond milk (or any plant-based milk), nutritional yeast, a lemon, salt, garlic powder (or granules), and dairy-free Parmesan cheese. For the dairy-free Parmesan cheese, Hahn recommends the brand Follow Your Heart noting that "It tastes so similar and can be found at many mainstream grocery stores." Since this dip is completely vegan, it is free from animal products, but if you do not follow any specific regimen you can easily substitute real cheese.
Start off by prepping the tofu, spinach, and cashews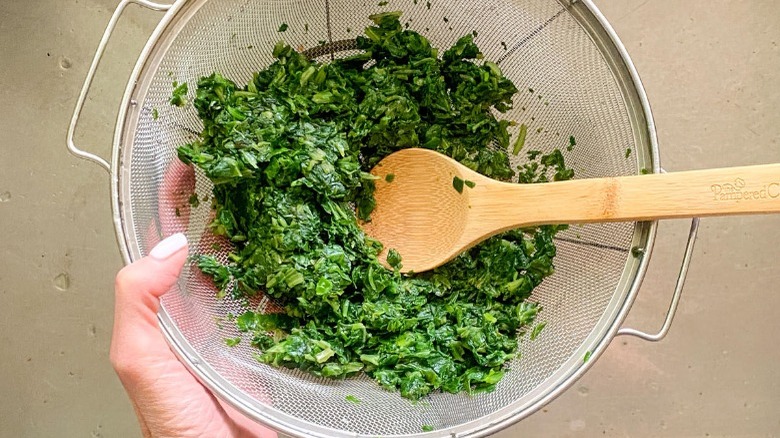 Miriam Hahn/Health Digest
If you've gotten a headstart and soaked your cashews overnight, you can move on to the next step. Otherwise, transfer the cashews to a bowl and cover them with boiling water to soak for a minimum of 30 minutes. Next, go ahead and preheat the oven to 350 F so that it has time to warm up.
Moving on, you'll need to press the tofu to eliminate excess water. If you haven't done this before, this process is essential for creating flavorful tofu dishes. Remove the tofu from the package and place it in a shallow bowl. Place a dish over the tofu and add something heavy on top — Hahn recommends using a cast-iron skillet. Be careful that the stack is stable so it doesn't fall. Let the tofu sit with a weight for about 20 minutes and then discard the water collected in the bowl. Alternatively, if you have a tofu press go ahead and use it.
Next up, transfer the frozen spinach to a colander and run warm water over it to help it thaw. Then, stir the spinach with a wooden spoon to break up clumps and press it against the sides of the colander to drain out the excess water. 
Combine the spinach and artichoke hearts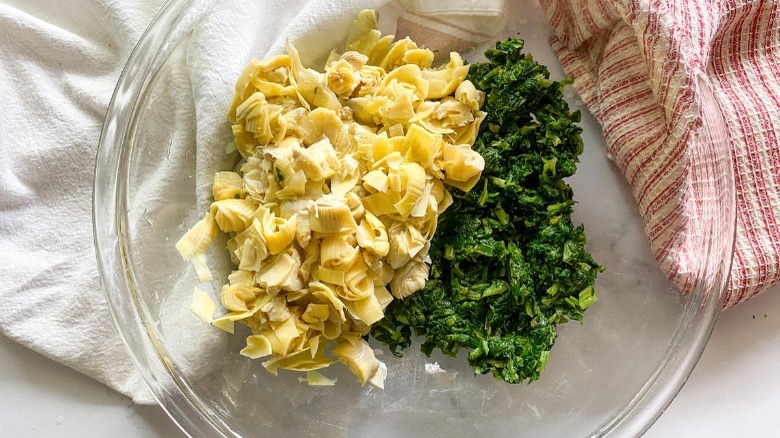 Miriam Hahn/Health Digest
Once you have prepped the various elements, it is time to start combining some of the ingredients into a mixing bowl. Set out a large bowl and add the drained spinach and the artichoke hearts. Remember to drain the water from the artichokes and chop the hearts before mixing them in. Now that you have the vegetable component ready, it's time to move on to the creamy non-dairy dressing.
Blend the creamy dressing
Miriam Hahn/Health Digest
Drain the water from the soaked cashews and add the nuts to a high-speed blender. Then, add the almond milk, nutritional yeast, lemon juice, salt, and garlic powder. Close the lid, making sure to secure it tightly. Blend the mixture on high for at least three minutes which is enough time to allow the soaked cashews to break up, creating an extra smooth mixture. When they have been soaked and blended, cashews are ideal for providing a creamy consistency to non-dairy dishes.
Combine all the components in a baking dish and bake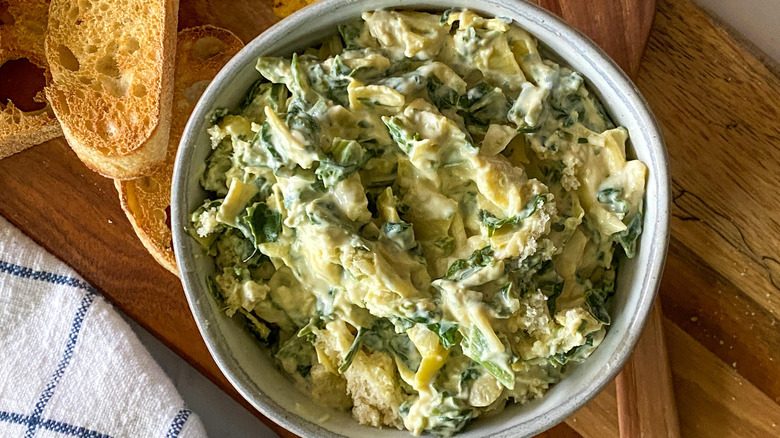 Miriam Hahn/Health Digest
Add the creamy dressing to the spinach and artichoke mixture and mix in the dairy-free Parmesan cheese as well. Then, pour the mixture into a 9-inch diameter baking dish, cover it with a lid or tin foil, and bake for 20 minutes in the preheated oven. As it bakes the dip will become nice and warm and the cheese will melt. Once it's ready, remove the dish from the oven and set it aside to cool slightly.
Serve this delicious dip with toasted baguette slices, raw veggies, pita, or tortilla chips. Hahn especially enjoys serving this in a bread bowl, and if you choose this route, she suggests adding the dip after you have baked it. She explains, "You can pop the bread into the oven for a few minutes to warm it up, then cut out the hole and fill it up with dip." This dip is tasty and leftovers last up to a week in an airtight container in the fridge. Hahn even suggests eating leftovers "stuffed into a baked potato." Okay, now we're drooling!
Vegan Spinach Artichoke Dip
This easy vegan spinach artichoke dip is all plant-based and delicious. Serve it with raw veggies, chips, or make a bread bowl to really impress your guests.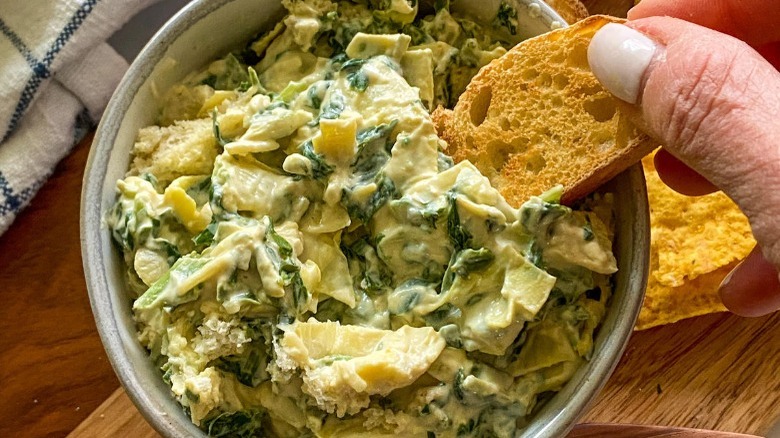 Ingredients
1 (16-ounce) package frozen spinach
6 ounces extra firm tofu
2 (14-ounce) cans artichoke hearts, drained and chopped
1 cup raw cashews
1 cup unsweetened almond milk
½ cup nutritional yeast
1 lemon, juiced
1 teaspoon salt
1 teaspoon garlic powder or granules
½ cup dairy-free Parmesan
Directions
Cover the cashews in a bowl with boiling water for 30 minutes. (Alternatively, soak them overnight in room-temperature water.)
Preheat the oven to 350 F.
Remove the tofu from the package and discard the excess water. To remove the additional water, place the tofu in a shallow bowl or dish. Then, place a flat plate on top of the tofu and set a heavy item (like a cast-iron skillet) on top of the plate. Let it sit for about 20 minutes and then pour out the water collected in the bowl. Alternatively, you can use a tofu press if you have one.
Transfer the frozen spinach into a colander and run warm water over it, stirring to break down the spinach clumps. Using a wooden spoon, press the spinach against the mesh to drain as much water as possible.
Transfer the spinach to a large bowl and add the artichoke hearts.
Drain the cashews and place them in a high-speed blender along with the almond milk, nutritional yeast, lemon juice, salt, and garlic powder.
Blend for at least 3 minutes until the mixture is very creamy.
Add the creamy mixture to the bowl of spinach and artichokes, along with the Parmesan cheese and stir to combine.
Transfer the dip to a 9-inch diameter baking dish, cover it with a lid or tin foil, and bake for 20 minutes.
Serve with bread, chips, or veggies.
Nutrition
| | |
| --- | --- |
| Calories per Serving | 277 |
| Total Fat | 13.1 g |
| Saturated Fat | 3.3 g |
| Trans Fat | 0.0 g |
| Cholesterol | 6.3 mg |
| | |
| --- | --- |
| Total Carbohydrates | 25.2 g |
| Dietary Fiber | 12.1 g |
| Total Sugars | 3.5 g |
| Sodium | 588.3 mg |
| Protein | 23.1 g |